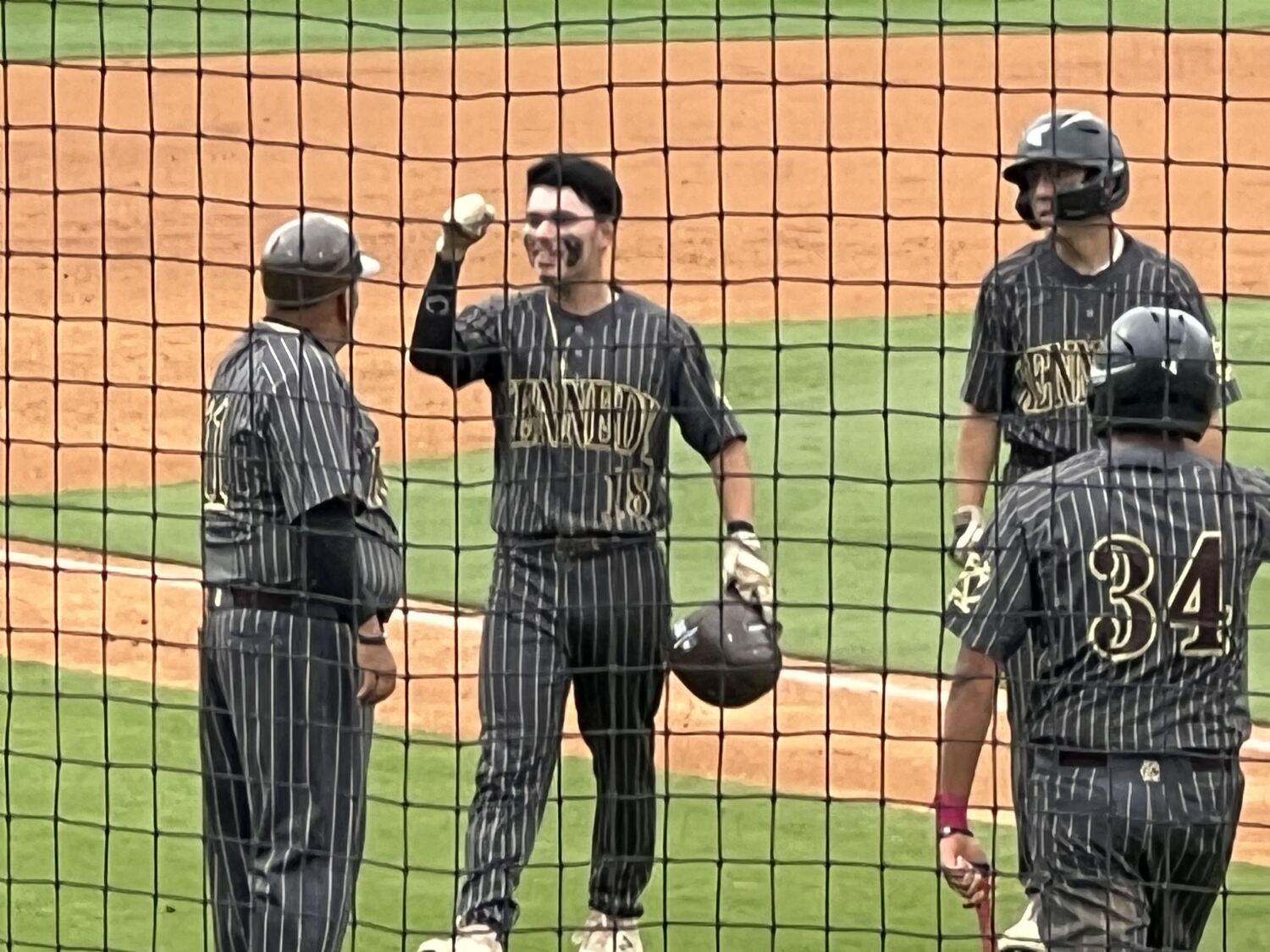 There's no hiding the joy and elation when a high school baseball player realizes he's going to get to play at Dodger Stadium. It happened Tuesday at USC, where Granada Hills Kennedy earned a spot in Saturday's 10 a.m. City Section Division I championship with a 2-0 semifinal win over Sun Valley Poly.
"It's amazing," said Kennedy third baseman Abel Castillo, who had an RBI double in the seventh to provide an insurance run. "This team, we've worked so hard all season. We have all these past teams in City. It feels like a video game. We're so happy. We're really going to be there."
Kennedy will play Valley Mission League rival Sylmar, a 3-0 winner over San Pedro.
Kennedy is a seven-time City champion in the highest division. Kennedy coach Andy Rodriguez is on his third stint with the Golden Cougars. He was an assistant to Manny Alvarado, then head coach for three years, left and returned again. He placed his trust in No. 2 pitcher Alonzo Muñoz, who delivered a five-hit shutout.
"It was him or else," Rodriguez said.
Now he'll have his ace, Oscar Patron, ready to go Saturday.
Jared Aguilar gave Kennedy a 1-0 lead in the second with an RBI double.
"We're going to make some memories," Castillo said.
And what about coming up with some Dodger Stadium dirt?
"I'd love to take home some dirt," he said. "I'd love to take home third base, too."
And maybe a championship trophy.
About the only people happier than the Cougars (19-8) were the kids who got lollipops for returning foul balls into the stands at USC.
The Open Division semifinals will take place Wednesday at USC. Birmingham will play Palisades at 3 p.m., followed by Carson and Granada Hills. Birmingham will be without standout catcher Gavin Taylor for the rest of the playoffs. Coach Matt Mowry declined to provide specifics other than to say his absence did not involve a disciplinary matter. A City Section official said it was a Birmingham school decision.
Sylmar 3, San Pedro 0: Freshman Alex Martinez proved to be a bulldog on the mound, throwing a complete game and getting out of a fourth-inning bases loaded situation with a strikeout to lift the Spartans to victory. He struck out six and walked two.
Martinez allowed three hits to eliminate the top-seeded Pirates. It will be a rematch on Saturday at Dodger Stadium, with Sylmar and Kennedy having shared the Valley Mission League title with 11-1 records.
Martinez showed impressive poise throughout. Three times he had to field ground balls at the pitcher position and each time calmly made the throws to produce outs. First baseman Luis Mendoza was another defensive star for the Spartans. Basketball player Adrian Jaime had two hits. Hector Martinez led the offense with three singles.
"The kid is a competitor," Sylmar coach Ray Rivera said of Alex Martinez. "Today was his best performance."
Rivera played at Dodger Stadium in high school and also was there as an assistant coach. "What a great thing for these kids," he said. "For them to experience it is going to be great."