Major news struck the US soccer landscape last week as the National Women's Soccer League may have a domestic competitor in operation from as early as next year.
What has happened?
The USL Super League project got under way in 2021, at which time it was announced as a Division II women's soccer league launching in 2023. However, last Tuesday the league suddenly announced it was to apply for Division I sanctioning instead. It now plans to launch next year.
Should its Division I status be awarded, the USL Super League plans to commence in August 2024. From there it will mirror its schedule with that of European and international competition, playing from August to June with a winter break.
That first differentiator from the existing women's top-flight NWSL – which for now conducts its season from spring to autumn – will be followed by many others. One of them is the locations of the teams, of which there are eight confirmed: Charlotte (North Carolina), Dallas/Fort Worth (Texas), Lexington (Kentucky), Phoenix (Arizona), Spokane (Washington), Tampa Bay (Florida), Tucson (Arizona), and Washington DC.
There will be more cities added as the plan is to have 10 or 12 teams at the start of the first season. Chattanooga (Tennessee), Oakland (California), Indianapolis (Indiana), Madison (Wisconsin) and Jacksonville (Florida) are identified as the next clubs to roll out over the next few years.
Of the eight confirmed clubs launching next year, only one of them reside in a pre-existing NWSL location. That soon to be dual-club location is Washington DC, home to the Washington Spirit, where a robust US national team presence includes Trinity Rodman, Ashley Sanchez, Andi Sullivan and Ashley Hatch. One wonders how a new DC club might compete for that type of highly marketable talent (a recruitment plan for Rodman already under way?) or loyalty from local women's soccer fans in an existing market, which, while successful, still has room for growth itself.
Of the remaining seven clubs (as well as the five additional ones on the horizon), the new league's locations spread across a vast nation where there is ample opportunity to reach new untapped markets. That includes new locations within larger states that have NWSL clubs. Keen observers may note Florida, Texas, North Carolina, and Washington State will now host multiple Division I clubs across the two leagues, though still placed in different cities.
… and is it a good thing?
In a move that feels unprecedented – and certainly unorthodox to traditional football pyramids the world over – the US looks like it soon will contain two Division I leagues existing in presumable, inevitable competition with one another.
That competition has the potential to be a grand thing. And as noted above, there is ample room in the US to spread out and conquer new markets in a country this size. Undoubtedly, expanding professional opportunities for a broader cast of burgeoning young talent can help the sport grow as a whole across the country – or provide that opportunity to players recruited from abroad.
The USL Super League has also announced a number of other differentiators – beyond the calendar and the locations – that may entice top talent as it develops. That includes foregoing the college draft, and prioritising youth development through academies that will not restrict due to age.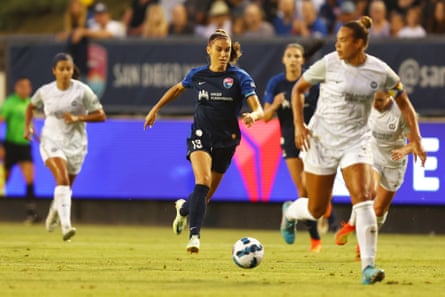 But for a domestic soccer scene still marketed to the public by the star power of US national team players (wherever Alex Morgan goes ticket sales accelerate), it seems odd to imagine how the national team pool could be bifurcated across two leagues, never meeting throughout the season. Should that happen, we would be robbed of the adrenaline-rush moments provided when Naomi Girma tackles Sophia Smith in the playoffs, or Alex Morgan and Megan Rapinoe going toe to toe throughout the year. We would also be robbed of marketing that matchup to the crowd.
There are, of course, several national team stars tearing up the NWSL that come from other federations, whose impact and marketability is pivotal as well. That includes top talent from Canada and Brazil's national teams, for example. One wonders where they will end up in this.
If most "big name" players remain loyal to NWSL, now in its 11th season, there is the question of how successfully the USL Super League could market itself as a Division I league without any of the nation's most recognisable stars.
All these developments will be extremely interesting to observe. One thing is for sure though: the potential for seismic change is certainly on the table.
Recommended viewing
Wolfsburg trail Bayern Munich by two points heading into the last match of the Frauen Bundesliga. Last weekend, Alexandra Popp (who else?) kept their title hopes alive against Meppen with this stoppage-time winner.
Have a question for our writers – or want to suggest a topic to cover? Get in touch by emailing [email protected] or posting BTL.