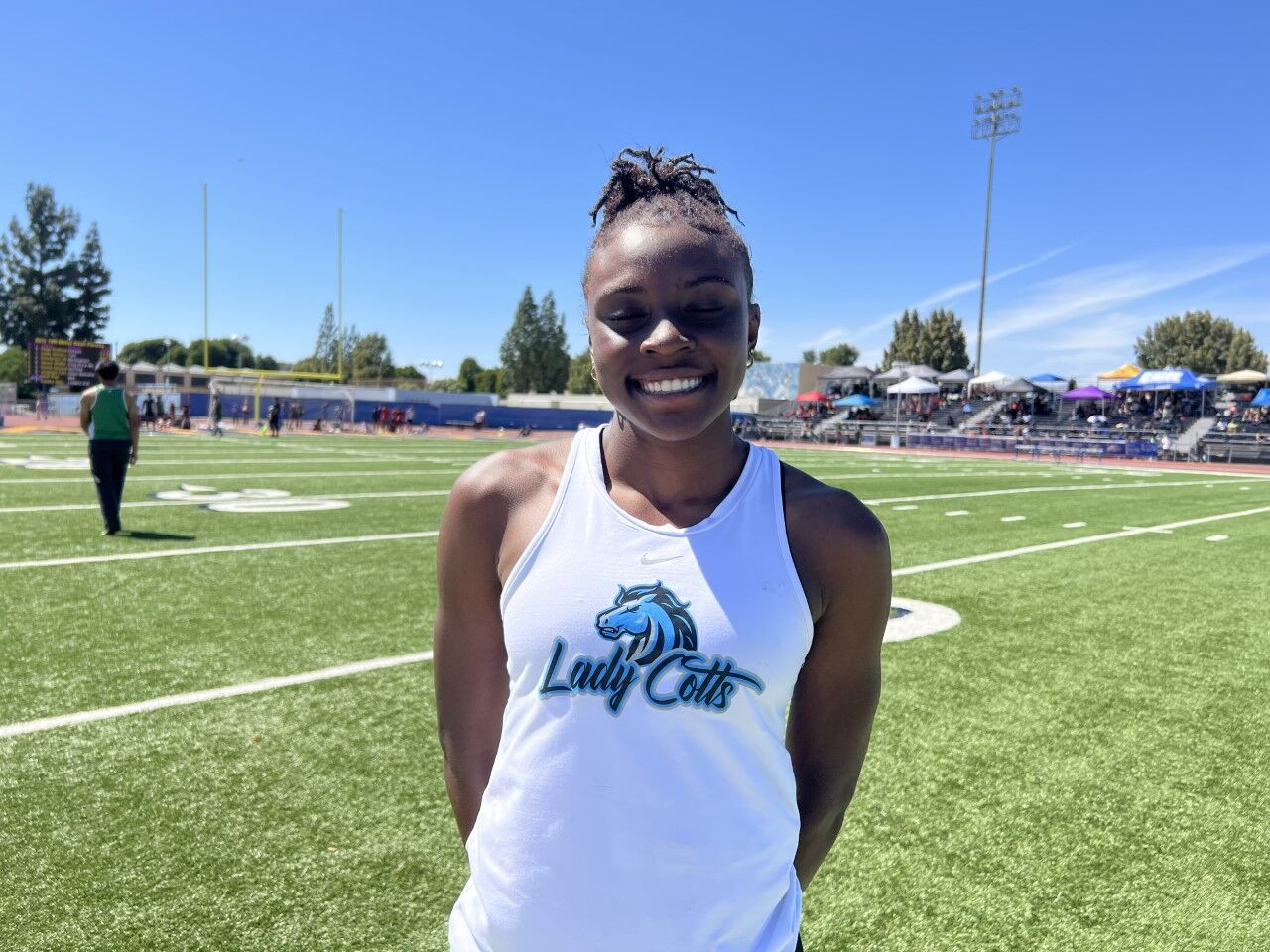 Reign Redmond chases her Carson High track teammates with bugs.
She'll admit it too. Readily. She'll get distracted at practice, pick up a bug with a stick and run around terrorizing her teammates. One fine April day, the senior went so far as to toss an insect at one of the boys on the track team.
Fellow members of Carson girls' sprints unit love Redmond's goofiness, falling all over themselves with laughter. And you'd be forgiven, then, if you looked at these Carson girls sprinters and think they're unfocused.
"A lot of people probably look at us and be like, 'What are they doing?'" said Ta'Ahjah Fann, a junior sprinter.
But underestimate these Colts, and you'll be treated to a streak of Carson blue whizzing by and a storm of bear hugs. They know when to turn it off and turn it on, Fann said. They were all business before team and individual heats at Friday's state-championship qualifiers at Buchanan High in Clovis, Redmond not playing with bugs but shaking out her legs and furrowing her eyebrows before the gun in the girls' 100-meter race.
And they showed they were the program to beat in the girls' sprint categories, winning the 4×100 relay in 45.73 seconds as Redmond sped to a time of 11.47 seconds in a crowded girls' 100 third heat to lead the field.
It's the first step toward what would be a monumental achievement for Redmond and the City Section — becoming the first City athlete in history to win back-to-back state titles, as she narrowly beat out Gardena Serra's Brazil Neal at last year's finals.
"That would be amazing," Carson coach Amrit Lal said, "because Reign is the most fun kid."
Fann and freshman Christina Gray qualified for the finals — along with Redmond, three Carson runners advancing out of four total in a single heat.
Granada Hills added another touch of City pride, as the boys' team seeks to become the first state champion in City history since Dorsey in 2005. A talented Highlanders relay team breezed to a win at 40.49 in the boys' 4×100 relay — almost a full second faster than any other squad — while two-sport star Dijon Stanley motored to a prelims-leading 46.66 in the boys' 400.