The first sign that 15-year-old Nathan Santa Cruz had a head injury was when he removed his helmet and was slumped over on the Venice High bench. Brendan Murray, a chiropractic sports medicine physician, went into action.
"We asked what had happened and nobody could tell us. We had to assume the worst," Murray said of that night on Aug. 19, 2022, the opening game of the high school football season.
An emergency action plan that had been practiced and memorized under the direction of previous athletic trainer Kirsten Farrell was activated. It just happened that Farrell was at the game against Huntington Beach Edison, along with the new trainer, Jason Noonan.
Farrell called 911. Dr. Jason Alvarado, the team physician, joined Murray and Noonan to provide immediate care after tending to another player who suffered a possible concussion.
They stabilized Santa Cruz's neck. They checked his airway. They monitored his blood oxygen saturation with a pulse oximeter.
"My suspicion was he had a head injury," Murray said.
"We couldn't elicit any pain or verbal response," Alvarado said.
The person in charge of making sure the stadium gate was unlocked and open for paramedics to enter the field with their ambulance manned his position. The 911 call went out at 8:14, according to L.A. Fire Department records. Paramedics arrived at 8:21 and Santa Cruz was in emergency surgery at Ronald Reagan UCLA Medical Center — six miles away — shortly after 9.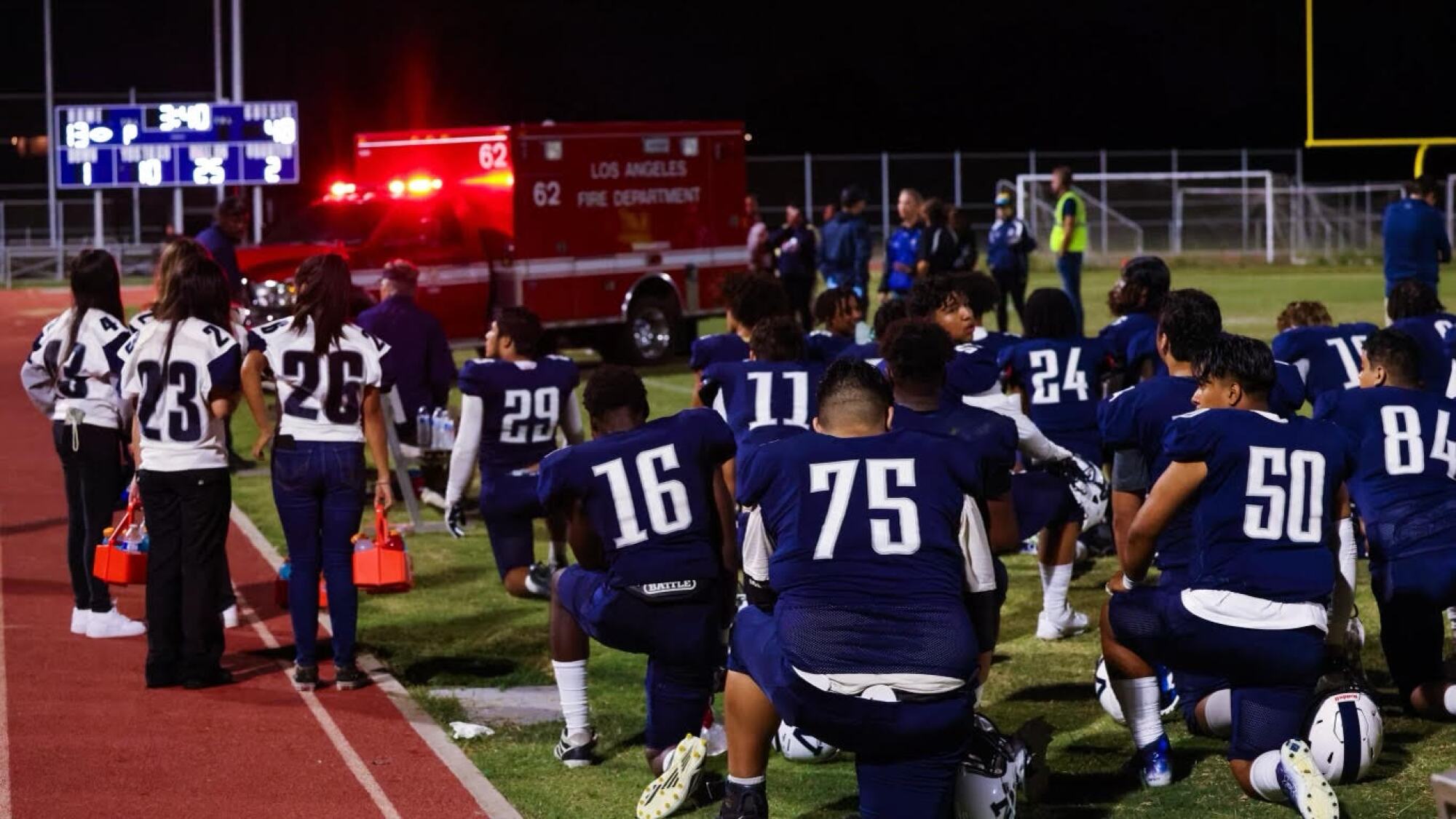 Crystal Clark, Santa Cruz's mother, came out of the bleachers and rode in the ambulance with him.
"I was not leaving his side," Clark said.
The doctors at the hospital didn't downplay the seriousness of the injury.
"We don't know if he's going to make it," Clark said she was told.
Teammates and coach Angelo Gasca showed up at the hospital to provide support after the game was stopped with 3:40 left in the second quarter and Edison leading 48-13.
Clark said the brain surgery "lasted hours." No one could predict what the effects would be in the first 24 hours after surgery. Would he wake up? Would he be able to talk? Would he be able to walk?
Nine months later, on Thursday night at El Camino College, Santa Cruz was competing at the CIF City Section track and field championships. He ran the anchor leg in the 4×400 relay and helped Venice set a school record while finishing second to earn a trip to the state championships on Friday in Clovis.
"I feel great," Santa Cruz said afterward. "My running gives people hope. It proves anything is possible. God gives you the longest path. At the end of the tunnel, the rain doesn't rain forever."
His mother put into perspective what many are feeling.
"It is a miracle," she said.
A lot of things had to go right for Santa Cruz to make it through that uncertain night last August.
Venice is one of only eight high schools out of 90 playing sports in the Los Angeles Unified School District to have a certified athletic trainer. Farrell started the program at Venice in 2002 and left in 2021 to help LAUSD find ways to hire more athletic trainers. More schools could be getting certified trainers with the help of a grant next school year.
California is the only state in the nation that does not regulate trainers. There's a bill, AB 796, in the state legislature that would require athletic trainers to be certified.
"It was a tough situation for everybody who was there that night," Gasca said. "Thankfully we had a doctor and trainer who knew what to do and we're near a world-class hospital. It was a perfect storm of events, that the trainers went into action, that 911 was called and within minutes he was at UCLA undergoing treatment and that treatment saved his life."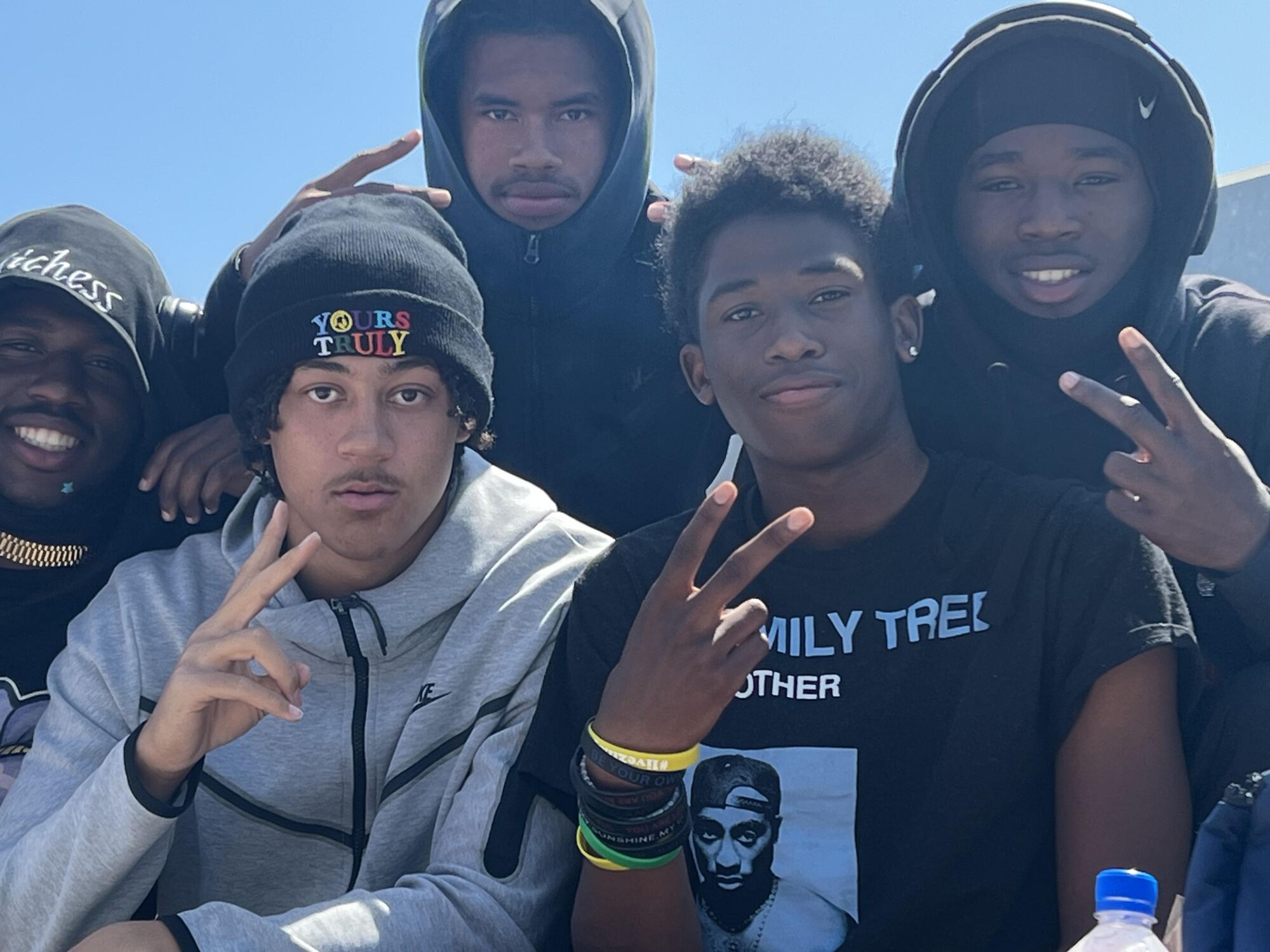 What Farrell witnessed proved to her all the preparation and resources devoted to trying to keep high school athletes safe were worth it and can serve as a lesson for others.
"We followed it up with a very public incident in January with the Damar Hamlin situation with the Buffalo Bills that brought home to America that the role of the certified athletic trainer, especially at the secondary school level, impacts lives forever," Farrell said.
Hamlin suffered cardiac arrest during a nationally televised Jan. 2 NFL game and was given CPR. Santa Cruz was watching the game from home and immediately thought of his mother.
"Nathan comes down the stairs, 'Turn off the TV. I can't have you relive the trauma,'" Clark said. "I cried because I know that feeling of uncertainty."
Santa Cruz still doesn't know how he was injured or whether he will play football again.
He woke up soon after the surgery with few adverse effects. Teammates chatted with him during a FaceTime call. He began physical therapy in October and was attending Venice football games until the Gondoliers lost in overtime in their Open Division playoff game in November. He started track practice in December.
"Every time I see Nathan come into my room, I'm elated to see him living a normal life," Gasca said.
That night remains seared in the memory of many. Star receiver and good friend Rashawn Jackson was next to Santa Cruz on the bench.
"I thought he was done. He scared me. I cried when it happened," Jackson said.
Alvarado said, "I think from a physiological and science level, it's amazing that the human body can come back like that. And from a humanity level, to remember the flashbacks where he has come from, it's incredible."
As for lessons learned, Alvarado said the importance of a support staff, including doctors and trainers, is critical for the safety of athletes.
"A lot of times, athletes are playing games but people are not considering the possible risks at all times," he said. "I've seen different areas, different schools, different districts and there's varying degrees of resources. It goes to show how important it is to have as much as possible."
The fact Santa Cruz has returned to his happy-go-lucky, positive self has everyone feeling joyful.
Santa Cruz plays video games almost daily with Jackson, who said Santa Cruz smiles so often he makes others feel good. "He's a very inspirational person," Jackson said. "Was before and after."
His mother looks back at the trauma her son experienced and marvels at his positive attitude.
"He carries himself with such a high level of maturity," she said. "I'm proud he holds his head up high and understands this pivot is something that happens in life. He encourages others. He doesn't want anyone to feel sad around him."
Santa Cruz is finishing up his sophomore sports season with the expectations he's going to break several Venice track records before he graduates.
"I just knew better days were going to come," he said. "I prayed every day and here I am nine months later."