Nikola Jokić capped off a record-setting postseason when the Denver Nuggets beat the Miami Heat in Game 5 of the NBA finals on Monday night to clinch the team's maiden championship, becoming the first player to lead the league in total points (600), rebounds (269) and assists (190) in a single postseason. The NBA's two-time Most Valuable Player – an award he says he has "zero interest" in – added more hardware to his resume, too, capturing the NBA finals MVP trophy.
He's also managed to set the standard moving forward for the most low-key celebration by a star athlete.
It started with his deadpan assessment in the dizzying aftermath on the court: "The job is done, we can go home now."
It was followed by an exchange during his post-game news conference in which he revealed his true priorities. Asked if he was looking forward to the Nuggets' championship parade on Thursday afternoon, Jokić appeared worried his return to his hometown of Sombor, Serbia, would be delayed. The reason? To spend time with his family and return to his other passion: horse racing. "Yes, I need to go home. On Sundays, I have my horse racing," he told reporters.
That reaction was unsurprising. As he told ESPN: "Basketball is not the main thing in my life. It's something that I'm good at."
Jokić, who could do no wrong on the court, further endeared himself to fans with his indifference to the traditional locker-room champagne shower.
There was also the matter of his NBA finals MVP trophy. During the presentations on court, he seemed so uninterested with the trophy that he handed it to a bemused teammate, Bruce Brown, who did not appear to know what to do with it. He ultimately left in the room of longtime Nuggets equipment manager Sparky Gonzales and it had gone missing upon his return.
Said ESPN's Malika Andrews: "I've got to tell you, I've done a couple of these finals MVP interviews. You're the first one to come in without the trophy. Where is it?"
Jokić's response: "I really don't know. I left it in Sparky's room and it's not there anymore. So I don't know, but hopefully it can arrive in my house."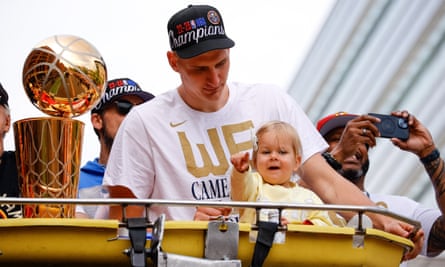 Fortunately, Jokić's trophy has since resurfaced and was in the center's possession when the Nuggets took over downtown Denver for their victory parade on Thursday afternoon. The 28-year-old brought his daughter, Ognjena, along for the ride. Her father was rather more animated that he had been in the past.
"This is amazing. We're all going to remember this our whole lives," he told the crowd.