With an awesome mix of power and finesse, Min Woo Lee has thrust himself into contention to complete one of the great family doubles in golf history.
Lee and fellow Australian Cameron Smith surged up the leaderboard to put themselves firmly in the mix after the second round of the US Open in Los Angeles.
Lee fired the lowest round of the day, a five-under-par 65, to charge to equal sixth with former world No 1 Dustin Johnson and to within four shots of American halfway leader Rickie Fowler.
Bidding to join his dual major-winning sister Minjee as a US Open champion, Lee's dazzling round included an extraordinary 407-yard drive on the 16th hole. That set up the 24-year-old's fifth birdie of the day.
Then the Perth prodigy wowed fans with his iron play, knocking an approach at the last to within four feet for a sixth birdie to ice his brilliant round and climb to six under.
"Everything is working pretty good," Lee said. "My approach play has been pretty lacking over the last year – or my whole career – so it's quite nice to actually be in the positives the last two days.
"Hitting it well, driving it well. Driving it a long way actually, which is nice on this course because it's long."
Smith is two shots further back in outright 10th at four under after backing up his first-round 69 with a 67 on Friday. After teeing off on the 10th, Smith dropped a shot early on No 11 before collecting birdies on 12, 13 and 15 to get his tournament back on track.
The world No 9 picked up two more shots on his inward nine to be well-placed for a weekend challenge.
"I just haven't been able to hole that 15- to 30-foot range," Smith said. "I just need those longer putts, one or two to drop every round, and I'm right there."
Lee and Smith entered the year's third major after career-best results at last month's PGA Championship in New York and have carried the momentum to the Los Angeles Country Club.
"The turning of the corner probably came a month or so before that," Smith said. "I've been playing good golf now for a couple of months. Just feels really solid. It feels like I'm not doing much wrong."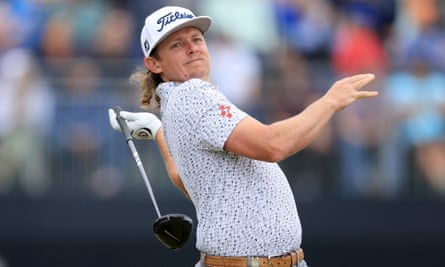 Minjee Lee is the reigning Women's US Open champion and will defend her title next month at Pebble Beach. Now her baby brother has the chance to complete the first-ever sibling major-title double in golf.
Incredibly, they could also clinch a golden double this weekend, with Minjee only two shots off the lead at the halfway mark of the Meijer LPGA Classic in Michigan.
Lee said staying patient around LACC is key. "(I'm) just not making too many mistakes. When I do hit it in the rough, I need to take my medicine and just hit it out," he said.
While Lee and Smith are right in the hunt, the other five Australians missed the two-over cut. Lucas Herbert (75) and Adam Scott (72) both slipped to five over. Jason Day (76) finished back at nine over to miss a third successive cut since breaking his five-year winless drought at May's AT&T Championship.
Amateur qualifier Karl Vilips (75) was also nine over on his major championship debut. And after enjoying his best PGA Championship yet, sharing fourth to earn a ticket to next year's Masters, Cam Davis, at 11 over, also won't feature at the weekend following a horror round of 79.