It is a trend that just a few months ago was described by Uefa's European Club Footballing Landscape report as "being fuelled predominantly by United States-based investors" and having "the potential to pose a material threat to the integrity of European club competitions". Yet Aleksander Ceferin's admission that European football's governing body is considering a rule change after Manchester United's takeover talks raised issues around potential conflict of interests seemed to indicate that it is a threat Ceferin feels the game must embrace.
Uefa's report published in February estimated that 6,500 players from 195 clubs – a 75% increase in less than three years – were employed by 27 multi-club investment groups, a third of which are based in the US. It is too early to say whether this is a passing fad, but John Textor – whose Eagle Football Holdings has shares in Lyon, Crystal Palace, the Brazilian side Botafogo and the Belgian club RWD Molenbeek – believes the model is here to stay.
"I think it's too easy to write multi-club is bad, Americans are bad and the fans are annoyed, because most of the time it's only the angry 5% that you hear," he tells the Observer. "I feel very good support across the vast majority of fans in our network but you always have people who don't want to embrace change."
In England, increased restrictions on signing young players after Brexit and tightening financial fair play regulations have meant the trend has intensified since the end of the pandemic. Chelsea's and Newcastle's owners have stepped up efforts to create multi-club networks in recent months, with the former's owners, Todd Boehly and Clearlake Capital, close to buying a stake in Strasbourg after lengthy negotiations.
Textor, who has seen Botafogo go top in Brazil after a blistering start to the season having celebrated Molenbeek's promotion to the top flight last month, believes his early successes are a clear illustration of multi-club's potential.
"I think there are people who bought clubs because they are generally inquisitive by nature," he says. "Whether they are in business or sport, they buy, they build and they get bigger. We don't have a ton of money behind us and we think that collaboration is worth the value of money if you can get these clubs working together."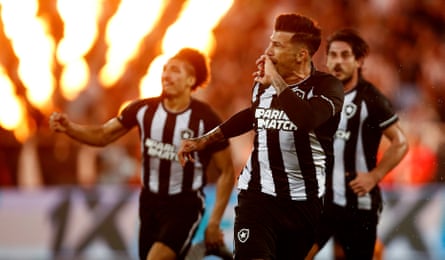 Manchester City's parent company, City Football Group, was the pioneer and has a portfolio of clubs in 13 countries after finalising a 90% takeover of the Brazilian club Bahia at the start of May. Taty Castellanos – signed by the club now known as Montevideo City Torque a few months after it had been bought by CFG in 2017, then sold on to New York City and Girona – could end up at the Etihad Stadium next season following his landmark four goals against Real Madrid, but the network has yet to provide a regular first-team squad member for Pep Guardiola. That may be a matter of waiting for a project that began in 2013 and revealed losses of £1.33bn in April, although not everyone has so much time and such deep pockets.
According to Christian Nourry, managing partner at Retexo Intelligence, a football-specialist advisory firm supporting several American investors in club acquisitions, some are rushing in without a coherent plan. "There isn't a universal definition of success in this field and this is exactly the trap that I see so many investors falling into," he says.
"They decide that their multi-club structure must be everything at once: producing incredible young players, span multiple markets despite inter-club communication being hindered by genuine language barriers, achieve a style of play that transcends all the clubs they own and see every club they own achieve consistently impressive on-pitch results.
"So many of these objectives are, at least in the early years of a multi-club project, going to be antithetical to each other. My golden rule with a client in this area is: let's pick a single initial objective, let's build a strategy that is hyper-focused on constructing the most optimal multi-club configuration to achieve that objective."
In particular, Textor has focused on investing in clubs with a strong reputation for producing young players and cites the example of Jeffinho – a 23-year-old Brazilian forward who joined Lyon from Botafogo in January for €10m – as an example of how the network can work.
"That's the value of collaboration," he says. "Lyon gave Botafogo a good price for him and now he is thriving in France. Whether you are a football guy or a money person, this global footprint of talent is the real benefit. One team needs a left-back and the other team needs a striker. But the benefits have to go both ways, which isn't always obvious to fans."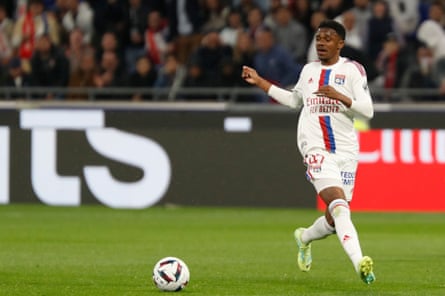 Textor has been frustrated in attempts to incorporate Palace fully into his network despite being their biggest shareholder but insists that the Premier League club have strong links to his stable through their scouting department. Lucas Perri – a goalkeeper who spent a few months on loan at Selhurst Park in 2019 – was recommended to Textor by Palace's sporting director, Dougie Freedman, and has been a star performer at Botafogo since joining from São Paulo last year.
It may seem an unlikely prospect to some but Textor also hopes there could be another benefit for supporters of being part of a multi-club network. Fans of Palace, Botafogo, Molenbeek and Lyon – where Textor is interim chief executive and chairman after the departure of the long-serving Jean-Michel Aulas – have three other teams to support from afar.
"It's definitely happening," he says. "We can see that we are getting real orders. Molenbeek now broadcasts its matches in Brazil and we have 300,000 people watching the games on YouTube. It's still early days with Lyon but over the course of the next year you will see some benefits flowing back the other way. That's where you really build those relationships. It does happen on social media between the fans but you have to work hard to make sure that those benefits are going both ways. It's a delicate balancing act."
Ceferin insisted at the Uefa congress in April it was "too fast to say anything" about a potential rule change that could permit clubs with the same owners to play in the same competition, but said they must have "sustainability" in mind when taking the decision. Nourry believes any change would be a "gamechanger" for investors.
"It is from a sporting perspective, obviously, but it also gives a multi-club configuration an infinitely greater chance of being financially sustainable and breaking even on an annual basis if a group can rely on multiple rounds of Champions League-participating revenues per campaign," he says.
"But I think it would be foolish if Mr Ceferin's comments have encouraged investors who were previously never considering multi-club to jump in. Uefa must clarify the regulatory timeline and framework they are seeking to achieve to give them the reassurance required to aggressively pursue a multi-club structure with several big clubs in it."