Before defending his World Boxing Council junior welterweight title in his New Orleans hometown, Regis Prograis said "fuck" several of his potential future opponents.
After taking care of business by winning a meandering split decision over late replacement Danielito Zorrilla on Saturday night at the Smoothie King Center, the 34-year-old Prograis might get the chance to disrespect them inside the ropes in what's become one of boxing's hottest divisions.
Prograis rallied from a knockdown in the first round which the referee missed to land a hard left in the third round which sent Zorrilla to the deck and almost flipped him over, providing what was arguably the most consequential moment of the fight. He closed in for the stoppage soon after Zorrilla got up, but the Puerto Rican challenger fought his way out of trouble.
The 34-year-old southpaw known as Rougarou spent the remainder of the 12-round affair trying to cut off the ring and land a single fight-changing punch against an opponent who fought from range and never seemed overly eager to exchange. Zorrilla appeared willing to risk less and less as the finish line drew nearer, leading to inaction that elicited boos from the crowd of 6,319 spectators at the home of the NBA's New Orleans Pelicans.
Two of the official ringside judges turned in scores of 118-109 and 117-110 for Prograis with the third scoring it 114-113 for Zorrilla. (The Guardian had it 114-113 for Prograis.)
"I kept pressing the action, but he ran around the whole time," Prograis said afterward in the ring. "I definitely have to go back to the gym and work on some things. He ran and he tried to survived. He was stronger than I thought and he caught me with some punches, but he just ran around. It was kind of hard to get to him."
Though he said he was confident he deserved the first successful title defense of his career, he acknowledged it was tougher than he expected against Zorrilla, who took the fight on four weeks' notice when the unbeaten Australian Liam Paro withdrew due to injury.
"I have to go back to the gym and work on things," he added.
Frustrating as it was for him to secure, Saturday's result left Prograis at a proverbial fork in the road with several enticing possible routes.
He could grant a big money, headline-grabbing challenge to Devin Haney, undisputed lightweight champion who is plotting a climb to 140lbs and could be eager for an immediate title shot after bagging a unanimous-decision win over Vasiliy Lomachenko last month.
Matchroom Boxing's Eddie Hearn, whose three-fight promotional contract with Prograis started on Saturday, said he has been in talks with Team Haney. Adding to the titillation, Haney's father and trainer, Bill, took in Saturday's fight from ringside.
Another option for Prograis is a junior welterweight title unification bout with Subriel Matías, the 31-year-old Puerto Rican who holds the IBF's version of the title at 140lbs. Meanwhile, the division's WBO strap has been abruptly vacated as Teófimo López insists he's retired after last week's stunning win over Josh Taylor for the belt and the division's lineal championship.
(Taylor, for his part, has mulled openly about campaigning at welterweight, nearly four years after winning a memorable unification title fight against Prograis in London during the native New Orleanian's prior reign as a WBA belt-holder.)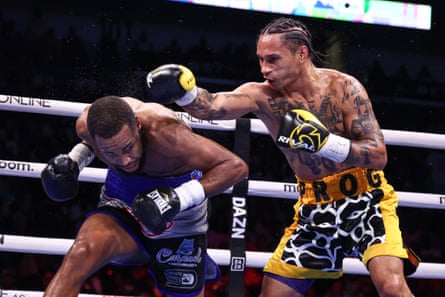 Prograis knows that there are other compelling opportunities if bouts can be made with UK contender Jack Catterall, who gave Taylor all he could handle last year; comeback hopeful Adrien Broner; lightweight star Gervonta Davis and social-media megastar Ryan Garcia.
On Saturday, he spoke approvingly of facing Haney. He joked that he didn't know what's going on with López and – despite Rolando Romero's IBF belt – wasn't that interested in the American beltholder, whom he deemed to be "terrible".
Hearn echoed Prograis's evaluation of Romero, whom he predicted will "get beat by anybody". He also said he is confident the line of fighters interested in mixing it up with Prograis will prove to be long.
Either way, it's far from certain Prograis's next outing is in New Orleans, where he grew up before Hurricane Katrina displaced him to Houston in 2005, and where many of his friends and family still live.
Organizers of Saturday's fight configured the 18,000-seat Smoothie King Center for about 8,000. The announced attendance was about 6,319. Most tickets appeared to have been sold late at slashed prices.
Underwhelming crowds turned out for two Prograis wins when he was an established contender in 2018 at the University of New Orleans's smaller Lakefront Arena, which was the last couple of times he had fought in his hometown.
There's also the fact that Prograis's revelrous home city has hosted two of the three 12-round fights he's had in his career. He acknowledged getting "hometown jitters" when he fights in New Orleans, saying demand for tickets from loved ones and acquaintances adds to the pressure a boxer normally faces.
"New Orleans, I'm sorry," Prograis said. "I wanted to put on a little better performance. When you come back for hometown fights, they make you so nervous. I was in my hotel room, I was nervous. Usually when I'm fighting on the road and I'm not here, I stay in the hotel the whole time. This time I went out before the fight. Hometown fights, they're the worst, bro.""
Prograis thanked his hometown fans for their support but acknowledged returning for his next bout "all depends".
Maybe "next time," Prograis said, "we go on the road and then come back here."