Eighteen holes sit between Rickie Fowler or Rory McIlroy and one of golf's great redemption stories. It sounds and looks so blissfully simple.
It would be utter folly, of course, to insist the 123rd US Open is now the domain of only two competitors. It is just that Fowler or McIlroy would deliver the finest tales. The $3.6m first prize would be irrelevant to both. This is about status, reputation and a return to golf's top table.
Fowler's career slump, from an earlier position of challenging for these titles as routine, took him to 185th in the world. The Californian is chasing the maiden major win that once looked inevitable. McIlroy's scenario is altogether different but no less fascinating. His wait for what would be a fifth major stretches back to August 2014. Then, at the US PGA Championship, Fowler was one of the golfers he had to shake off. It would have been fitting had Fowler and McIlroy formed the final group at LA Country Club. Instead, Wyndham Clark tickled in a birdie putt at the last to earn a spot alongside Fowler.
Drama on the final green did not end there. Fowler missed a par putt from 2ft, meaning he sits in a 10 under par tie with Clark at the head of affairs. McIlroy, who signed for a stress-free 69, is just one adrift. Clark matched McIlroy's round three score. Fowler's 18th stumble meant he shot 70.
"I felt like I played really smart, solid golf," McIlroy said. "I'm going out there to try to execute a game plan. I feel like over the last three days I've executed that game plan really, really well. I just need to do that for one more day." His demeanour was noticeably businesslike.
McIlroy played his first three in two under. He dropped a shot at the 4th but played steady, par golf from there aside from a three-putt bogey at the 13th and spectacular birdie one hole later. Fowler picked up a shot at the 1st to move to 11 under but was minus nine by the 6th tee. He birdied the 7th and 13th, where he converted from 69ft, with that aberration at the last doubtless making dinner taste a little sour. "Through three rounds we're in the spot that we want to be in," Fowler said. "Tomorrow is when the tournament starts."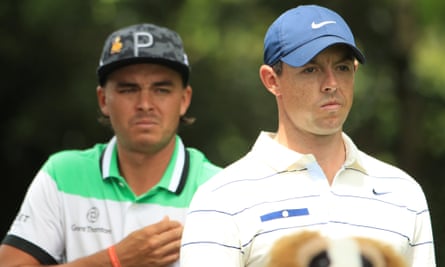 Clark is the outlier. Victory at the Wells Fargo Championship in May confirmed him as a player of note on the PGA Tour. He has played in two US Opens before and missed the cut both times. The 29-year-old's calmness thus far has therefore been seriously impressive.
Scottie Scheffler was just about in touch at four under par. He duly holed his second shot to the par four 17th with a four-iron and birdied the last to leap to minus seven. Scheffler is absolutely part of the US Open equation now. Tiger Woods is the only golfer to have won the US Open while the reigning world No 1, a feat he accomplished three times. Scheffler is looking to become the second. Placing an old putter back in the bag at the start of US Open weeks appears to have cured Scheffler's earlier woes on the greens. Scheffler will have McIlroy for Sunday company.
Harris English is minus six. Dustin Johnson and Xander Schauffele are five under. Schauffele's 73 began with him leaving the ball in a fairway bunker, twice, on the 1st. "I am going to need to do something special and I need some help from the top," said Schauffele of his Sunday prospects.
Bryson DeChambeau bogeyed the last to slip to three under before branding this major test "diabolical." DeChambeau added: "It's a completely different test of golf than a normal US Open. It's gotten to where it's links style. That's the best way I can describe it. I feel like I'm playing a [sic] British Open now in a sense." Cameron Smith, the Open champion, has matched DeChambeau's total.
Matt Fitzpatrick, the defending champion, expanded on the sentiment offered by DeChambeau. "I just think the golf course is interesting, to be polite," said the Englishman after his lowest round of the week, a 68. "There's just too many holes for me where you've got blind tee shots and then you've got fairways that don't hold the ball. There's too much slope.
"I think the greens certainly play better when they're firmer. I definitely think that's the case. They're rolling really, really well. Some of the tee shots, I think they're a little bit unfair. You hit a good tee shot and end up in the rough by a foot and then you're hacking it out. Meanwhile someone has hit it miles offline the other way and they've got a shot. Yeah, not my cup of tea."