Eight years, 10 months and nine days. Thirty three major championships. The long, occasionally painful, wait for Rory McIlroy to take delivery of a fifth major title looked destined to end at LA Country Club on Sunday. Instead, Wyndham Clark – hitherto with just a single mainstream tour win to his name – prevailed at the US Open.
The Hollywood Hills formed the backdrop to an epic underdog story. The Holywood man was denied once more. It was impossible not to feel sympathy for McIlroy, who has done everything in this sport since August 2014 bar win another of the trophies he craves so much. If there is sporting justice, he will crash through the barrier soon enough.
For McIlroy, who fell short of Clark by a single, measly stroke, this one will sting. It is the hope that kills. At last summer's Open Championship, McIlroy was ultimately outplayed on day four by Cameron Smith. Then, as here, the Northern Irishman's putter fell as cold as a January morning in Reykjavik. What will hurt McIlroy upon deeper reflection is a sense of missed opportunity and, being blunt, the nondescript nature of the champion. Had McIlroy broken par even by one, he would have forced a playoff. A level par 70 left him as the runner-up.
"I'm getting closer," said McIlroy. "The more I keep putting myself in these positions, sooner or later it's going to happen for me. When I do finally win this next major, it's going to be really, really sweet. I would go through 100 Sundays like this to get my hands on another major championship." This bullishness was admirable. Next stop, the Open at Royal Liverpool. McIlroy lifted the Claret Jug there in 2014.
Clark is of course worthy of immense credit. This is a golfer who in half a dozen previous major appearances had missed the cut four times. His best finish was a tie for 75th. Now $3.6m richer, Clark's life has changed forever. He displayed nerves of steel when chipping stone dead from a tricky lie at the side of the 17th green. Clark again required fortitude at the last; two putts from 60ft would seal victory. The 29-year-old cried with joy after tapping in for a par four.
"I have dreamed about this moment for so long," said Clark. "I have worked so hard to be here, I have visualised winning this championship. I just feel like it was my time."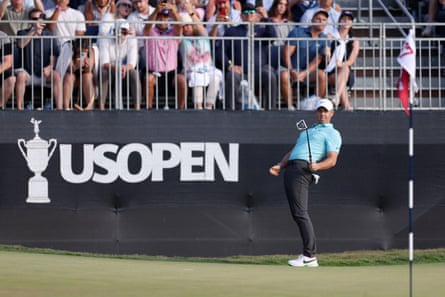 McIlroy reached the turn in one under par 34. A par birdie from 5ft at the 8th, which shot straight left, was the key aberration therein. Still, McIlroy was within one and striking distance of Clark in what had quickly become a two-horse race. That changed at the 14th. McIlroy found deep rough guarding a greenside bunker when his wedge shot approach to the par five was hit by a gust. While an embedded ball meant McIlroy received a free drop, he was unable to save par. McIlroy shook his head when assessing what had transpired. He knew the extent of the damage. Playing in the group immediately behind, Clark delivered a birdie four. The advantage was suddenly three.
Clark did drop shots at the 15th and 16th to leave the door open for McIlroy. However, the latter needed a birdie which had not appeared since the 1st. "I need to be more efficient with my opportunities," added McIlroy. A four-four finish edged Clark over the line.
As the leaders teed off, Tommy Fleetwood was in the midst of completing his second final round of 63 in a US Open. He is the first player in history to achieve that. Fleetwood's heroics catapulted him to a share of fifth. Even more striking was the fact Fleetwood missed birdie putts inside of 6ft on both the 1st and 18th. "Everything in between was really, really good," Fleetwood said. "I just need to be higher up the leaderboard coming into Sunday and then have another day like today."
Australia's Min Woo Lee and Rickie Fowler, who collapsed to a fourth round 75, tied with Fleetwood. Smith's six under par sealed fourth, one behind the third-placed Scottie Scheffler. Tom Kim and Harris English completed the top 10.
This, however, was Clark's day. In the shadow of Lionel Ritchie's mansion, he was gonna have a party. All night long.