It took less than a week for Folarin Balogun to do what no other United States player has done.
In a late season clash against Angers, Balogun collected his 20th goal in Ligue 1 for Reims, where he spent the previous campaign on loan from Arsenal. Coming only five days after his mid-May announcement that he was switching international allegiance from England to the US, the goal suddenly packed historic import: it made Balogun the first American player to score 20 or more goals in one of Europe's top five leagues, an achievement the US Soccer Federation was eager to trumpet.
Never mind that Balogun had yet to kick a ball for the US men's national team – or that some may question whether the French competition even still qualifies as one of Europe's big five – the milestone was illustrative of what the USMNT has been starved of: clinical and prolific goalscoring at the center-forward position. At 22, Balogun represents a potential long-term solution to the team's striker deficiency, a dependable No 9 who will bury the chances that many of his American predecessors have squandered.
He offered a glimpse of that promise in only his second match for the US, scoring a goal against Canada in June to help his new side win the Concacaf Nations League. American fans are banking on much more of that, hoping that Balogun elevates a talented young attack led by Christian Pulisic, Gio Reyna and Timothy Weah, and propels the team to a deep run in the 2026 World Cup held in the US, Canada and Mexico. But the three years leading up to that will be a critical professional stretch for Balogun both at the international and club level.
Balogun was born in Brooklyn and raised by Nigerian parents in London, a biography that made him eligible for a trio of national teams. He played for the US at the Under-18 level, represented England Under-21s and, as recently as last fall, said he was "open" to a call-up for Nigeria. Balogun's club career, however, has always been tethered to Arsenal, where he joined the academy at the age of 10 and burnished his reputation as one of the Gunners' brightest young prospects. His loan spell with Reims last season provided evidence that he can do it in the senior ranks, too. He finished tied for fourth in France's top division with 21 league goals, a tally padded by six penalties and a trove of close-range efforts. Balogun's highlight reel may not boast many worldies, but it does showcase a classy finisher with a poacher's knack for being in the right place at the right time.
That is precisely the type of player the USMNT need but it is not, apparently, what Arsenal are looking for. Balogun accompanied the Gunners on their preseason summer tour of America, but he trained separately from the squad in Los Angeles last month as rumors of an impending transfer began to mount.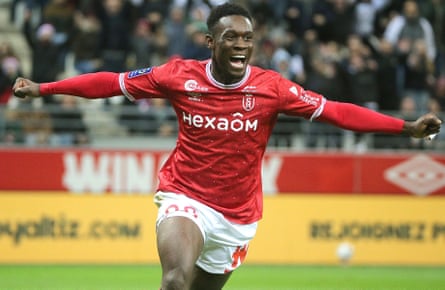 Arsenal boss Mikel Arteta said last week that the club's plan for Balogun "doesn't change at all" following the injury to first-choice striker Gabriel Jesus, a seeming indication that a sale is still in the offing. But with the new Premier League season due to kick off on Friday, Balogun remains in limbo. Arsenal reportedly value Balogun at around £50m to £60m ($66m to $76m), a price tag that suitors have thus far balked at meeting. The club rejected a bid from Monaco earlier this week, while Internazionale have also seen an offer rebuffed. West Ham have reportedly expressed interest in a move, as well.
Balogun was sanguine about his murky future while on Arsenal's preseason tour last month. "I think it's more a decision that's not with me. It's with the people higher up and they'll make that decision," Balogun told CBS Sports. "Whatever happens, I'm cool with it." But his patience may be wearing thin. Reports circulated last week that Balogun has urged Arsenal to lower their asking price in order to facilitate a transfer.
A move to Serie A or to another Premier League club would be preferable for his development, with both offering more formidable competition than in France. But equally important is that Balogun lands at a club where he will be an integral part of the plans. He needs consistent match time, and a coach who will give him a fair chance to earn it. To put it another way: his next stop needs to go more smoothly than Pulisic's four-season stint at Chelsea, which included a Champions League triumph in 2021 but was also typified by how much time he spent on the bench. Pulisic, who completed a move to Milan this summer, said after reporting to the US national team in June that he was looking forward to getting "some minutes on the field".
Wherever he plays next, Balogun may never be as warmly embraced as he has been by the United States. The USMNT's years-long courtship of Balogun intensified in March, when he visited the team in Orlando during the international break. While in Florida, he met with US interim coach Anthony Hudson, who succeeded the recently rehired Gregg Berhalter at the beginning of the year. American soccer sleuths online deduced Balogun's whereabouts from his posts on social media, energizing a fanbase still reeling from a disappointing exit at the World Cup in Qatar and an unsavory feud between Reyna and Berhalter that spilled into public view.
Balogun said later that he felt "overwhelmed" by the response from US supporters, and that the outpouring of support influenced his decision to switch allegiances. In an interview with Arsenal's official website, he described the introduction to his new national team as "the best month of my life and my career."
The US and its supporters hope Balogun renders the same verdict in July 2026 at the conclusion of the World Cup in North America.
By then, the sense of anticipation that presently defines his career will be replaced with something close to clarity: on whether expectations were fulfilled, and if other milestones were attained.