Key events
The big news for Spain: Back-to-back Ballon d'Or winner Alexia Putellas is NOT in the lineup. She hasn't been in top form after an ACL injury last year.
The lineup is basically anyone who plays for Barcelona or Real Madrid — each club has nine players on this roster. Two hail from Atlético Madrid, one from Levante, the third-string keeper is from Valencia, and Jennifer Hermoso has taken the non-traditional route by following up a distinguished European club career with a move to Mexico.
Spain had a rather easy time with Costa Rica in the opener, outshooting the Central Americans 46-1 in a 3-0 win. The finishing was better against Zambia, with Hermosa and Redondo each scoring twice in a 5-0 win. The momentum stopped abruptly with a 4-0 loss to Japan that led coach Jorge Vilda to make a few changes, including a senior-level debut for 22-year-old goalkeeper Cata Coll, who has only played five games for Barcelona! (She has not yet allowed a goal.)
As with the Netherlands lineup, an "x" means the player did not play in that game. An asterisk by a rating means that player came on as a sub.
Goalkeeper
23-Cata Coll (Barcelona): x-x-x-6. Her second cap is against the Netherlands in a World Cup quarterfinal.
Defense
2-Ona Batlle (Barcelona): 7-7-6-8. Usually plays on the right but shifted to left back during the debacle against Japan and stayed there against Switzerland. Spent the last few years with Manchester United.
4-Irene Paredes (Barcelona): 7-7-5-7. Center back has played every minute so far.
12-Oihane Hernández (Real Madrid): 6*-7*-5*-7. Right back started against Switzerland after coming off the bench three times in group play.
14-Laia Codina (Barcelona): x-x-x-6. Center back played her first game of the Cup against Switzerland and scored an equalizing own goal in the 11th minute. Bounced back to score Spain's fourth.
Midfield
3-Teresa Abelleira (Real Madrid): 8-8-6-7. Center mid scored against Zambia.
6-Aitana Bonmatí (Barcelona): 8-7-6-9. Played centrally alongside Albelleira when Putellas was out against Costa Rica but has been on the right since. Scored against Costa Rica, but the big story with her is her two-goal, two-assist showing against Switzerland. And that's the only game in which she hasn't played the full 90.
10-Jennifer Hermoso (Pachuca): 7-9-6-8. Has played as a No 10, a No 9 and whatever number a left midfielder is. Scored twice against Zambia and netted the final goal against Switzerland.
Forward
8-Mariona Caldentey (Barcelona): 6*-7-6-x. Left wing returns to the lineup.
9-Esther González (Real Madrid): 7-x-6*-7. Wears and plays No 9. Scored against Costa Rica.
17-Alba Redondo (Levante): 6*-8*-6*-8. Scored twice as a sub against Zambia. Started and scored against Switzerland.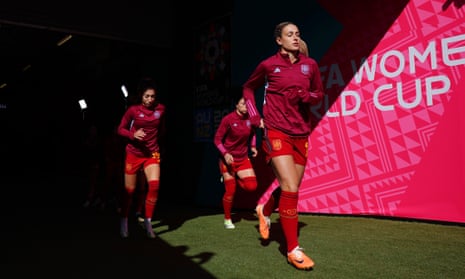 Who's playing for the Netherlands today? Here's the lineup, with rating info from our guide to all 736 players. An "x" means they didn't play in the game in question.
Those games were a 1-0 win over Portugal, a 1-1 draw with the USA, a 7-0 romp over Vietnam, and a 2-0 knockout-round win over South Africa.
Goalkeeper
1-Daphne van Domselaar (Aston Villa): 7-6-7-7. Those ratings seem low. She's a monster.
Defense
20-Dominique Janssen (Wolfsburg): 7-5-7-?. Not sure why she got no rating for the round of 16 — she's the only field player who has played all 360 minutes.
3-Stefanie van der Gragt (free agent): 8-6-7-5. The center back is retiring after this Cup, though she's only 30.
8-Sherida Spitse (Ajax): 7-6-8-7. The 33-year-old captain has been with the national team for more than half her life.
Midfield
11-Jackie Groenen (PSG): 8-5-6-6. Box-to-box midfielder has a lot of responsibility holding things down behind all the attackers.
22-Esmee Brugts (free agent): 7-6-8-7. Very impressive on the left.
21-Damaris Egurrola (Lyon): 6-6-6-x. Subbed in all the group matches, sat out the round of 16, and is making her first start of the Cup here in place of the suspended Daniëlle van de Donk.
6-Jill Roord (Manchester City): 7-8-8-8. In the running for the Golden Boot.
17-Victoria Pelova (Arsenal): 7-7-6-6. Right wing.
Forward
7-Lineth Beerensteyn (Juventus): 7-x-x-8. Had some interesting comments that we'll get to.
11-Lieke Martens (PSG): 7-7-7-7. An all-time great for this team.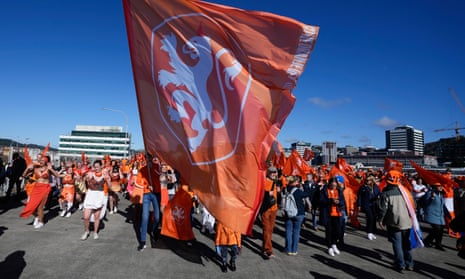 Hello all. It's been a while. I think I was last live when the US women also were alive in this Cup.
What an intriguing matchup we have here! Two European nations steeped in men's soccer tradition that finally caught on to women's soccer in the past decade and made immense strides, so much so that neither team's presence here is a surprise, neither team's presence in the semifinals would be a surprise, and neither team's presence on the winners' stand would be a surprise.
On paper, Spain look a bit better to me. But the Netherlands have some top-flight attacking talent and a goalkeeper capable of slamming the door.
Beau will be here shortly. In the meantime, here's Jonathan Liew on an intriguing match-up:
The time begins to weigh at this point. Spain have been in New Zealand for a month, braving near-zero temperatures, the strong winds that numb the fingers and carry perfectly adequate long passes out of play, the ennui so acute the whole squad and their families decided to move from their sleepy Palmerston North training base to the centre of Wellington in the middle of the tournament.
The Netherlands, for their part, have been constantly on the move from their Tauranga base in the north of the country: south to Wellington and Dunedin, west to Sydney for their last-16 game, and back again. "So many airports," their coach, Andries Jonker, said on Thursday. "So many hotels. So many pitches. So many flights. We are the world champions of flying."
New Zealand is a place that makes you feel its remoteness: not just in the lush rolling landscapes that seem to go on for ever, but in the dislocation of time zones and distance, the unfamiliar weather, the messages back home you know will go unread for another eight hours. And this ride is rewarding and memorable too. But when you have been riding it long enough, it needs to be the right kind of rewards and the right sort of memories.
And so to a quarter-final between two European giants scheduled for the dead of the European night: 3am in Madrid and Amsterdam. It's not just the players putting in a shift here. Jonker recommended setting an early alarm. Spain's coach, Jorge Vilda, reckons it'll probably be easier to just stay up late. That's northern and southern Europe for you in a nutshell. For all the familiarities between these two coaches and their sides, there are also dividing lines that promise to generate one of the tournament's most fascinating encounters.
You can read the full story below: