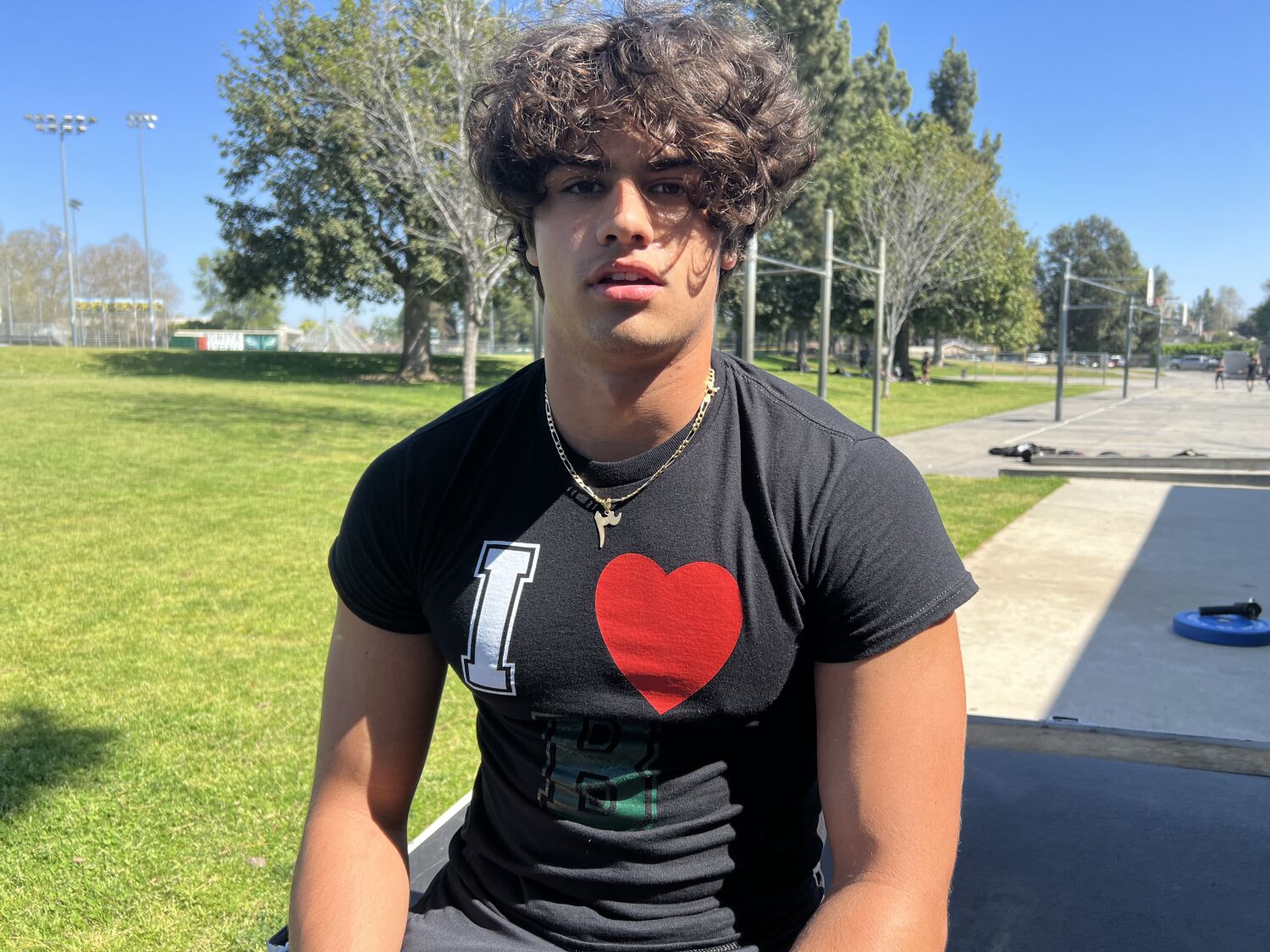 Seventh in a series of stories profiling top high school football players by position. Today, Noah Mikhail, Bonita linebacker.
The Great Pyramid of Giza, one of the Seven Wonders of the World, is about 11 miles from downtown Cairo. It's 481 feet tall built with stone blocks estimated to weigh 6 million tons.
Noah Mikhail has never visited the pyramids in Egypt even though his father, Karim, grew up in Cairo before moving to the Southland as a teenager.
Looking at Mikhail's muscles bulging from his shoulders, you have to wonder if he would have fit right in with the workers from the 26th century BC carrying rock and stones to build the mammoth structure.
He's been hanging out in weight rooms since seventh grade. At 6 feet 3 and 220 pounds, the La Verne Bonita student is considered among the best junior linebackers in the nation, with such college coaches as Lincoln Riley of USC, Ryan Day of Ohio State and Marcus Freeman of Notre Dame hoping to land him.
At 16 years old with a clear passion for football and a 4.0 grade-point average, Mikhail ticks nearly every box on the checklist of what coaches want in a player.
"He's a phenomenal kid," Bonita co-coach Bo Beatty said. "He's the first guy in the weight room and the last guy to leave. He's completely locked in to football. He likes working out and training and on Sunday, he goes to church."
He has grown up in San Dimas and La Verne. His father was an offensive lineman at Azusa Pacific. An older brother played at Bonita. While Mikhail heard all the selling points imaginable for why he must transfer to attend a powerhouse program that will give him exposure and attention, it was his decision to attend the school three miles from his house.
His conclusion was simple.
"It really is bet on yourself. If you're good enough, they will find you," he said.
Sure enough, everyone is beginning to learn about Mikhail, whose versatility, instincts and toughness resonate with all those who take the time to watch, listen and learn.
On offense, he can play receiver, running back, tight end or on the offensive line. He easily can be a wildcat quarterback. On defense, he can play end or tackle. But he's being recruited to be an inside or outside linebacker. He says his strength has been helping him in a big way.
"Strength gets your body right and helps your body absorb the contact you're taking," he said. "It helps you with endurance."
Off the field, he's an energetic, friendly teenager. Faith is critical in his life. He can surf, he can dunk a basketball, he can hit a golf ball pretty far. On the field, he's totally focused and uses days of watching film to prepare and understand what an opposing team might try to do.
"Being able to be versatile helps me in every position and helps the team," he said.
The fact he entered April of his sophomore season with more than 30 scholarship offers is proof that he was right to "bet" on himself.
"He actually goes to the school he's supposed to go to. It's refreshing," Beatty said.
Now, if only he can get some time to visit the pyramids of Egypt, where his strength, size and passion would have come in helpful for the original builders.
Sunday: St. John Bosco defensive back Peyton Woodyard.