Lakers co-owner Jeanie Buss had a secret in 2008 and she wasn't going to tell anyone, not even her then-boyfriend, coach Phil Jackson.
The news she had gotten from her father was potentially franchise-changing, the final step to getting the Lakers back on track after they traded Shaquille O'Neal in July 2004.
"We're approaching the trade deadline," she said. "And, you know, with trade talks, rumors start, and my dad tells me he's talking to the owner of the Memphis team about trading Pau [Gasol] to the Lakers. And, he said, 'It's really important that nobody finds out about this.' And I said, I promise, I won't say anything to Phil, like, he's not gonna hear anything from me. I'm not gonna say anything to anybody.
"But that would be amazing if that could happen."
The trade, of course, did happen — the secret staying that way until the Lakers pulled off the deal sending Kwame Brown, Javaris Crittenton, Aaron McKie, a 2008 first-round draft pick and the rights to Marc Gasol to Memphis for Pau Gasol.
"I've been in the NBA since 1986. I'm with my, I think, eighth team now," former Grizzlies general manager Chris Wallace told The Times. "… I've never seen a deal that was as vociferously criticized, not off the record, but upfront by people inside the league."
The ripples from the trade altered multiple franchises and helped push Gasol into the Naismith Memorial Basketball Hall of Fame, where he'll be formally inducted Saturday.
"You don't start playing basketball, a sport to get to basketball, I don't know, basketball heaven," Gasol told The Times. "You play a game that you love. It intrigues you, it excites you, it feels and gives you self-esteem and confidence when you're a kid. And then little by little, you're like, 'Hey, I want to be better. I want to become better. I want to be the best that I can be.'"
Ahead of Gasol's induction, The Times spoke to the main characters involved with one of the most important NBA trades of the last 20 years — a transaction that led to a Hall-of-Fame career and two NBA titles in Los Angeles, and helped cement Memphis as a viable NBA city.
In 2001, the Grizzlies were floundering in Vancouver and owner Michael Heisley decided to relocate. Louisville, New Orleans and Anaheim were among the cities considered, but ultimately, the franchise landed in Memphis. Their first big decision came on draft night, when the Grizzlies traded Shareef Abdur-Rahim to Atlanta for the No. 3 pick in the draft — Pau Gasol.
PAU GASOL: Growing up, one of my idols was this European player who accepted the honor to be one of my presenters, Toni Kukoc. He was this young, fearless, skillful, 6-8, 6-9, 6-10, around that. He was a player that played outside. … So, Michael [Jordan] was the guy, right, of that time, of the '90s that transcended basketball. But then Toni was the European guy, the skinny guy. I was playing small forward until I was 19. I was skinny, too. I knew how to dribble the ball, pass, make plays, make some shots. That was it. So, he was a guy that I looked up to growing up.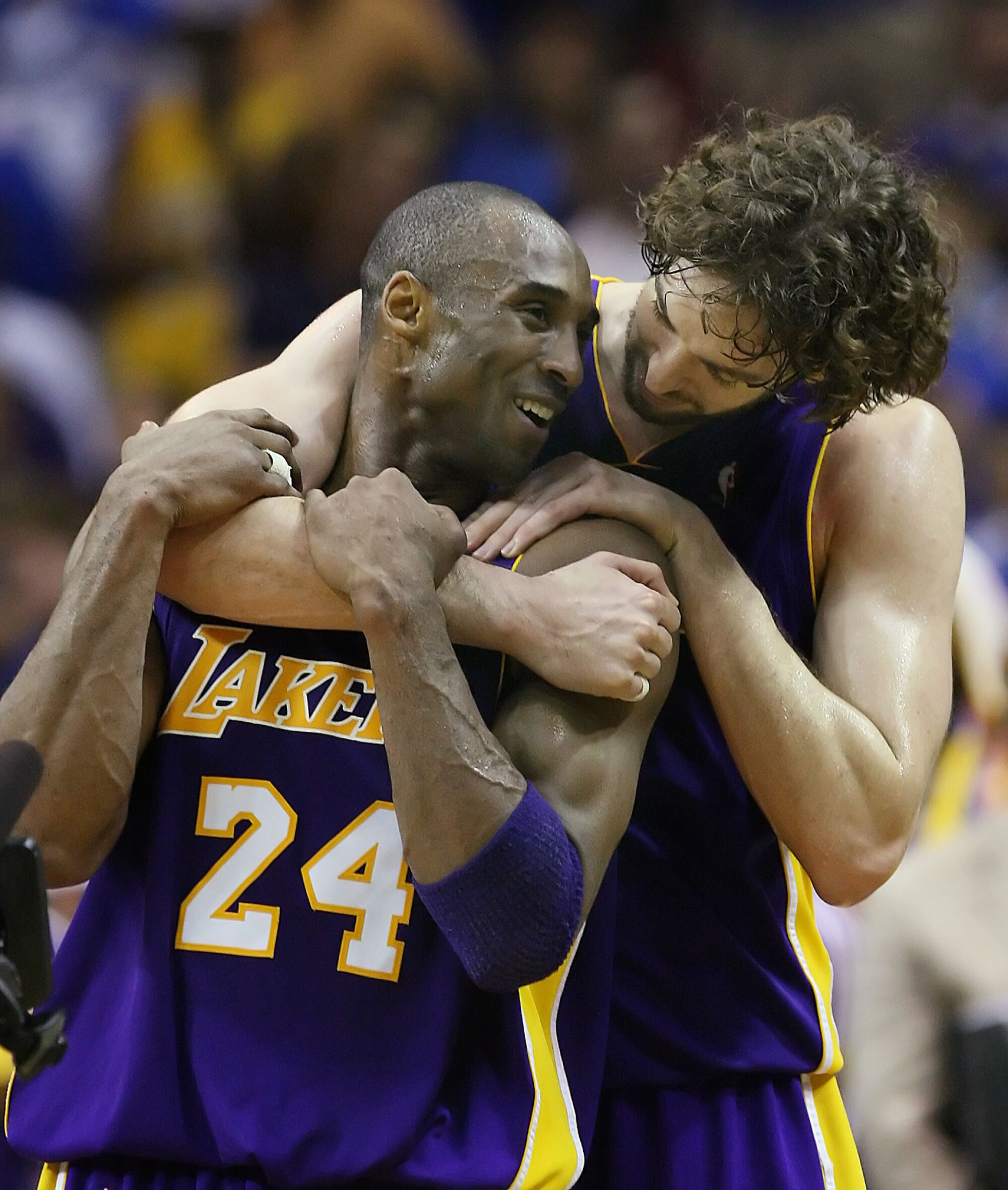 Gasol's skills made him an instant success in Memphis, where he was voted rookie of the year. By 2004, the Grizzlies were in the playoffs. But the team got swept in the first round in three straight seasons. As they struggled in 2007, Gasol requested a trade. He was nearly dealt to Chicago, but ultimately, he remained with the Grizzlies. In the 2008 offseason, Memphis hired a new general manager in Chris Wallace. They drafted point guard Mike Conley. And they traded for Gasol's good friend, Juan Carlos Navarro.
CHRIS WALLACE, Grizzlies GM: Now, when I got there, after we got through the draft, it was evident that our franchise was at a very low place. The team had never won a playoff game. They were 0-for 12 in the playoffs. And all those 12 defeats came [since moving to] Memphis. … I felt we were like a junior high school team in town. Yeah. There was no passion. There was complete apathy.Ticket sales have gone down, everything is going down, right. So now when I came there, we have one major, big-time player, which is Pau Gasol. You could tell when you talked to him that his candle had been doused for the Grizzlies.
PHIL JACKSON, Lakers head coach: He's a very unique player. I don't know if we've had many players like him before. His mobility, his agility. He both played with his back to the basket and facing the basket, and his size being able to handle the ball. He's a very unique player. … We had talked about trading for him the All-Star game prior to the year he actually came. We were kind of concerned that if he could play the center spot, if he could defend the lane."
WALLACE: And so I tried, then I tried, you know, the ultimate, you know, Hail Mary to reach out to [Gasol]. I traded a first-round pick for his good friend, Juan Carlos Navarro. Also, ironically, in my Reach-Out-to-Pau program, I chased a second-round pick all through the draft, until the Lakers used it on Marc.
MIKE CONLEY, Grizzlies rookie point guard: I was thinking like, 'Man, I get to play with Pau Gasol. Mike Miller. This is going to be a lot of fun, I'm going to learn a lot and we're going to be good soon … because we've got Pau. I was super green. I didn't really understand what direction [we were headed] and I didn't really worry so much about what direction the team was going in — until the day he was traded.
The Lakers, in their own way, were also struggling in the mid-2000's. After trading Shaquille O'Neal, the team also lost Jackson. Built around Kobe Bryant, the Lakers missed the playoffs in 2005. The team re-hired Jackson and returned to the postseason, but after consecutive first-round series losses Bryant asked to be traded.
ROB PELINKA, Kobe Bryant's agent: After three seasons of not winning a playoff series, I just remember Kobe being so voracious about wanting to go on a championship run. Like, 'I'm not going to go through this again without a clear path for a championship,' just with that Mamba Mentality of like, 'Nothing's gonna get in my way.' I think he just felt like the best way to really, you know, engage things was was to do what he did, you know, in May of 2007. When he was like, 'Hey, I want to be on a championship team' and, you know, kind of made it made the famous [trade] request.
BUSS: It's so frustrating to lose in the playoffs. So I would say the same thing. You know, in some ways, I would rather not make the playoffs than have to lose in the first round. It's horrible. … My dad had agreed to meet with [Bryant]. They met in Italy, as a matter of fact, and, you know, my dad said, 'Look, if, you know, you're like, an 8-carat diamond, you know, like, in other words, an 8-carat diamond is worth a lot more than eight 1-carat diamonds.' And he said, there's no amount of talent that I can get back, that would match yours. You have to trust me, that I want to win as much as you do. And we're gonna get there.
JACKSON: Kobe had gone through a series of disappointments when I came back from my sabbatical, maybe two seasons, and he was getting kind of desperate. Shaq had won one [championship] down in Miami and kind of taunted him a little bit. Kobe was trying to force a trade if he could make it happen for his career. I think it was an idle threat. He still wanted to make some changes and Dr. Buss was patient and consistent and they worked it out.
In December 2007, Wallace went to Heisley to tell him he thought a trade was necessary and that Gasol would be the one that needed to go. Meanwhile, the Lakers were about to lose Andrew Bynum to injury, causing a need for a frontcourt player.
WALLACE: The real issue here is [Pau's] not a No. 1 guy on a great, great team. And that's no disrespect. There are hardly any guys in the league that are. He's Scottie Pippen. I know that Michael Jordan, I can't go get him a replica of Michael Jordan. I can't go get him Kobe. … Him as the No. 1 guy is miscast. He's not enthusiastic about being with us. The town don't like us. So I go to the owner, Mr. Michael Heisley, around the Christmas holidays and said, 'Look, we got to do something here.' Apathy is worse than if they hate you.
MITCH KUPCHAK, Lakers general manager: Andrew Bynum had gotten hurt. So, we went from a team that I think had the best record in the West to a team that was now playing .500 ball, So, we're scouring the league looking for ways to replace Andrew Bynum and we exchange phone calls with Chris Wallace.
PELINKA: Once Kobe and I got that information, there was daily interactions with Mitch of like, hey, when a player of this caliber becomes available, but you know, let's figure out a path.
Wallace placed calls around the NBA with a list of players he'd accept in one-for-one deals for Gasol — a list that included names that he knew he'd never get. He made calls on Al Horford with Atlanta. He also checked in on Joakim Noah with Chicago, the team that was interested in Gasol the previous season.
WALLACE: [Noah] was the one guy on the list I might have been able to swing.
Ultimately the decision was made to try to find a deal that would save Memphis money and bring young talent to the team in the form of draft picks and prospects. But with Gasol nursing a sore back, Memphis needed to get something done. Secrecy was a must, with rivals sure to be upset with the deal the Lakers were about to pull off.
BUSS: You could strongly believe that if they had gotten wind of it, that they would have maybe put together a better package or a bigger package, or they would have talked Memphis out of trading Pau within the conference.
KUPCHAK: There was a quirk in the CBA, the collective bargaining agreement, where we were able to take advantage of a loophole. That's all. To make the numbers work, we needed more money. Aaron McKie was on our team the previous year but now he was coaching as an assistant coach [in Philadelphia]. And we called him up and said, 'Listen, how would you like to make another million dollars?'
WALLACE: I'm really concerned about his back. Because if it gets worse, if he goes out, you know, now trying to trade him would get hard. … So I felt an urgency to do something. OK. So now, the Lakers in our estimation, quickly come up with the best package and the Lakers are motivated on their end.
The terms of the deal were set: The Lakers were going to get Pau Gasol and a future second-round pick for Kwame Brown, Javaris Crittenton, Aaron McKie, two future first-round picks and the rights to the 48th pick from the previous year's draft — Marc Gasol.
WALLACE: We honed in on Marc. And they were going to move him. And Marc, in addition to not having any cap ramifications was just draft rights, which is good. Marc really had been excelling that year in the [Spanish League].
STEVE KERR, Phoenix Suns general manager: At the time, what I remember was it didn't seem like enough to make that deal. And I think the whole league felt that way. The Lakers were getting him for nothing. Of course, nobody understood how good Marc was. To me, it turned out to be a pretty good trade for both teams. But at the time, it just felt like the Lakers had stolen him.
There was criticism from around the league, with the most aimed at Memphis from Spurs coach Gregg Popovich and Mavericks owner Mark Cuban.
BUSS: I completely believe that if they could have, you know, somehow upended the trade they would have tried. They knew that that was going to lead us to victory. Yeah, they're smart enough guys.
JACKSON: I get a kick out of it all the time because Popovich raised holy hell because he wanted the league to look into those things. He got really offended by it.
CONLEY: It was confusing. I didn't understand it. What I thought of Pau at the time — and even still to this day — I was thinking he'd be a Hall of Famer then. I was thinking he was one of the top players in the league. When you trade him, it's like, 'Who did they trade him for? Andrew Bynum? Kobe?' I was thinking big, huge names at that time, just the guys I knew off the top of my head. And I love Marc Gasol to death, but when I heard it was Marc Gasol, I was like, 'Man, I haven't ever seen him before. I have no idea who he is or what he does or if he's any good at basketball.'
LAMAR ODOM, Lakers forward: When I first heard we were trading for Pau, at first thought it was a joke. Somebody of that caliber, I'm thinking like, 'Damn, am I in that trade? I hope I'm not in that trade.'
MARC GASOL, Lakers second-round pick: Juan Carlos Navarro is one of our teammates on the national team and a good friend of ours. He called me and said 'Pau just got traded to the Lakers.' … 'Wow that's awesome.' I thought about him being in Los Angeles, playing with Kobe, all that. 'You know who he got traded for?'
WALLACE: I don't mind if you get taken to task in the media, people who are evaluating you have actually sat down and looked at all the ramifications what you're doing. Yeah. But that doesn't always happen. Stephen A. Smith, you know, pounded me on this deal. Because we traded for Kwame Brown. Well, technically we traded for him, but we trade for his contract. Yeah, it could have been you and that contract. … And we felt that even though [Marc Gasol] was the 48th pick the year before, if he had happened to be in the draft coming up in '08, he would've been a top-10 pick.
MARC GASOL: Come on now [laughing]. I love Chris and he really liked me — but after.
There were some potential hiccups to get through. Gasol's back injury was worrisome enough that he might not pass his physical with the Lakers and Wallace knew Gasol wasn't thrilled for such a huge change. The deal formally went through on Feb. 1. The Lakers and Grizzlies had kept it a secret, save for a blog from a Memphis radio host.
WALLACE: Man, what a great place. [Pau] you're going to, I mean, young guy like you and L.A., play with Kobe, and you know, movie stars, models, all that. And I remember he said, 'Well, I'm not a fast lane guy.' I finally got frustrated. I said, 'Well, Pau, if you don't want to go play for the Lakers, hell, I'll go play for 'em.'
PAU GASOL: Everything happened so fast. You have played for a team as long as I did for the Grizzlies; in my case for 6 ½ years. Then you get the news that you have been traded. Never been traded before. Three hours later or so after they tell me, I'm on a plane to L.A. because I got to get a physical the next morning. So, land in L.A. late, 10 p.m., go to the hotel, try to get some rest, get my physical in the morning and then I get on a 1 p.m., or whatever, flight to Washington, D.C, across the country, because that's where the team was. I said, 'OK, let's go.'
Gasol debuted on that road trip in New Jersey against the Nets. He scored 24 on 10-of-15 shooting with 12 rebounds.
WALLACE: I turn on ESPN that night and they go 'In his first game, the Lakers Pau Gasol goes for 24 points and 12 rebounds,' and he's jumping in Kobe's arms, shooting all this stuff? I go, 'I'll be damned.'
PELINKA: I think for Kobe, it was less analyzing the metrics around the deal, but just saying, you know, 'While I've got an All-Star, you know, player in his prime that I can go on a run with and I think, I think for him, I just remember early. His first reaction was, how do I get the most out of Pau?
KUPCHAK: [Bryant] pushed everybody, OK. But I think he recognized that Pau, maybe more than anybody else, had more to give. And he was hard on him. He was. He pushed him and I don't know how Pau felt about it. They ended up being great friends, so obviously he must have accepted it. But I think at the beginning it was hard. Kobe is demanding. That's the way he was. He was a demanding teammate.
JACKSON: The role that we could use Pau in as a playmaker in a passing situation inside the system he was asked to play in, I think really showed the greater depth. He could pass. He could dribble. He could lead a break. I mean, literally he could be in the center of the break leading a break and he could finish a break. I remember him blocking a LeBron James dunk. That was something that he could do.
KERR: I think everyone recognized how much better he would be in L.A. playing with Kobe, playing with the triangle. It was perfect. He's the perfect center for the triangle as a passer and as a scorer, rim protector. Really a perfect center for Phil. People recognized that. And it completely revived the Laker era. I think everyone recognized that and felt like Memphis was sort of handing it to them in some ways.
CONLEY: It was one of them things where the common NBA fan might not notice, the media might not have noticed, being in Memphis, a small market, not really noticing how good a player and the impact he has on a team and teammates. But he was that example of a guy that you knew if he got in front of the lights, if he got somewhere big, New York, LA, Miami, Chicago, anywhere with a market, he's going to explode. Once he went to L.A., I was like, 'Well, everyone is going to see Pau.'
PELINKA: When the deal was done, I know I remember conversations with Kobe about, 'Hey, this could be perfect player, perfect system. And something special is about to happen.'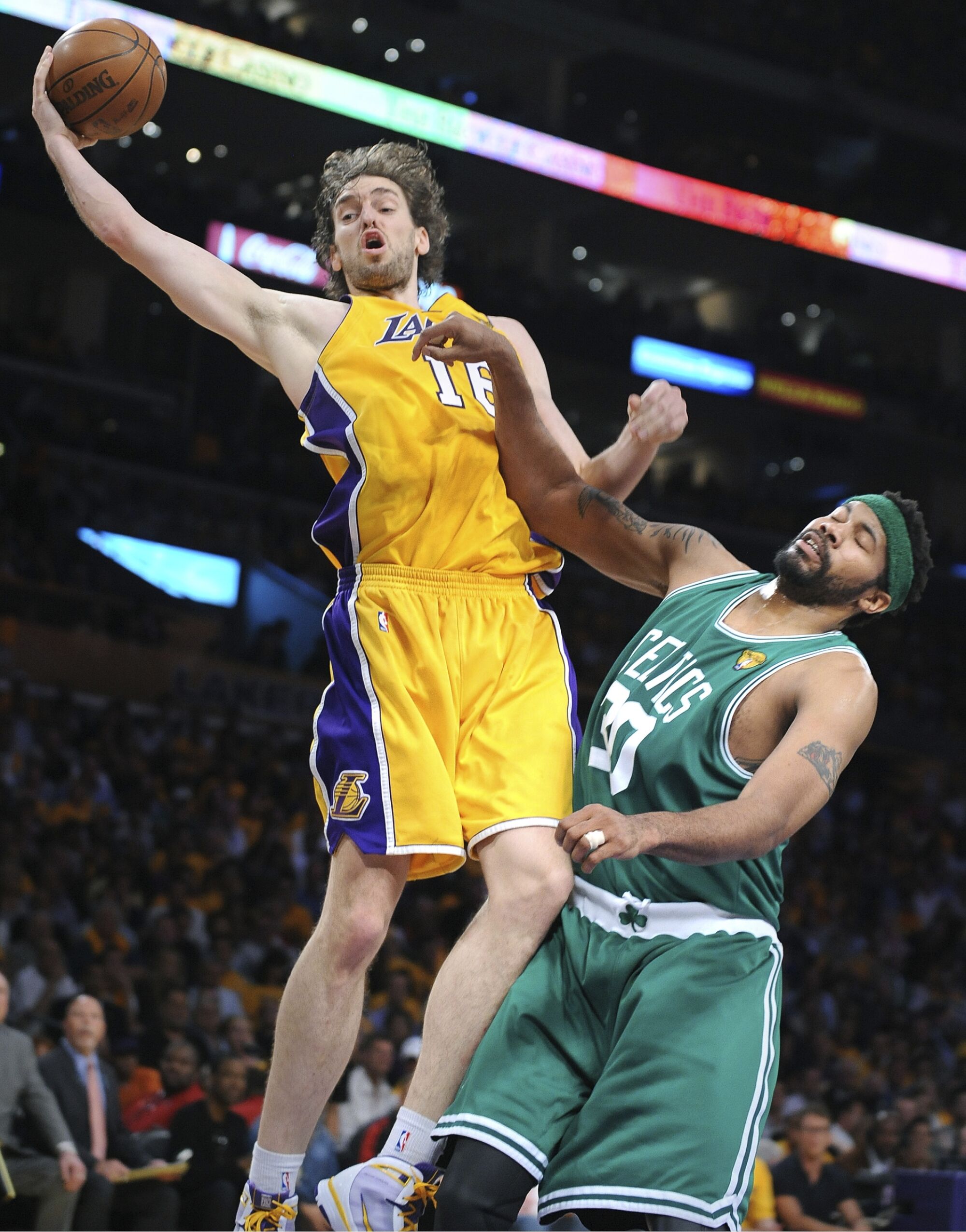 Gasol quickly learned that life in Los Angeles wouldn't instantly be easy. In his first season with Bryant and Jackson, Gasol entered the brightest spotlight of his NBA career, and the results were uneven. In the conference finals against the Spurs and in the NBA Finals against the Celtics, he struggled, averaging only 14 points. Any critics, though, were quickly answered. By Year 2, he'd be an NBA champion, and in Season 3, he helped the Lakers defeat the Celtics in the NBA Finals for a repeat.
PAU GASOL: I just tried to do the best I could, really. Worked hard. Had a pretty significant impact right away. We were able to finish first in the Western Conference. Kobe got the MVP of the season, his only MVP of the regular season, which that obviously gave me a lot of pride because I was able to contribute to that for him and his family. Then we got to the Finals the first season [losing to Boston].
KURT RAMBIS, Lakers assistant coach: It was a seamless process. He just, he fit in with everything. His passing skills, his understanding of the game, his ability to fit in without an ego, you know, without having needs that needed to be met because he wanted to play a certain way or do things a certain style or whatever. He just fit right in. And because of his skill set, his unselfishness. It just seemed almost like he just been there the entire time.
ODOM: When we got Pau, it gave us two superstar players, two players that hold a team on their own during the season and one of them happened to be a 7-foot power/small forward, cause he ain't a center. I don't think he's a center, even though a lot of times he can be the tallest person on the floor.
BUSS: A perfect gentleman, you know, an interesting person. I mean, it was just an answer for what Phil wanted then. And, of course, he was a great match for Kobe, because, you know, just the European background and Kobe being able to speak whatever languages, they would want to speak together. And they were able to connect in a way … that Kobe didn't connect with a lot of teammates.
PAU GASOL: He's definitely one of the players that elevated me like no other. He pushed me to be not just one of the better power forwards in the league, but to become the best out there on a nightly basis during our time and our run together. I was very fortunate to be able to join the Lakers when I did, to have Kob as a teammate, as a mentor, as an older brother.
ODOM: People used to say that Pau Gasol is soft and all that. How is he soft when he's going at Kevin Garnett's head or he was dunking on him? He was just finesse, extreme finesse and skilled. Always right up there with blocks and he always rebounded the ball, so I don't know how you can say he's soft. I guess because he makes it look easy.
The trade, which was mercilessly criticized at the time has aged well. It helped Wallace obtain the financial flexibility to sign Marc Gasol from overseas and to trade for Zach Randolph and to sign Tony Allen. The "Grit N Grind" Grizzlies connected the city to the NBA franchise and elevated their place in the town. And the deal with the Lakers kept Bryant happy, setting the stage for him to spend his entire career with the franchise.
WALLACE: I never lost a moment sleep when I'm getting absolutely barbecued in the media and around the league. Because these people aren't walking in my shoes. I can't … I gotta deal with the reality on the ground where I'm at Memphis. And this was the only way I knew to give us a fighting chance for the future, how [it] worked out as good as it could have been. Marc became even better than what we thought.
MARC GASOL: Everything worked out so well.
KERR: Chris did get a measure of respect on the back end of that deal. Marc was a hell of a player.
BUSS: I think that's what's great about Dr. Buss. He was always able to figure things out. You know when the pressure was high, he was strategic and stayed calm. And, you know, that's why he could always make good deals. … But it could've been awful.
Gasol will be formally enshrined Saturday into the Naismith Memorial Basketball Hall of Fame, joining Bryant and Jackson. He'll be presented by Toni Kukoc and will join an All-Star class that includes Dwyane Wade, Dirk Nowitzki, Tony Parker and Popovich. In seven seasons with the Lakers, Gasol averaged 17.7 points and 9.9 rebounds to go with 3.5 assists and 1.4 blocks per game. The other Lakers to average at least 17-9-3 in their Lakers' careers? Kareem Abdul-Jabbar, Elgin Baylor, Shaquille O'Neal, Wilt Chamberlain and Anthony Davis.
MAGIC JOHNSON, Lakers legend: It's well-earned and well-deserved. Pau, doing that time as a big man, he dominated really in so many different ways. He could score from the inside. He could score on the outside. His passing ability was off the chart. And then like Kobe always said, his basketball IQ was second to none. He knew how to put himself in the right position and at the right time. He ran the court as a big man. I loved his skillset.
ODOM: We went to Spain one year and I was like, 'Oh, s—,' Pau was like a straight rock star. He's been international. So, I guess the Hall of Fame is the cherry on top of the sundae.
PAU GASOL: Honestly, it's a little surreal. It's hard to picture it still, even though it's close by. Obviously it's a huge honor. I'm still trying to take it in, one day at a time. It's kind of crazy to think about it, with the [Lakers] jersey retirement being a similar feeling. They are two different things, but I think they are two immense honors. So, pretty humbling but pretty nice, too.
BUSS: [The trade] was one of those things that would just be too good to be true. Like, I didn't even want to think about it, because it's too disappointing if it doesn't happen.
It happened. And now Pau is headed for the immortality of the Hall of Fame.