People are complex, multi-layered and nuanced. It's why the longstanding cliché that likens human beings to onions holds up so well. But, occasionally, an anecdote can succinctly capture the essence of a person. I found this to be the case for one such story about basketball legend Pau Gasol. Barcelona, Spain, in the year 1991: an 11-year-old Gasol, the son of a doctor mother and nurse father, and an avid NBA fan from afar, watches with the rest of the world as his hero Magic Johnson announces that he is HIV-positive – a diagnosis which, at the time, is perceived as a death sentence. In that moment, a moved Gasol makes up his mind to follow his parents into the medical profession and seek out a cure for Aids.
Gasol, the eventual two-time NBA champion, six-time All Star and three-time Olympic medalist who is set to be inducted into the Naismith Basketball Hall of Fame on Saturday night, clearly ended up on a path that led him away from professional healthcare (although he did complete a year of medical school before he was forced to choose between the two). But that glimpse into a moment from his childhood tells you everything about who Gasol is, at his core.
In many ways, Gasol was before his time as a prototype for what an NBA All-Star could be. On the basketball court, for starters, Gasol showed that players from Europe weren't just a novelty. Europeans largely had, up until that point, a reputation for being skilled and fundamentally sound but not as "tough" and tenacious as American players. Young prospects who had come up through the NCAA system were generally regarded as safer bets. But Gasol, the first European player to win the NBA's Rookie of the Year award, helped lead the charge to show that Euro players could not just hold their own with their American counterparts, they could best them at their own game.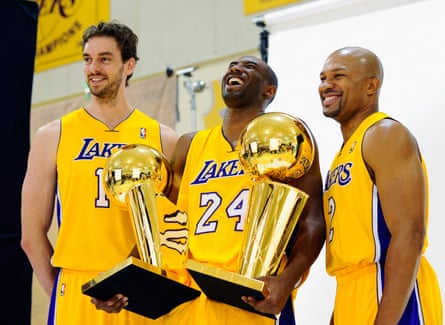 And his playing style, too, was trendsetting and influential. Regarded as one of the best passing big men the game has ever seen at a time when facilitation was hardly a requirement for a seven-footer like himself, he helped pave the way for players like Nikola Jokić, who combine the unselfishness and court vision of a point guard with the body and skillset of a power forward or center. In this way, his love and admiration for Magic Johnson shone through on the court.
Perhaps the most profound fashion, though, that he was ahead of the curve as an NBA star was in his approach to life itself. Though Gasol never ended up pursuing healthcare as a vocation, he fed his passion with a number of off-the-court philanthropic efforts focused on health through the duration of his NBA career, beginning with his time as a Unicef ambassador in 2003 and continuing with initiatives through his charitable foundation to reduce childhood obesity rates by promoting physical activity. His reputation for politesse and professionalism is a testament to his general outlook. As passionate as Gasol is about the game of basketball, he's always maintained other interests, passions and a healthy perspective. He knows there's more to life than what happens on the hardwood and has put his money where his mouth is in that respect.
The European influence on basketball, both on the court and, even moreso, off of it, has been a hot-button topic in the league of late. Euro players have amassed quite an impressive amount of accolades in the last few years; a European player has, after all, been named NBA MVP in four of the last five seasons. But this suggests less an exception to a rule, and more a signpost of the new normal in the NBA, a sport becoming increasingly more global in a world that is doing the same. That's music to the ears of Gasol: "It's not something exceptional, really, or extraordinary anymore," he told me of the success of international players in the league. "It's something that happens, and has been happening. So I love to see that." He continued: "It's really [about] earning that respect, that credit, that recognition, by putting in the work. No matter what you look like, where you're from, your sexual orientation, anything."
The off-court influence, though, has been of particular interest to me, specifically as it pertains to how Europeans approach their work-life balance, and their different perspectives on the game from that of an American athlete. Giannis Antetokounmpo took heat recently for positing that there's more to the game than just being the last team standing, and Jokić got equal criticism for underscoring that there's more to life than basketball, and pointing out that it's a job, at the end of the day. I asked Gasol if he thought their uniquely European perspective was at play here. "I think when you talk about culturally, Europeans approach life in a different way," he said.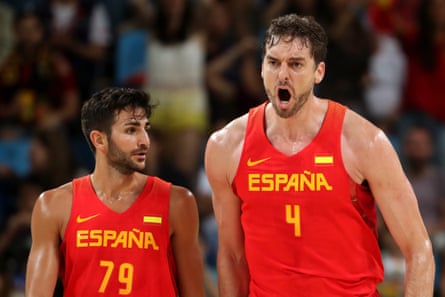 "There's a saying, 'Europeans work to live, and Americans live to work.' There is something where, it's good to work, it's good to be productive, to challenge yourself, to strive to be the best you can be. But it's also good to have balance, to have perspective, to enjoy things. And to prioritize, [to] understand what's really important."
What's important to Gasol in this, the post-playing career phase of his life, is his family. "One of my friends said, 'You'll never regret any time, any second, you spend with your children. You might regret spending time doing other things in life, but not with your children." Coming from someone like Gasol, who turned 43 last month and who's always seemed to have a firm hold on what matters most, it rings true.
The magic of the yearly Hall of Fame induction ceremony is that it offers us an opportunity to reflect on basketball's history, to celebrate contributions from its greatest contributors. But in reality, that living, breathing legacy is what's on the court now: the players who follow in their footsteps, the impact that these players of years past have had on the game and on the world at large. You'd be hard-pressed to find someone who excelled at both of those things more than Gasol himself, and on Saturday night, the basketball universe will give him a well-deserved round of applause.