When people recall the 2002 US men's national team and their run to the quarter-finals of the World Cup, they may remember the quintessential Dos a Cero match. Or Clint Mathis' surprise mohawk. Or their first game, in which they upset a golden-generation Portugal team 3–2.
One of the crucial elements to that US team – indeed, the guy who scored their opening goal of the tournament – was John O'Brien, a skillful and cerebral midfielder from Los Angeles. O'Brien also assisted Mathis' goal against South Korea with a ridiculously accurate chip, and played a beautiful, Pirlo-esque pass to set up Landon Donovan's insurance goal that buried Mexico in the round of 16.
"We brought a good attitude to the tournament of: 'We're gonna go for it, we're rough, we're tough, we know we're underdogs but we've got skill,'" O'Brien says. "That kind of attitude really helped the practices, and then some people really stepped up and played the best soccer they've ever played – myself included. That culture helped us do really well."
O'Brien, in other words, knows a thing or two about mental strength, and has made a second career out of it. He is now a doctor of clinical psychology who works with athletes and non-athletes out of Boulder, Colorado, where he now lives.
"I think the mind is really fascinating," O'Brien says about psychology. "It's an endless and ambiguous area of discovery which can be amazing – but also a little frustrating – at how many ways you can take things. It's a deep mystery that you can put theories on that can be really helpful at times."
O'Brien's career was often hampered – and ultimately cut short – by injuries, starting at his feet and working upward to achilles and then hamstring problems. He earned 32 international caps. When he did appear on the field, however, he was so obviously gifted that he remains one of the US's ultimate "what-if" players.
Landon Donovan of all people once called O'Brien the "best soccer player in the USA."
O'Brien appeared destined for great things in soccer early on. As a child, he played in leagues meant for kids two years older than him. When he was 14 he played for a coach from the Netherlands, who arranged a tryout for O'Brien for an Amsterdam-based club that the teenager didn't know much about: Ajax. He soon learned what he had signed up for though. They had just won the Uefa Cup when he arrived, and their youth academy has always been among the best in the world.
Ajax is where O'Brien toughened up. He was the only foreigner in the youth team, which was intense, full of strict instruction, and where players were given grades after every performance. After two years he made the reserve team, which was more international, and where the soccer was more intense but players were granted more freedom. He eventually broke into the first team, playing alongside a couple of other rising stars renowned for their toughness: Zlatan Ibrahimović and Wesley Sneijder.
"There were always these steps," O'Brien says. "You're playing on the youth team and you get called up to play in the reserve team against Feyenoord's reserve team, and they have someone from their first team who makes you go: 'There's no way I could play at that level,' but you rely on your training. You try and survive. All these little challenges are put in your path.
"It was scary – am I going to make it, am I not, am I going to get cut? Every time we stepped on the field we asked ourselves that. But that's what creates skill, where you gradually feel more and more comfortable on the field in different environments. Then there's the Champions League step: That's another speed! With other things happening there. Then there's the World Cup speed, which is another level."
One summer just before he returned to Ajax, O'Brien got a close view of the 1994 World Cup. His mother was on the World Cup organizing committee, and the family was able to secure great tickets for several matches in Pasadena – including the final. That was another year in which the US turned in some surprise performances. The American player that O'Brien looked up to most at the time was Tab Ramos, the team's star midfielder who had made a decent career in Spain. O'Brien found inspiration in Ramos' technical style and path.
O'Brien didn't know what he'd do after his playing career ended. He didn't find some of the industry jobs around professional sports very inspiring. He was the type of player whose strength was being naturally attuned to his teammates: able to read nonverbal cues, see movement, and interact with others. So every time he sat through sports psychologists' presentations, first provided by the US national team, he really enjoyed them.
"I got into a routine of visualization and calming that clicked right away," O'Brien says. "It allowed me to work at full speed and full power, but feel really flexible and relaxed. For me to be successful I needed my technique and my thinking to come into my game, and I needed to really work on not getting too stimulated where I was able to really be reactive in the sport."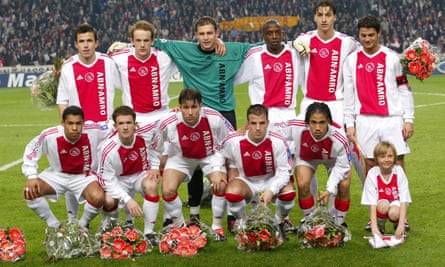 He also came across The Way of the Peaceful Warrior, a popular book at the time, whose themes of approaching sports and life as a meditation and a craft resonated with O'Brien. He began seeking sports psychologists on his own.
By the time injuries forced him to retire in 2006, having briefly played for MLS's Chivas USA plus one match in that year's World Cup, he was 29 and facing life away from the field, unsure how to move forward. Around this time he participated in therapy himself.
"I could see at that point that the skills and the way I functioned in life to get me to this point weren't going do it for me in the next phase of life, how I wanted to evolve," O'Brien says. "I wasn't very in touch with my emotional world – that part was pretty simplistic. Sports were a place where I could be free, and in other parts of my life I had difficulty being that free. I could pour anger and aggression into my sport but in other aspects of my life, I couldn't use that energy to assert things or create the life I wanted. I needed to get to know myself better."
He studied psychology in the Bay Area, then moved to Boulder with his family. He'd always lived in big cities, and was interested in trying out a smaller one. Moving from a physical profession to one based in language and communication can be challenging, but O'Brien's instinctual empathy as a player made the transition easier.
In addition to finding the study of the mind personally fascinating, O'Brien enjoys the larger impact that psychology can have.
"Seeing people work though things and the difference it makes in their lives and the world is great," he explains. "I like to think of it as a social mission, where if people can find healing from their individual struggles and challenges, it can really affect how they relate to others, to their families, to how they do their jobs."
Long-term, O'Brien wants to learn more within psychology, particularly in psychotherapy. He also wants to broaden his practice to include group work. He's also begun carving out a unique sports angle: He'd been having a lot of sports-related dreams in his sleep, and conducted an initial study of 20 retired athletes about their own, and is looking to do more with additional participants.
O'Brien found a few commonalities, ranging from anxious dreams (losing one's gear, or being late to a game) to welcoming dreams (being invited back on the field with former teammates) to dreams of exceptional athletic feats. O'Brien finds the welcoming dreams particularly intriguing.
"There's definitely an outsider feeling when you retire," he says. "You can still be friends with players, but you have a sense that you're different. You can't come into the locker room any more, for example. There are spaces you're no longer a part of. People go from feeling socially connected to a hard separation.
"Dreams are a really nice bridge into the unconscious mind and what's going on there," O'Brien continues.
Much as O'Brien was on the soccer field, it's hard to think of someone more qualified in this current field – studying the minds of retired athletes – than him.