Michael Oher, the former NFL player who was the subject of the tale of adoption and athletic triumph documented in The Blind Side, has alleged that the story at the heart of the popular book and movie was a lie.
The 2009 movie, based on a book by Michael Lewis, tells the story of how Oher, who is Black, grew up in abject poverty before being adopted by a rich white family and eventually making his way to the NFL, where he won a championship. Yet in court documents filed in Tennessee on Monday, Oher claims Sean and Leigh Anne Tuohy did not adopt him – but instead deceived him into making them his conservators just after his 18th birthday.
Oher's petition claims that as conservators, the Tuohys were able to sign deals that earned them and their two birth children millions of dollars but excluded Oher from any of the income. Oher says the family earned millions in royalties from The Blind Side, which took more than $300m at the box office; but he got nothing for a story "that would not have existed without him".
"The lie of Michael's adoption is one upon which co-conservators Leigh Anne Tuohy and Sean Tuohy have enriched themselves at the expense of their Ward, the undersigned Michael Oher," the petition alleges. "Michael Oher discovered this lie to his chagrin and embarrassment in February of 2023, when he learned that the conservatorship to which he consented on the basis that doing so would make him a member of the Tuohy family, in fact provided him no familial relationship with the Tuohys."
The Tuohys, who have yet to comment on the allegations, have continued to call Oher their son. And Leigh Anne Tuohy often tells The Blind Side story in her work as a motivational speaker.
Sandra Bullock won an Oscar for her role playing Tuohy in the film.
Oher's petition seeks an end to the Tuohys' conservatorship and to stop the family from using his name and image to promote their work. He is also seeking financial compensation.
"Since at least August of 2004, conservators have allowed Michael, specifically, and the public, generally, to believe that conservators adopted Michael and have used that untruth to gain financial advantages for themselves and the foundations which they own or which they exercise control," the petition says. "All monies made in said manner should in all conscience and equity be disgorged and paid over to the said ward, Michael Oher."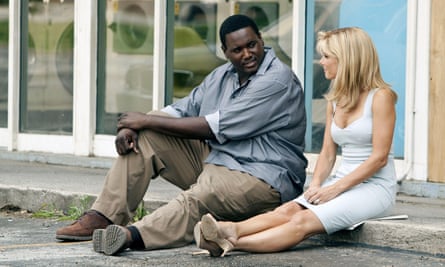 If Oher had been adopted by the Tuohys, he would have been a legal member of their family and had control of his finances relating to the film. As someone under a conservatorship, Oher ceded that control to the Tuohys.
In his 2011 memoir, Oher said the Tuohys had told him conservatorship and adoption were almost identical. "They explained to me that it means pretty much the exact same thing as 'adoptive parents', but that the laws were just written in a way that took my age into account," he wrote.
In a 2010 book, the Tuohys say they earned a flat fee rather than royalties from The Blind Side and shared the money with Oher.
"We divided it five ways," they wrote in their book, In a Heartbeat: Sharing the Power of Cheerful Giving.
Oher's lawyer, J Gerard Stranch IV, told ESPN on Monday that his client did not examine the conservatorship until he retired from the NFL in 2016. A lawyer eventually told him that documents indicated he had never been adopted by the Tuohys.
"Mike didn't grow up with a stable family life," Stranch said. "When the Tuohy family told Mike they loved him and wanted to adopt him, it filled a void that had been with him his entire life.
"Discovering that he wasn't actually adopted devastated Mike and wounded him deeply."
While the movie was a huge success, many critics said it descended into a "white savior" tale and played into negative racial stereotypes. The Guardian's Peter Bradshaw called it "a Photoshopped image of reality that is bland, parochial, and stereotypically acted".
Oher has said the movie depicted him as unintelligent, which went on to affect his NFL career.
"People look at me, and they take things away from me because of a movie," Oher told ESPN in 2015. "They don't really see the skills and the kind of player I am."
Oher was drafted by the Baltimore Ravens in the first-round of the 2009 draft, and he won a Super Bowl with the team in February 2013 in New Orleans, where Sean Tuohy and Blind Side author Lewis are from. He also played for the Carolina Panthers and Tennessee Titans.
Oher earned $34m during his football career, and the suit does not allege the Tuohys took any of his NFL income.