Earlier this year, Alyssa Nichols became the youngest Black woman, and the first from Mississippi, to earn a Fifa referee badge. She's not fazed by being the youngest – she is one of only two Black American women to hold the distinction – but she understands her achievement as a chance to encourage others.
After Nichols started playing soccer at Murrah High School, in Jackson, Mississippi, one of her teammates, who worked as a youth officiator with Southwest Jackson Soccer League, a primarily Black club in the city, suggested that Nichols start officiating as a way to make money while balancing academics and athletics.
Lewis Williams was Nichols' first referee assignor. After training her as a youth officiator, he told her to shadow her teammate, doing everything she did, to gain more familiarity with the role.
"It was amazing," Williams remembers. "She loved it. When I went and watched her do it, I was amazed because she caught on so quick."
In the decade since Nichols was initially certified as a soccer referee, she has proven her dedication to the field: At 23, she became the first woman from Mississippi to receive a National Referee License from the US Soccer Federation. Nichols is a Pro2 referee and she officiates in the United Soccer League, the MLS and the NWSL. Shortly after making the Fifa referee list, Nichols was part of refereeing crews for the 2023 SheBelieves Cup.
And, at 27, she's just getting started.
Balancing school and games
Though she immediately took to officiating, Nichols says she did not initially realize the extent of her passion for it – or that it could become a full-time career.
She refereed in her first regional event around the time she graduated from high school, giving her a chance to interact with Fifa Referees, who were there as instructors and scouts, and with referees from all over the southeast region.
"I was like, 'Wow, this is way bigger than just local youth games on the weekends in Mississippi,'" she said. "I realized it's a much bigger thing – and I really enjoyed it."
Referees at the event noticed Nichols' talent, too.
Rubiel Vasquez, who himself is now a Fifa referee, but was then a MLS referee, stopped Nichols to tell her that he recognized a lot of potential in her. At the time, she wasn't considering refereeing as a career, but Vasquez encouraged her to do so, sparking an idea that would go on to shape her life.
Nichols attended undergrad at Jackson State University, where she joined the Delta Sigma Theta sorority. Ultimately, Nichols graduated magna cum laude with a bachelor of science in Chemistry. While at JSU, she was selected as a Tomodachi Inouye Scholar. Nichols planned to go to medical school or pursue a PhD and become a researcher, but she didn't stop refereeing.
She ensured that all of her classes were in the mornings – from about 8am until 1 or 2pm — so she could be on the road by 2 or 3 in the afternoon, driving several hours to referee a game. Depending on how far away the game was, she either spent the night and woke up early the next morning or she left as soon as the game was done, driving back to Jackson to be ready for class the next day.
Coffee was one thing that sustained her during those years, but her family and colleagues were another.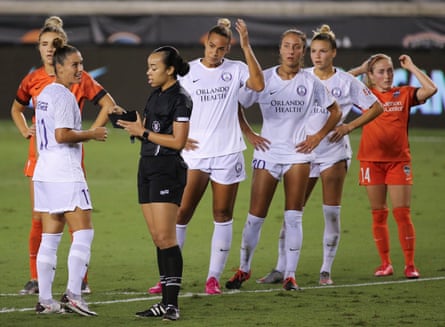 Tim Clements is the state referee administrator for the Mississippi Soccer Association. He first saw Nichols referee in 2013, and remembers being impressed by her talent. He also remembers being impressed by her family's support.
"Alyssa is a great individual," Clements said. "She's a better individual than she is a referee, and she's a great referee. Knowing her mother, I know that came naturally — it started in the home. I wish that more parents were like her parents. They kept her focused… to reach her goals."
Nichols' mom sometimes drove her to games while she was in undergrad, giving her a chance to recoup much needed sleep. Matthew Thompson, another trailblazing referee from Jackson, sometimes carpooled games with Nichols. She would study while he drove on the way to games. She'd return the favor on the way back, driving so he could sleep.
That support paid off: by Nichols' junior year, she was added to the list of SEC referees. By the time she officiated her first SEC game, Nichols had already officiated some Division II and III and NAIA games.
Mentoring the next generation
At 27, Nichols is one of the younger Fifa referees – to even be considered for the badge, candidates must be at least 25.
Her peers are often parents with established family dynamics, from whom Nichols gets advice and perspectives that are beneficial for her as she and her husband, Philip, who was a college soccer player, navigate maintaining a marriage while she is a Fifa referee.
Sometimes, she says, when she goes into stadiums, people will ask if she's old enough to be a referee. While she was once frustrated by people bringing up her age and attempting to use it as a way to question her capabilities, now she views it as a test. It's up to her to prove the naysayers wrong.
"It is exciting, because I get to learn, but I also feel like it's a challenge," she said. "I'm going to show you that I belong here just as much as everybody else, regardless of the age."
Despite her being close in age to them, Nichols also works as a mentor to younger referees. She helps prod the next generation of referees along, similarly to how those she once looked up to did for her.
"I enjoy it because there were people like Rubiel, but also other people that were super impactful in helping me get where I am," she said. "Without them, I know that I wouldn't have gotten here, so I feel like that's kind of my goal: to help the next generation however I can."
Last November, she assisted as a referee mentor at the USL Academy League Playoffs in Tampa Bay, where she is now based. Dedicated to supporting the generation after her, Nichols also works as the state director of diversity, equity, inclusion and access program for Florida Soccer Referees.
Last May, Nichols flew into Mississippi just to be able to spend over one day working with referees before flying off to officiate a game. Clements says that younger referees, specifically female referees, look up to her and see her success as a source of inspiration.
She and Thompson were in the first class of students in the state's Referee Academy, along with eight others. As of last year, four members of that class are now national referees and Nichols, of course, is now a Fifa referee.
"Every one of those that was in that academy and everyone of those that are now national referees, they come back and they give back," Clements said. "I think they saw how important it was in their journey to where they are today and they really want to give back to help us continue to develop our young referees."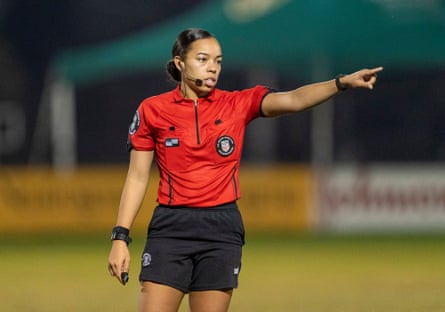 Internationally, people don't consider Nichols' being from Mississippi, they "just look at it like you're from the US", she says. But nationally, it has been a different story.
When she started attending regional and national events, Nichols says people would ask comments that were a bit baffling at the time.
"They were like, 'You're from Mississippi? They have soccer there? That's a thing?" she remembers. "A lot of times, people are like, 'Wow, you're from Mississippi,' as if they're surprised. I'm like, yeah, we can do quality officiating as well, guys."
Instead of letting the comments get to her, Nichols decided to handle things the way she handles similarly derogatory comments during and after games: instead of folding, she works that much harder.
'Don't let it get to you'
Nichols says that she has experienced some less than kind comments from fans and players during and after games, but the community of referees helps her navigate it healthily.
"(We'll talk) through things and scenarios and we get a lot of support from each other, like, 'Hey, that was a great decision, don't worry about it,' or, 'Hey, maybe that wasn't a great decision, but this is how you learn from it. Let's move on,'" she said.
The key, Nichols says, is not letting comments from spectators or players get to the ref as an individual. She reminds herself and other referees remind each other not to take things personally.
Though they try to be as perfect as possible during a match, ultimately referees are humans. And, therefore, they are not infallible. There are consistent rules, but those rules are open to interpretation on some calls. When fans and players disagree with a decision, or when a referee misses something, the attacks can get personal.
"They expect everything to be perfect, even though we are human and we do make mistakes," she said. "Obviously we don't want to make them. But it's going to happen because we're not perfect. You learn from this and you move forward, but don't take things personally because if you internalize it … that's when it starts to eat at you off the field."
She's only just begun
Though she herself is breaking barriers and inspiring a whole crop of younger referees to do the same, Nichols is also inspired by those who have gone before her.
Natalie Simon became the first Black woman to receive a Fifa badge in 2022. Anya Voigt, Simon and Nichols are the only three Black women NWSL referees.
Last year, Stéphanie Frappart, a Fifa referee since 2009, became the first woman to referee a men's World Cup match in an all-female referee team. Talking about that moment now, one year later, still elicits pride in Nichols. At the time, she says she was almost in tears with excitement for what the match represented.
"I was like wow, this opens up the door and it opens the door to something that I didn't think was possible for women," she said. "The fact that she was able to do that – this is now, not a level playing field, but has given us an opportunity on a different stage. It was inspirational, like maybe I could get there one day."
As for now, Nichols is looking to the future. She won't be refereeing at this year's Women's World Cup or the 2026 World Cup – it's a four–year process for Fifa referees to be considered and evaluated before officials determine who will officiate the games and Nichols only received her badge this year – but one day she hopes to do so.
"That's the dream," she said.