As New England Patriots cornerback Isaiah Bolden lay on the field with a serious injury, his teammates couldn't avoid thinking about Damar Hamlin.
New England's preseason game with the Green Bay Packers was called off on Saturday night after Bolden was carted off the field early in the fourth quarter.
The incident came more than seven months after Hamlin – a Buffalo Bills safety – went into cardiac arrest and was resuscitated on the field against the Cincinnati Bengals.
"Of course that's in the back of all of our minds when something like that happens," Patriots cornerback Jalen Mills said.
The Patriots said after the game that Bolden was in a Green Bay hospital had feeling in all his extremities. The team planned to provide an update on Bolden's condition Sunday morning.
"We're just keeping our fingers crossed," Patriots coach Bill Belichick said.
Bolden, a seventh-round pick from Jackson State, appeared to collide with teammate Calvin Munson when he was injured.
"It looks like just one of those collision hits, those freak hits that you see on rare occasions in this league, that you hate to see," Mills said. "We really couldn't see him too much. It looked like he was moving and his eyes were open, but as of right now, just asking everybody to keep him in their prayers and we hope for the best."
As medical officials treated Bolden, both teams left their respective sidelines, with some players getting on one knee.
After Bolden was carted off the field, the two teams conferred and decided not to continue the game. The game stopped with the Patriots leading 21-17 with 10:29 left in the fourth quarter.
"It's a reminder of the fragility of life," Patriots special teams player Matthew Slater said. "It's not something we spend a lot of time thinking about, but the reality is all of us will have to wrestle with that at some point in time, every person who's ever walked the face of this Earth. I think it's unfortunate that it happens in this context and this setting because this is meant to be a joyful, celebratory experience."
Players from both teams said they were reminded of Hamlin's injury.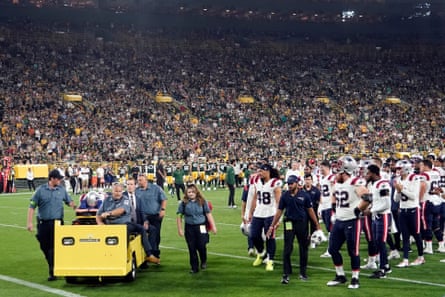 "It brought out that Damar feeling, and that's just scary," Patriots wide receiver Kendrick Bourne said.
Hamlin's heart stopped as a result of commotio cordis, which is when a direct blow at a specific point in a heartbeat causes cardiac arrest.
Hamlin has since returned to the Bills and played in his hometown of Pittsburgh earlier in the day and had three tackles in a loss to the Steelers.
Given the similarities, both teams agreed there was no point in continuing the game.
"This is not the AFC championship," Slater said. "We're not playing for records. It's preseason game two. When you have an injury like that, it affects a lot of guys in a lot of different ways. Clearly our team was shaken by what happened."
Patriots quarterback Mac Jones said he's known Bolden since they were both in high school.
"We played 7-on-7 football together," Jones said. "Definitely one of my brothers."
Now they're hoping they can see him again as soon as possible.
"Just asking everybody to keep him in their prayers," Mills said. "We hope for the best."