Welcome to the era of immediate gratification. Being patient has gone the way of rotary telephones and typewriters. Parents don't want their kids to wait their turn or sit on a bench so they endorse transferring. When that doesn't work, they transfer again. Or go to a prep school for a fifth year of high school eligibility.
Wrong lessons are being taught. What happened to competing, working on getting better and trusting the determination to succeed? What happened to coaches focusing on ALL their players and not just the college prospects?
My passion this coming season will be to spotlight those old-school success stories of individuals taking the long-term approach, putting their head down, groaning in the weight room, grinding in the classroom and never giving up.
Let's examine success stories of individuals fighting the good fight:
Russell Stong IV
Stong was an all-league basketball player at Crespi and a straight-A student. He could have gone to Caltech. He chose to attend UCLA and made the basketball team as a walk-on. He became beloved by fans and teammates alike. He graduated this year with degrees in mechanical engineering and business economics. His memories will include a Final Four appearance and winning a Pac-12 championship while sitting on the bench. One day he'll be the most recognizable engineer on the West Coast and a fitness club sensation as a three-point shooter for morning pickup games.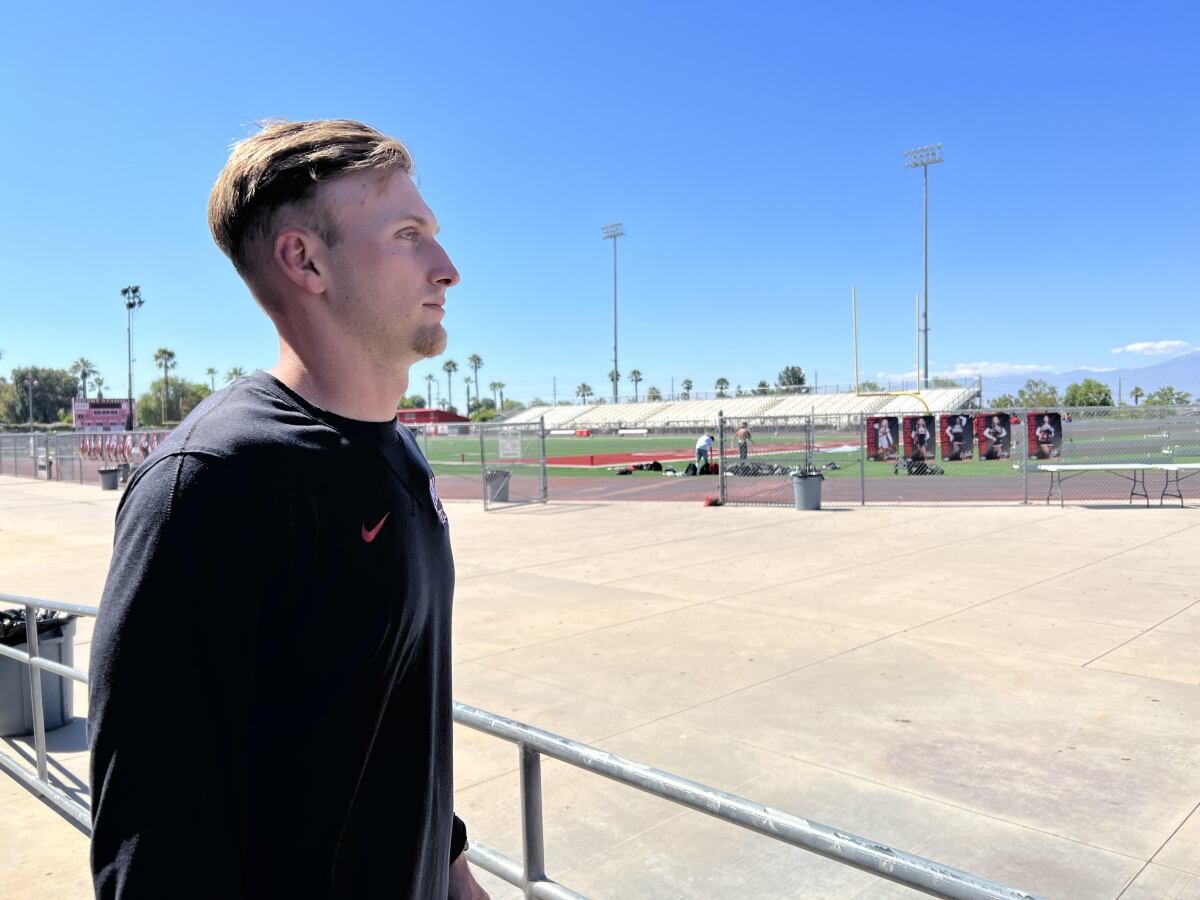 Anthony Catalano
Catalano is a former Corona Centennial quarterback who returned to his alma mater to become a teacher and coach. He has stayed as an assistant learning under his mentor, Matt Logan. There might be a time to leave to run his own program, but what's the hurry? Every day spent watching and learning from a legendary coach is preparation for the day he'll go off on his own and be fully ready for anything and everything. He's practicing patience.
Darius Curry
Curry of Long Beach Poly knows about adversity. He was quarterback at Playa del Rey St. Bernard when the program disbanded in the spring of 2021 after coach Manuel Douglas became embroiled in an FBI and IRS investigation. He went to Poly and tore an anterior cruciate ligament, wiping out his sophomore season. Then Tennessee commit Nico Iamaleava transferred in. Most expected Curry to flee. He stayed to compete for the starting job. It was Iamaleava who decided to return to Warren.
Curry guided Poly to the Moore League championship last season. He has committed to Colorado State. He's the QB1 as a senior at one of the most prestigious public schools in America standing tall through perseverance, patience and absolute determination to believe in himself.
Tim Lins
Lins is the gift that keeps giving. He was football coach at Crespi in his 20s in the 1980s. Then he went to Moorpark for 18 seasons. He stepped down in 2017 to focus on being a strength and conditioning coach. Now he's come out of retirement to be Moorpark's first girls' flag football coach. Just think of the fun he's going to have teaching the basics again while passing on the many life lessons that have been part of his passion. Maybe the girls will get him to show a little emotion. He might even tell a joke in the middle of a timeout.
Jason Crowe Jr.
Crowe of Lynwood was one of the youngest basketball players in high school last season as a 14-year-old freshman, from the first jump ball in November to winning a state title in March in Sacramento. There was no holding him back a year for sports reasons. His parents believe in the theory you get better playing against older players, not the other way around. He's taking no shortcuts. His father is his coach and a demanding one. He gets benched if he doesn't play defense or get good grades. Debate how good he might be, but there's no debate about how hard he intends to work.
Ava Tibor
Tibor of El Camino Real was supposed to be the best girls' soccer player in the City Section last season. She never got the chance to prove it. A knee injury left her sidelined. Yet she has given everyone an inside peek at her determination to come back through her videos of rehabilitation. Adversity can reveal so much about one's character. Tibor's talent was well known. Her unwavering commitment to overcome a devastating injury has offered proof she's bound for a great future.