What are you most looking forward to, on or off the court?
The inevitable rise of Anthony Edwards. All signs point to this World Cup run being a star-solidifying turn for the 2020 No 1 overall pick as he makes his international debut for Team USA. The 22-year-old All-Star has shown flashes of utter brilliance with the Minnesota Timberwolves but has yet to climb to global fame. Claire de Lune
International tournaments are fun for those of us in a country in which the NBA and college basketball absorb 99.9% of media attention because we get exposure to players we don't know. My favorite player of this tournament will be someone whose name I might not even know right now. Beau Dure
An exciting crop of debutants. South Sudan, representing the world's youngest state, are in their first ever World Cup after an exhilarating tear through African qualifying. Cape Verde, another first-time package, have displaced Montenegro as the smallest country ever to qualify. Latvia are making their first appearance despite being one of Fiba's eight charter members, while newcomers Georgia probably have the most navigable path of them all to reach the second round. Bryan Armen Graham
The big question heading into every basketball World Cup is how many of the NBA's superstars will make an appearance, and with Giannis Antetokounmpo, Nikola Jokić, Victor Wembanyama, Jamal Murray, and a host of elite American players sitting the summer out, this tournament feels particularly light on genuine star quality. On the one hand that's deprived a tournament that should represent the pinnacle of the sport at international level of some glamor; on the other, it's made for an appealingly even field, and with a few exceptions each group feels genuinely open. Aaron Timms
Who will be the surprise team of the tournament?
It was a rude awakening for a lot of people who've been sleeping on Germany when they gave the United States a run for their money in the Americans' last exhibition game on Sunday. Yes, the US rallied from 16 points down to win, but Germany showed that their sneaky large number of NBA players (Dennis Schroeder, the Wagner brothers, and others) are going to make them a team to watch. CDL
The presence of Karl-Anthony Towns changes everything for the Dominican Republic, who also have a few players from big-time college programs who've played in the NBA and top Euro leagues. They should easily take care of Angola and the Philippines in group play, and they'll be a tough out for Italy and Serbia in the second round. BD
Not only do the Dominican Republic return the veteran core (including Victor Liz, Eloy Vargas and Luis Mendoza) behind their surprise run out of the group stage four years ago in China, but Che Garcia's squad also adds Towns, the Timberwolves' towering All-Star and dual citizen who is back in the international fold for the first time in over a decade. A quarter-final run is realistic. BAG
South Sudan stand a decent chance of making it out of a group that includes a Jokić-less Serbia, China and Puerto Rico. The Bright Stars are ranked 62 in the world but this belies the quality and energy they displayed in qualifying, amassing more points than any other team in Africa. They're springy in transition and lethal shooting from distance, and they'll create problems for any team they face. In Nuni Omot, they also boast the player who would have been my "unsung player to watch" if I hadn't already written that section before getting to this one. AT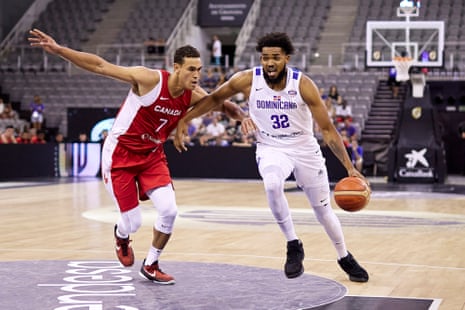 The biggest threat to Team USA is …
While I simply refuse to ever count out a team (Slovenia) with Luka Dončić on it, and Canada are overflowing with NBA talent, there's a reason Spain are the reigning champions. The country has a rich history of performing on the world basketball stage (shout out to recent Hall of Fame inductee Pau Gasol) and will absolutely be the USA's toughest out. CDL
Their own inexperience. How much longer can the USA put together a third-tier All-Star team in every World Cup and expect to be successful, while countries like Spain, France and Australia carry over a core of players who have proven themselves time and time again at this level? BD
Canada have never finished better than sixth at a World Cup (in 1978 and 1982), nor have they come in higher than eight at a major international tournament since the 2000 Olympics. But even without Murray, they bring a roster tricked out with more active NBA players than any team in the field besides the United States. Streaky by nature, they enter on a tailwind of confidence after taking out Spain in a tune-up last week. BAG
Itself. The USA have rebounded impressively since their dismal showing in the last World Cup, and with Steve Kerr heading a crack coaching staff the expectation is that this World Cup is once again the Americans' to lose. While this edition of the team is not "stacked" with talent the way that, say, the Kevin Durant-led 2020 Olympic gold medal side was, a core of Jalen Brunson, Brandon Ingram and Anthony Edwards offers genuine quality at both ends of the floor, and the US's path to the final is comparatively easy; the real enemy is complacency. AT
The unsung player to look out for is …
Australia's Josh Giddey might be a little past the point of being considered "unsung" as I'm pretty sure he's arrived on most in-the-know NBA fans' radars by now. But he's starting to really come into his own, both with the OKC Thunder and as fulcrum of another legitimate USA threat in the Boomers, who are coming off a history-making bronze in Tokyo. CDL
Edy Tavares of Cape Verde played 13 games in the NBA several years ago. The 7ft 3in center then settled at Real Madrid and has proved to be a late bloomer, make the All-EuroLeague first team three straight years and being named Final Four MVP and Best Defender after his club beat Olympiacos to lift the EuroLeague trophy in May. BD
Nuni Omot has been the driving force behind South Sudan's remarkable two-year coming-out party, which started with their run to the 2021 Fiba AfroBasket quarter-finals and continued with an 11-1 run through World Cup qualifying. US fans may remember the do-everything 6ft 9in combo forward from his time with the Baylor Bears if not his cup of coffee with the Golden State Warriors' summer league team. He's since flourished on his home continent, most recently being named MVP of the NBA's Basketball Africa League with Al Ahly earlier this year. BAG
He's not exactly unsung, but as is often the case with teams that are built around one identifiable star, Finland's Lauri Markkanen is a different proposition when playing for his national team than he is in the NBA. Early in his career Markkanen was minimized somewhat as a standard big who takes the occasional shot. But since his move to Utah he's begun to show the full range of his extensive skills: his ball handling and shooting primarily, but also his skill driving through the paint or as a post-up player. Finland's group is super-competitive, and Australia and Germany remain favorites to advance to the upper tier of the second round, but Markkanen's unpredictable, rangy versatility gives the Susijengi a real shot of springing some upsets. AT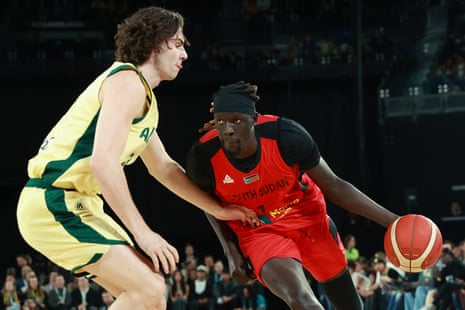 Group-stage game to watch
The winner of Canada v France on 25 August is anyone's guess and that's what makes it so fun. Yes, France are operating without No 1 overall pick Wembanyama, but they still have Rudy Gobert and Evan Fournier and a track record of performing well in the tournament. And Canada are stacked with NBA star power like Shai Gilgeous-Alexander and RJ Barrett. CDL
Mexico v Montenegro on 25 August. Mexico beat Argentina a couple of times in tuneup games for this tournament. Is that a sign that they can get past Montenegro and advance to the second round? BD
Canada v France at Jakarta's Indonesia Arena is a blockbuster opening night clash between legitimate title contenders that will likely decide this year's Group of Death. But I'd personally go for any game involving the Philippines, where the crowd atmosphere in this basketball-mad nation will be over the top in all the best ways. BAG
We love a post-colonial grudge match and while Canada v France doesn't quite fit the billing, it does at least present the prospect of a genuine heavyweight battle on the tournament's opening day. Even without Murray and Andrew Wiggins, Canada still have plenty of routes to basket, while the French were unlucky to lose to Team USA in the gold medal game in Tokyo and against Spain in the 2022 EuroBasket final. Canada-France will be the clash of the two nearly teams; if both find form there's a real prospect that defending champion Spain will miss out on a spot in the quarters. AT
One bold prediction
A splashy trade back home. I'm not sure how bold it even is to predict, as there's been a long history of USA teammates finding a way to link up in the NBA, but I predict we'll be seeing one or both of Mikal Bridges and Cam Johnson get traded from the Brooklyn Nets while on international duty in Manila to a team that features one of their Team USA brethren. CDL
Group L in the second round will be the Group of Death, with Euro finalists Spain (the world's top-ranked team, ahead of the USA) and France facing off with a streaky Canadian team that already upset Spain in a warm-up game. If RJ Barrett and Gilgeous-Alexander have hot hands at the same time, one of the tournament favorites will be going out before the quarter-finals. Then one of those teams will get Australia in the quarter-finals. That team, exhausted from the murderous games already played, will lose. BD
Spain will miss the knockout stage. Bet against the Spanish at your own peril: the defending champions have reached the podium at eight of the last 10 major tournaments and are still perched at No 1 in Fiba's world rankings. But the absences of 2019 World Cup MVP Ricky Rubio and Lorenzo Brown, say nothing of an absolutely brutal draw, will complicate their title defense and may even put their qualification for next year's Paris Olympics in jeopardy. BAG
With Jock Landale injuring himself in the tune-up games, Australia will need back-up center Duop Reath, last seen plying his trade with Al Riyadi Beurut in the Lebanese Basketball League, to step up and plug the gap. And step up he will, offering meaty authority in the pick-and-roll and combining fluently with playmaker Giddey to carry Australia to the final. AT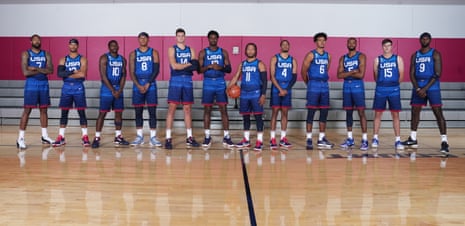 Quarter-finals
Serbia v Greece, Germany v Spain, USA v Italy, Canada v Australia CDL
Italy v Lithuania, Australia v Spain, USA v Serbia, France v Germany BD
Dominican Republic v Lithuania, Australia v France, USA v Serbia, Canada v Slovenia BAG
Italy v Lithuania, Australia v Spain, USA v Serbia, France v Finland AT
Semi-finals
Serbia v Spain, USA v Australia CDL
Italy v Australia, USA v France BD
Lithuania v France, USA v Canada BAG
Italy v Australia, USA v France AT
Which two teams will reach the final – and who will win?
USA over Spain. As much as it goes against all my better judgment to bet against Doncic here, my steadfast faith in Austin Reaves and current love affair with Edwards' ascension compels me to push my chips into the center of the table for Team USA. I think they'll be met by a very capable Spain in the final, but in Ant (and more importantly, Kerr, Ty Lue, and Erik Spoelstra) we trust. CDL
Australia over France. Australia have been in the semi-finals in three straight majors – the 2016 Olympics, the 2019 World Cup and the 2020(1) Olympics. They have the experience, and they have an easier road to the final than either France or Spain. BD
France over Canada. The tall and athletic French have come this close at major tournaments over the past few years. At the Tokyo Olympics, they handed a United States team with Durant, Devin Booker, Damian Lillard and Jayson Tatum their first Olympic loss in 17 years only to suffer a narrow defeat when they met again for the gold. Last year, a team without the since-returned Nando De Colo and Nicolas Batum reached the EuroBasket final where they suffered another heartbreaker opposite Spain. It says here they finally break through with Fournier bringing in MVP honors. BAG
USA over Australia. The Americans atone for their humiliation four years ago, forcing Australia's headline writers back to the drawing board in their attempt to wring another pun out of the name "Giddey" in write-ups of the final defeat. AT