From the very beginning of the French Open this year, an opportunity was reserved for whoever had the courage to take it. While the tournament's perennial conqueror, Rafael Nadal, was absent, Novak Djokovic and Carlos Alcaraz had been drawn into the top half. The bottom half, meanwhile, was wide open. Among the many contenders, Jannik Sinner, a youngster from South Tyrol in northern Italy, had a chance of producing the best fortnight of his career
But expectations can be crippling. Faced with increased pressure, Sinner crumbled. He went out in the second round, falling in five sets to Daniel Altmaier, who was the world No 79 at the time.
"In Paris, the second-round match was not with the right mindset," says Sinner, shaking his head. "It was something I will not accept any more. You can lose – there's nothing wrong with losing – but losing in the right way."
The defeat marked an interesting inflection point in Sinner's career. He was only 21 and making excellent progress, but questions remained about his mental toughness in the biggest moments. There had never been any doubt about his ability. Even in a sport filled with big-hitting baseliners, he stands alone. While plenty of players are blessed with strength and fast arms, few combine that power with such crisp, precise timing, attributes that make Sinner one of the most destructive ball-strikers of this generation.
Now 22, he has paired that shot‑making prowess with improved defence and an increasingly well-rounded game that has catapulted him into the world's top 10.
He is now at No 6 in the rankings and the speed with which he has imposed himself on the tour is particularly impressive considering his pathway. Tennis was his third sport until the age of 13 and still just a casual hobby he enjoyed a couple of times each week. In his youth, Sinner was also a champion skier; when he made the decision to prioritise tennis he quickly flew up the rankings and established himself at the top of the sport.
Having risen into the top 10 for the first time, in late 2021, Sinner navigated another decisive moment last year. Finally ready to take control of his own career as an adult, he opted to part with his coach, Riccardo Piatti, and the entire coaching staff from Piatti's academy. The decision was a shock; Piatti is one of the most well-known coaches on the tour and their partnership had brought success. Sinner instead chose to hire Simone Vagnozzi and another prominent figure, Darren Cahill, an Australian who was the former coach of Andre Agassi and Simona Halep.
"I felt that with a change maybe I can learn some new things and I think this was the case," Sinner says. "It's always tough to say if it's the right decision or the wrong decision, but I felt this need for myself, and maybe also for my mind, to see something new."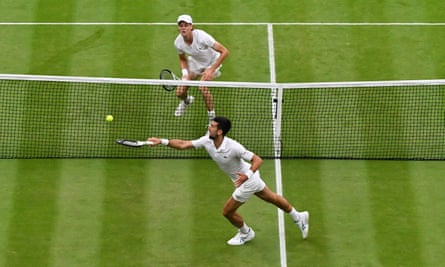 By this spring, Sinner had reached the quarter-finals of all four grand slams and two Masters 1000 finals, but he was still waiting for a true breakthrough at either level. As he digested his failure in Paris, he resolved to change his attitude.
"I was walking with my head [down] with, like, a lot of weight," he says. "So from that point I started trying to enjoy being more precise with every single thing I would do, in the gym or on the court. To be very precise [but] also patient because patience pays off.
The shift has been notable. At Wimbledon, Sinner reached his first grand slam semi-final. Having been presented with another enormous opportunity, not facing a single player inside the top 75 en route to the last four, he broke new ground without hesitation.
While his loss to Djokovic further illustrated how much more he needed to improve, Sinner took his growing form to the north American hard-court swing, where he won his first Masters 1000 title at the Canadian Open in Toronto this month.
A day after his victory, instead of relishing an incredible achievement, he was already looking forward. "It's a nice feeling, but what is more important for me is to understand that the way we work is the right way," he says. "You sometimes need these kinds of results to be happy with the way and what we are doing."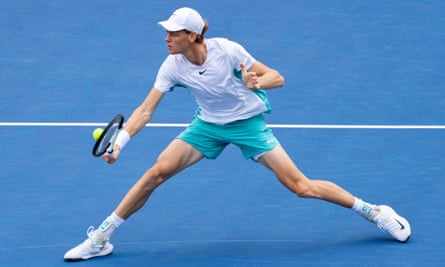 Having reached a career-high ranking, Sinner begins the US Open as one of the main contenders behind the top three‑ranked players – Alcaraz, Djokovic and Daniil Medvedev. But his return to New York will also come with some mental baggage. Last year, he lost a delirious five-set classic to Alcaraz, the current world No 1, at 2.50am local time after holding a match point on his serve and serving for the match.
Some of the greatest evidence of Sinner's potential was seen in this match between two of the best young players on tour. Their battles have already been hyped as potentially the defining rivalry of men's tennis in the future and few have been more effusive about their rivalry than Alcaraz.
Unlike many of the opponents the Spaniard has blown away, Sinner is often his equal in battle. The pair are 3-3 in tour-level matches and most of their contests have been played at an astonishing pace.
Each time he lines up against Alcaraz, Sinner says, his opponent makes him better. "A good example was this year in Indian Wells and Miami," he says. "I have seen a couple of things during Indian Wells that I was not able to do and then two weeks later in Miami I was able to do it a little bit better.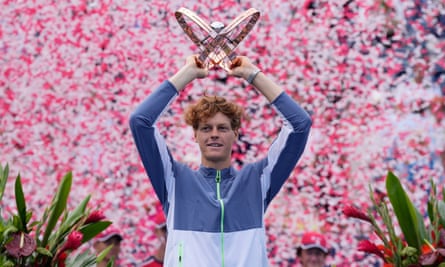 "Carlos plays a very, very high level, as I do, and the rhythm of the match is quite fast so you have less time to think. You have to be ready for every situation and that's why, when we play against each other, usually the level is good; they're good matches. So if you accept also to lose and accept to work on things afterwards, then you improve."
Sinner will look for those improvements to continue in New York, where his new status will mark him as one of the very top contenders and reveal more about whether he is mentally ready for the battles to come.