Rory McIlroy has warned that golf has to remain vigilant to the rise in sports betting in the US. He also confirmed the issue has been up for regular discussion at PGA Tour board level.
Jon Rahm claimed on Tuesday that the Tour will find it "extremely difficult" to stop fans with gambling interests from affecting events. At the BMW Championship on Saturday, two individuals were ejected after shouting at Max Homa as he putted out on the 17th hole. The calls related to a bet between friends.
"We hear it every single round," said Rahm, the Masters champion. "That happens way more often than you guys may hear. I mean, it's very, very present."
McIlroy is similarly aware of the potentially troublesome backdrop. "We have talked about this at the board and the PAC [player advisory council] level for a few years," he said.
"It is a bit of a slippery slope because I don't think there's any [sport] – maybe basketball and you can sit courtside – but it's a different environment where people can really affect the play out here.
"As long as it's policed the right way and as long as there's measures put in place for things like what happened to Max Homa not to happen. Because we're all for people out here having a good time and being able to put something on an outcome, as long as they don't feel like they can come here and influence that outcome. That's important."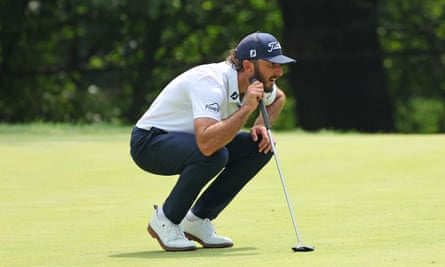 Pressed on whether he was aware of a rise in shouts from galleries, McIlroy said: "My biggest pet peeve is when you're reading a putt and someone that's been sitting there all day is like, 'It doesn't break as much as you think', or whatever. I just think, 'Shut up and don't be a part of the show, just enjoy watching the golf, right?' But I wouldn't say that's to do with gambling, per se. If I was here as a fan, I just want to go out and try to watch the best players in the world and have a good time doing that."
McIlroy appears in relaxed state of mind as he attempts to win the FedEx Cup this weekend for what would be a fourth time here. He is the defending champion.
The 34-year-old regards himself as free from the emotion he felt in 2022, when heavily influential in the PGA Tour's attempts to withstand the threat from LIV Golf. As this sport continues to try to plot a future where the establishment and Saudi Arabia's Public Investment Fund work collaboratively, Tiger Woods was recently added to the PGA Tour's policy board.
"It's meaningful that he's on it, that he's engaged," McIlroy said. "He has certainly been spending more time on it than I have. He has been talking to a lot of people. He is really engaged in just trying to get the best outcome for the players on the PGA Tour. His difference has been felt already."
Meanwhile, Scottie Scheffler, who leads the FedEx Cup going into this final event, has said he would have no problem with Brooks Koepka receiving a captain's pick for the US Ryder Cup team. Koepka, the reigning US PGA champion, switched to LIV last year; he is likely to get the nod from Zach Johnson next week.
Scheffler estimated Koepka was $30,000 shy of an automatic berth. "If he played one tournament on tour, he probably would have been on the team," the world No 1 said.