He doesn't play for moments like that, but Caleb Williams also wasn't going to pass on a European vacation either. Sitting in Positano, Italy, along with his mother Dayna Price, the USC quarterback surveyed the scene that was straight out of a computer screensaver. Beautiful blue water dotted with boats. Steep, breathtaking cliffs. A bright, sunny day.
For once, he allowed himself to marvel at it all.
"Wow," Williams said of his summer vacation. "It's pretty surreal."
After a whirlwind summer in which he traveled the world, walked a runway in a fashion show and nodded alongside a bobblehead of his likeness, USC's star junior quarterback admits his life does feel different.
But the goal isn't.
It's still to win.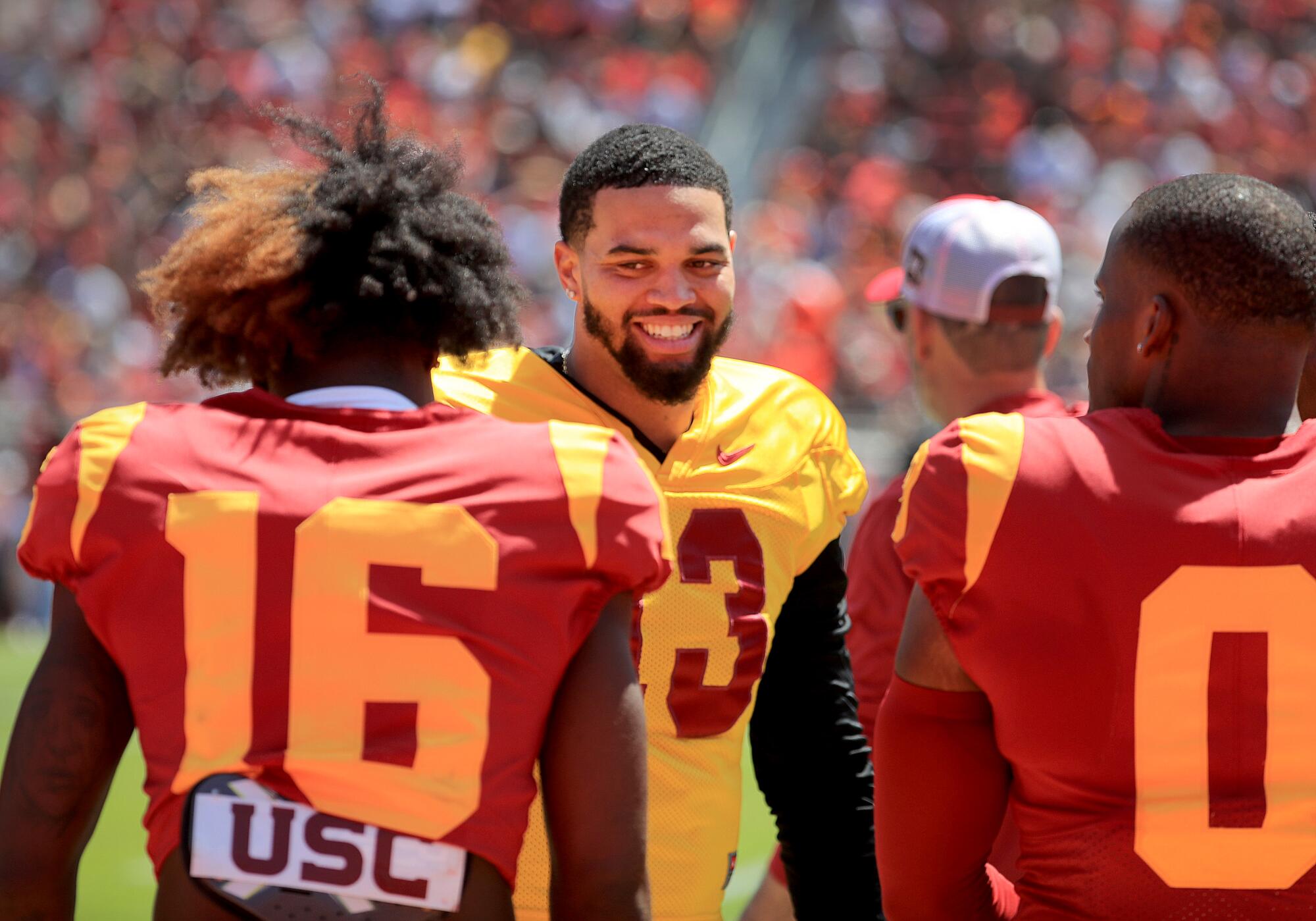 The No. 6 Trojans have their highest preseason ranking since 2017 after matching the best single-season turnaround in program history and producing the school's eighth Heisman winner. The only things that can satisfy Williams now are the school's first appearance in the College Football Playoff semifinals, a national title and the place in football lore that comes with it.
"Immortality comes from championships," Williams said. "I haven't reached one here in college yet."
Oklahoma's six-year streak of Big 12 championships ended on Williams' watch after he usurped incumbent starter Spencer Rattler midway through Williams' freshman season in 2021. Head coach Lincoln Riley bolted to USC while Williams dutifully stayed to lead the Sooners to a win over Oregon in the Alamo Bowl before following his coach. Together, they spurred USC's turnaround from four-win disaster to 11-win national title contender.
All the Trojans needed was a win in the Pac-12 championship game to secure their Playoff berth. Hope was dashed when Williams pulled his hamstring during a 59-yard scramble during the first quarter.
Three weeks later, even as Williams won the greatest individual achievement in his sport, he lamented what he lost.
"Guess you can't win them all," he half-joked in his acceptance speech while celebrating his fellow Heisman finalists C.J. Stroud, Max Duggan and Stetson Bennett, who were all on the way to College Football Playoff semifinals.
Williams' post-Heisman tour was one that won't soon be forgotten. Fueled by unique marketing opportunities — Williams is just the second Heisman winner who was able to profit off their name, image and likeness — the USC junior hopscotched around the globe.
He was the honorary starter for a NASCAR race at the Coliseum in February.
In March, the noted fashion aficionado traded his elaborate pregame outfits for a white Hugo Boss suit at the designer's fashion show in Miami.
In May, after spring camp for the Trojans, he threw out the ceremonial first pitch for his hometown Washington Nationals and invited his offensive linemen along when he got the honor at Dodger Stadium in July. The Dodgers honored him with a bobblehead of him dressed in his USC uniform and a blue Dodgers cap while hitting the Heisman pose.
The summer highlight was his trip to Europe, where he attended the Monaco Grand Prix. The Formula One race attracted A-list celebrities like Bad Bunny, Tom Holland and Chris Rock. Williams posed in a photo with Odell Beckham Jr. and Devin Booker.
But the person Williams most cherished on the trip was his mom.
They made stops in London, Paris, Monaco and the Amalfi Coast. It was a delayed birthday vacation for his mother, whose hopes to visit Europe for her 50th birthday were dashed by the pandemic.
"You don't work hard for the off-the-field stuff," Williams said. "But it's something like, you get a special opportunity to take your mom to Europe with you, you don't want to pass up on that."
Somewhere underneath Williams' media-trained exterior, he's still just a 21-year-old who actually wants to go on vacation with his mom. Even before he got pulled on stage during a Drake concert, he was sharing the rapper's lyrics on Instagram. He misses his family that's 3,000 miles away, which is why he wanted to get a dog as a friendly face to greet him at home.
Supa is an 8-month-old old English bulldog Williams got at 18 weeks old.
"He is the king of the house," Williams said. "I am the prince now."
On the field, Williams remains the main attraction. He set USC single-season records for total offense and most touchdowns scored. He owns almost every major single-season passing mark at the school and did so while passing with record-breaking efficiency. He threw just five interceptions in 500 attempts.
Yet after such a polished season — in his first full year as a starting quarterback — Williams and Riley adamantly believe there's more to unlock.
"He's tremendous," Riley said, "but he doesn't walk on water yet."
"Immortality comes from championships. I haven't reached one here in college yet."

— USC quarterback Caleb Williams on his goals for the future
Williams writes down goals every day about what he wants to improve. He wants to see himself be more disciplined. There have been challenges in his seemingly charmed offseason, he insists, especially while adjusting to a new team.
The quarterback is one of the few constants in an offense that lost its leading receiver and rusher. He'll work behind an offensive line that has three new starters and moved the remaining two to different positions. A talent like Williams can often erase the mistakes of teammates who are still learning, but even "Superman" has limits.
"I've been in this offense for three years, I expect everything to be really good and perfect and we got a bunch of new guys that came in and have been working hard to perfect it, but my temper has been short at times," Williams said. "[I'm] just finding the balance between times when you need to get on guys and times when you need to understand that maybe they're new in this offense or maybe they need help with this and that, and not expecting them to be perfect."
After his international summer, Williams dedicated himself completely to football when the Trojans began camp last month. Even when the Dodgers finally released his bobblehead on Aug. 10, Williams didn't attend the game. His mom threw a strike on the ceremonial first pitch in his place.
Williams has been laser-focused on the field since he was 12 when he and his father charted a path toward greatness. The strict regimen that began with a 5:30 a.m. workout gave the prospect professional habits well beyond his years. Williams is now a near-lock for the No. 1 pick in the 2024 NFL draft if he enters his name as a draft-eligible junior.
While many liken the USC signal-caller to Kansas City Chiefs star Patrick Mahomes, Williams has tried to distance himself from the comparison. Mahomes is a two-time Super Bowl champion, Williams pointed out.
"I'm Caleb, Caleb Williams here at USC," he said. "And I haven't even won a national championship yet."