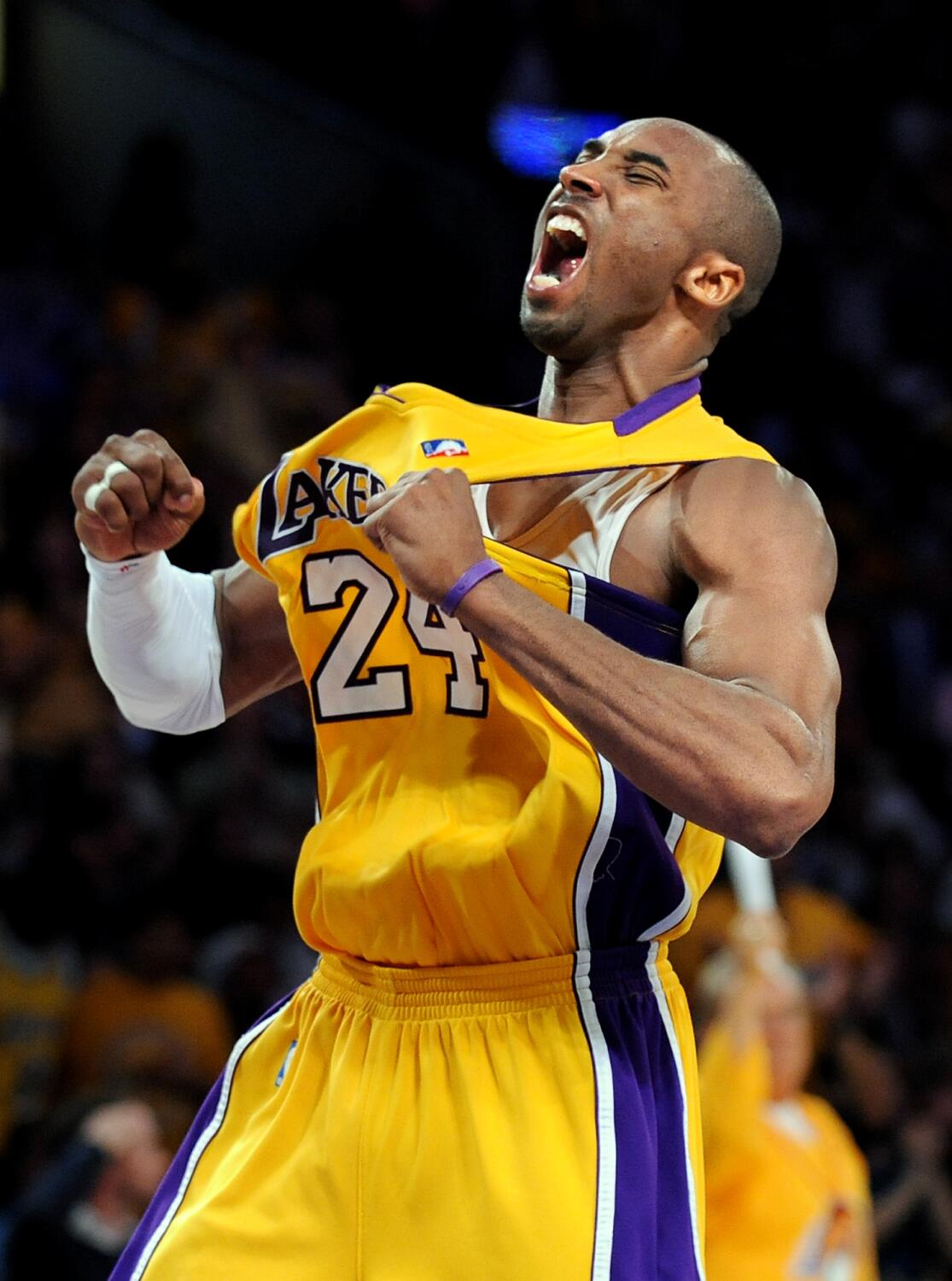 Maybe it'll be the jersey ripped to the side, the Lakers great showing his heart to the fans who'd do anything for him. Maybe it'll be the perfect fading jumper, the form and footwork a testament to his meticulous attention to basketball detail. Maybe it'll be him gnawing through the neck of his jersey or clenching his fist, an image that shows his maniacal determination.
Or maybe the image the Lakers and his family choose to immortalize him outside the team's home arena will be him, arms outstretched, celebrating another NBA championship while confetti and adoration surround him from all angles.
It's a tightly guarded secret. But on Feb. 8. 2024 — 2-8-24 — the Lakers and Bryant's family will unveil a statue celebrating the late Hall of Famer and revealing the pose they chose, putting him alongside Elgin Baylor, Jerry West, Chick Hearn, Kareem Abdul-Jabbar, Magic Johnson and Shaquille O'Neal in front of Crypto.com Arena.
"Kobe played his entire 20-year NBA career as a Los Angeles Laker," Vanessa Bryant, the legend's widow, said Thursday in a video announcing the project. "Since arriving in this city and joining the Lakers organization, he felt at home here, playing in the City of Angels. On behalf of the Lakers, my daughters and me, I am so honored that, right in the center of Los Angeles, in front of the place known as the house that Kobe built, we are going to unveil his statue so that his legacy can be celebrated forever."
The date is significant because it incorporates the No. 8 and No. 24 jersey numbers worn by Bryant during his Lakers career, as well as the No. 2 jersey daughter Gianna wore as a player for Bryant's Mamba Academy.
Kobe and Gianna were among nine people who died in a helicopter crash on Jan. 26, 2020 in Calabasas.
The Lakers posted the statue announcement at 8:24 a.m. on Kobe Bryant Day, which is celebrated in Los Angeles and Orange counties every year on Aug. 24, another nod to Bryant's jersey numbers. The team hired Julie Rotblatt Amrany, the sculptor of the other Lakers monuments, to create the Bryant statue.
"Kobe's transcendent spirit is always and forever in our hearts — inspiring us every day," Bryant's former agent and current Lakers general manager Rob Pelinka said in a statement. "And now, with the unveiling of this powerful and beautiful statue, he will have a physical presence too. A place on the hallowed ground Kobe created, where we can all gather and pay honor to a mighty and great man."
The Lakers will host Denver on Feb. 8 when they unveil the statue, the first "in a series of physical tributes," the team said. "Kobe Bryant was one of the most extraordinary athletes of all time, and one of the most iconic individuals in the history of Los Angeles," owner Jeanie Buss said in a statement. "There is no better place for Kobe to be honored with a statue than here, at the center of our city, where everyone can celebrate him and be inspired by his incredible achievements."