Noah Lyles is one of the most compelling figures in sport right now, and don't the suits at Netflix know it. Their cameras and boom mics have followed the US sprinter around like an eager puppy at these World Athletics Championships, watching his prophecies become realities and capturing every moment of Lyles' extraordinary three gold medals in Budapest.
The closest thing to Usain Bolt's successor? Most people in track and field would say so. And next year, when Netflix's new show is broadcast before the Paris Olympics, the rest of the world will believe so too. "They weren't talking about me at the beginning," Lyles jokes, when asked about the streaming service's intense interest in him. "But as soon as I won in Paris in June they got buddy-buddy with me really quick."
With every bounding stride Lyles has taken in Budapest, that has proven to be an astute investment. Last Sunday the 26-year-old took his first world 100m title in 9.83sec. On Friday, he became only the third man ever – after Maurice Greene and Usain Bolt – to do the sprint double by winning the 200m in 19.50. Then, on a raucous Saturday night, came Lyles' third act, in the 4x100m relay.
In truth victory was secure the moment he grabbed the baton from Brandon Carnes, but there was no letting up as he powered the USA's 4x100m relay team to gold ahead of Italy in 37.38. As he crossed the line, Lyles held three fingers up to signify three gold medals.
"I have a lot of gifts," he says, when asked what makes him so special. "My biggest one is my top-end speed, which I can hold for a very long time. I am also very good at almost copying form. If somebody tells me this is what they need to do, I can learn it in probably a day, maybe less. My mentality is extremely strong. And if it's not, I'll train it to be."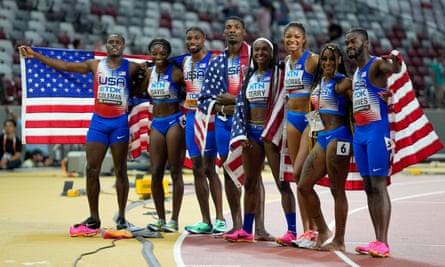 All week, drama has followed him. He was involved in a crash between two buggies on Thursday that left the Jamaican Andrew Hudson with shards of glass in his eye. Lyles was thankfully unhurt.
In any other era, Lyles would be a cover star. The cachet of being the world's fastest man would make that a given. But there are echoes of Muhammad Ali, too, in the way he speaks his mind, tells stories and wants to engage – and be loved.
More than anything, though, Lyles is on an evangelical mission to make the wider world care about athletics again. "I feel we have a great sport," he says. "But I am a firm believer that track and field is just not marketed the right way. We could do a better job in selling ourselves and selling our stories.
"It's going to take some professionalism. That's what it's going to take. I'm sorry, but no more of this amateur stuff."
His message to the World Athletics president, Sebastian Coe, is blunt but heartfelt. "We got to treat ourselves like a business, not like a nonprofit," he says. "Hopefully the money will come. But if we aren't even professional with ourselves, then we're just a joke."
Lyles is hopeful Netflix will give a major boost to his support in the same way Drive to Survive and Breakpoint have revitalised interest in Formula One and tennis. "I am very excited for the Netflix thing because I believe it's going to show our good and our bad," he says.
"The match-ups, the fast times, the head to heads, the drama. Because you never know: somebody could false-start, somebody could cramp up, somebody could have the best day of their life.
"But at the same time it will show all the other moments. Athletes not getting picked up to get to their press conferences. Taking buses that aren't going the right way."
In the past Lyles collaborated with artists and walked the runway at Paris fashion week and these days he even has his own stylist. But when he returns to the French capital for the Olympics next July, his focus will again be on winning three more gold medals.
"I'm using this world championship as a blueprint. I was coming here for three gold medals," he says. "And that's going to be my exact same goal when I go to the Olympics next year."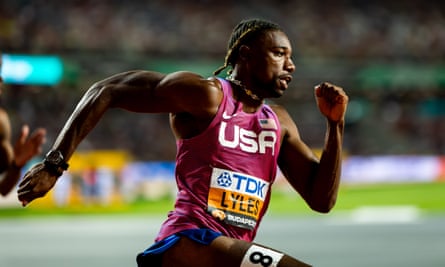 But Lyles can see the bigger picture, too. "Medals are the first step, because then people pay attention to you. And then you can go into different directions. Fashion. Music. You can start collaborating with other people, artists and the world."
Along the way, Lyles also intends to take down Bolt's 200m world record of 19.19, which has stood since 2009. As things stand, the American is 0.13 slower but he believes getting faster over 100m, as he has this season, will help him over the longer distance.
His coach, Lance Baumann, says the figures show that Lyles's top speed is behind only Bolt's in athletics history. "Within reason he's the closest one," he says. "Bolt, Tyson Gay and Noah are all within the same ballpark as far as top-end speed goes. Bolt is No 1 and Tyson and Noah are really close."
Could he bridge the gap? Lyles is certainly a believer. "What a lot of people underestimate about me is that if I am not good at something I am very willing to patiently wait to get good at it," he says.
"No matter how long it takes. That's what this whole 100m world title has been for me. This has been the culmination of constantly waiting for my body to catch up, to learn the right things to get it done."
One thing is clear. Lyles is only just getting started.