Jay Monahan speaks so sparingly that the PGA Tour commissioner had plenty of time to plot and plan precisely what his message would be during traditional end-of-season media duties in Atlanta last Tuesday. When pressed on even light detail of how a framework agreement between the PGA Tour, the DP World Tour and Saudi Arabia's Public Investment Group may take on more formal status, Monahan was completely noncommittal. The 53-year-old may soon realise, if he has not already, that Saudis bearing billions do so with more than a passing interest in how their buck is being deployed. He who pays the piper, and all that.
What Monahan appears very keen to stress is that he is working for the good of the PGA Tour. This is fair enough, in theory – the organisation pays him $14m a year, according to the most recent report – but belies the sense that elite golf is now all about a collective good. Monahan at least left the impression the DP World Tour, LIV and various other related parties have to fall into line.
No sooner had Monahan vowed to protect, protect and protect his Tour than Jon Rahm delivered the kind of straight talking that golf's administrators rarely enjoy. "It's very, very present. It's more often than you think," the Masters champion said of audible and occasionally distracting spectator discussion relating to betting outcomes. In Chicago at the FedEx Cup's penultimate event, two spectators were ejected after hollering in a gambling context at Max Homa. Rahm claimed he hears similar comments every time he plays on tour.
"We have tremendous fans that have tremendous respect for what these players need to do," Monahan said. It would, of course, be unwise for him to castigate his customer base, and the proportion involved in this regard is very low, but a stiffer tone would have been wise. One of LIV Golf's successes has been the proving of complacency within the sport's traditional model.
The explosion of sports betting in the US provided opportunity for the PGA Tour. Its list of marketing partners now includes Bet365, BetMGM, BetParx and DraftKings. It would be silly to decry the entire betting industry, but the PGA Tour is hardly going to ignore or cut off a group of businesses it can align with because of the relaxation of laws in umpteen states. Not that the entire sport of golf takes the same approach; British bookmakers have eyed on-course positions at the Open Championship for years while encountering stiff resistance from the R&A. This does not stop anybody from betting on the Open but the R&A is aware of optics.
Golf has had a strange relationship with gambling for some time. A bit like watching Naked Attraction, so many within the sport do it without ever admitting as much. As the beast grows in the US, integrity of competition must be fiercely protected.
The good news for Monahan is that players at the summit of this sport have no reason to become embroiled in betting scandals. Last place at this weekend's Tour Championship walked away with $500,000. Further down the ladder, where purses are low and expenses high, there is obvious scope for golfers to become embroiled in nefarious activity. How does one prove why Player X knocked two balls out of bounds, thereby missing a cut? Nonetheless – and unlike tennis or snooker – there has never been even loose evidence that such behaviour is transpiring. So far.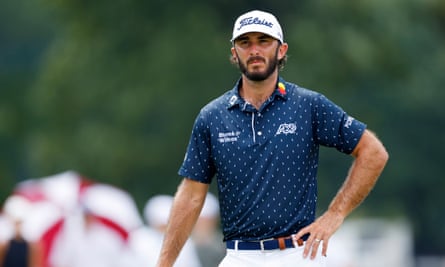 The flipside? The commissioner can talk of vigilance towards gallery behaviour all he likes but there is literally nothing anybody can do to prevent a fan from screaming at the top of Rahm's backswing or when Rory McIlroy draws back his putter. Given the direction of travel, this feels inevitable before long. Golf fans are typically fuelled by cheap lager. If the motivation is saving a floundering bet while a matter of yards from players, it is perfectly easy to envisage what may transpire. The new toy of American sports fans – betting on a multitude of sporting outcomes – is fundamentally different in golf to other sports in the country because of the proximity of galleries to stars. Even whispers prick the ears of competitors.
Phil Mickelson's cash matches, including in the immediate buildup to the Masters, were laughed off as harmless fun for years. Any spectator caught with a mobile phone in their pocket at Augusta National is immediately marched off the premises, which always rendered it odd Mickelson could play for money against fellow professionals. Mickelson's penchant for a wager is legendary and, by his own admission, was once problematic. Yet there was never the sense golf authorities were forcing him to desist.
A recently published excerpt from the book by the famed Las Vegas gambler Billy Walters states Mickelson wanted to place $400,000 on the US to win the 2012 Ryder Cup. Some may argue backing your own team – Mickelson was participating at Medinah – is no crime, but this apparently serves as an indicator of the world in which he was operating. Walters says he talked Mickelson out of the scheme. Mickelson released a statement insisting he has "never bet on the Ryder Cup". Crucially, the 53-year-old did not deny even a brief intention.
The PGA Tour's leap from dismissing Saudi Arabia's involvement in golf to clinking glasses with the kingdom's operatives renders it difficult to take what Monahan and co say in public particularly seriously any more. On the topic of gambling, executives should be mindful that golf finds itself badly exposed. Placing the genie back in the bottle requires the kind of broader-world thinking Monahan hardly showed himself capable of last week.