Chaos. Chaos in the first half, chaos in the second half. Chaos in the Liverpool defence and chaos in the Newcastle defence. Chaos in Trent Alexander-Arnold's mind, in Virgil van Dijk's mind, perhaps in the referee's mind. Chaos so thoroughly chaotic that it rendered the most chaotic Premier League player of all into a clanking totem of clinically icy finishing.
Football is a sport we try to rationalise. We try to explain it with data and diagrams. We try to reduce the random by having referees' decisions checked in slow motion and by endlessly rewriting the laws. But sometimes the random just bubbles over. Sometimes the chaos cannot be contained. And that is what, despite the dirty money and the dirtier money, despite the public investment funds and the private equity, despite the conspiracy theorists and tribal bores, makes football still worth it.
In 1928, the great editor of El Gráfico, Borocotó, proposed raising a statue to the spirit of Argentinian dribbling and ended up prophesying Diego Maradona, 32 years before he was born. Raise a statue to the spirit of the modern Premier League as it is and you would end up with sacks of cash, barrels of oil, social media fury, a cattle prod and a bonesaw. Raise a statue to what it should be and it might look something like Darwin Núñez.
No one knows if he is any good. No one knows at any moment, whether he is about to lash a shot into the top corner or trip over. No one knows if he was £85m well spent or a waste who exemplifies Liverpool's lack of direction after a series of resignations from their once-vaunted transfer committee. And that's the beauty of it. Football keeps on reminding us that it is a game best enjoyed when no one has a clue about anything.
Newcastle should have won. When it was 11 against 11, they were much the better side. Anthony Gordon has started the season superbly and his direct running against Alexander-Arnold, a full-back whose defensive shortcomings have not been solved by his new hybrid role, always looked likely to be key and for a long time it seemed it would be.
Alexander-Arnold probably should have been sent off when he impeded Gordon a minute after being booked for tossing the ball away – that he was understandably frustrated that the referee, John Brooks, had not penalised Gordon for shoving him is no real mitigation. Perhaps that was playing on his mind when he allowed Mohamed Salah's pass to roll under his foot for Gordon to open the scoring.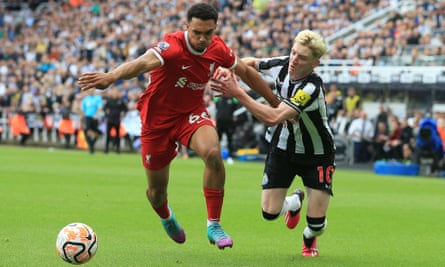 Although Van Dijk's misjudgment in swiping through Alexander Isak three minutes later – that and the thorny issue of whether a goalscoring opportunity has first to exist before it can be denied for the offence to merit red or whether denying its existence is itself enough – dominated the discussion, it should not be overlooked that the opportunity stemmed from Gordon jinking inside Alexander-Arnold into a bafflingly untenanted midfield area.
Referees, Alexander-Arnold as a defender, Liverpool's midfield … it all felt very familiar, although with added Waturo Endo who, through no fault of his own, by being neither Moisés Caicedo nor Roméo Lavia, has become an emblem of Liverpool's transfer worries. The more immediate concern may be his lack of pace. But slowly it became apparent that, with Alexander Arnold operating as a more orthodox right-back in a 4-4-1 after Van Dijk's dismissal, Gordon was no longer tearing by him. Newcastle missed chances. The woodwork was hit twice. A strange anxiety began to set in.
At which point Núñez was unleashed. It has been remarked upon that misses don't seem to faze him, that he never hides, but keeps turning up to miss more chances. Until suddenly they fly in.
He had wasted one half‑opportunity with a poor first touch when he happened upon the clever expedient of having Sven Botman perform the first touch for him, the Dutch defender lucklessly cushioning the ball into Núñez's stride as it flicked off his ankle into his backside. But who realistically expected anything other than a scuff into Nick Pope or a low effort dragged wide of the far post? Instead, Núñez leathered the ball cleanly in off the far post.
His second finish was even crisper, the opening created by the pressure applied by Diogo Jota, Harvey Elliott's interception and then Salah's through ball, followed by a hesitation from Dan Burn, drafted into the middle after an injury to Botman. None of those elements were guaranteed or even predictable, but together they created the circumstances for lightning to strike for a second time.
Are Newcastle serious contenders or do their direct forwards lack a little guile? Is Liverpool's old-look defence now a bigger issue than their new‑look midfield? Who knows? All anybody can say for certain is that Núñez makes life fun and that, despite everything, football can still be gloriously, hilariously unpredictable. Embrace the chaos.