Andy Murray confidently moved into the second round of the US Open with a strong 6-2, 7-5, 6-3 victory over Corentin Moutet, despite an arduous physical battle that lasted more than three hours.
"It was a long one, but the way that we play, it was probably always going to be like that," said Murray, smiling. "Three hours was probably a lot shorter than some of my matches this year so pleased to get it done."
Murray had arrived at the US Open with questions over his fitness after he suffered an abdominal injury at the Canadian Open in Toronto before also withdrawing from Cincinnati. He had spent the past week gradually increasing his training load with his serve.
Afterwards, he said he was satisfied with how his abdominal muscle held up under pressure. "I was quite happy with how I served today. Ab felt good and moving on to the next one," he said. "I'm at my highest ranking since I had the metal hip put in so I'm happy with that. It's not been an easy journey. Obviously, I'd like to be ranked higher but this is the best I've played consistently since 2017. Happy to still be going, still be progressing, and hope I can keep pushing that ranking up."
At least five British players will compete for a spot in the third round after numerous strong performances during the first two days in New York. Katie Boulter produced one of her cleanest performances of the season, overpowering Diane Parry of France, 6-4, 6-0 to reach the second round at Flushing Meadows for the first time in her career.
Cameron Norrie, meanwhile, ended a difficult four-match losing run with an excellent performance as he overwhelmed Alexander Shevchenko of Russia 6-3, 6-2, 6-2. Jack Draper continued his recovery from a serious shoulder injury with an excellent performance, easing past Radu Albot 6-1, 6-4, 6-3.
Parry is a talented 20-year old with nice variety and angles. But for all of her welcome flair, her game can be underpowered at this level. From the beginning, Boulter took advantage of her greater pace of shot, forcing herself inside the baseline and playing with controlled, potent aggression off both wings.
Since her run to the Nottingham title and then a third-round berth at Wimbledon catapulted her back into the top 100, Boulter has spent her summer taking advantage of her new ranking by competing at the biggest tournaments, playing the events in Washington, Montreal and Cincinnati.
There have been no significant results but Boulter has picked off less established opponents and she has been able to consistently test herself at the highest level, with each week providing consistent indication of what it takes to stay there.
"I've tried to play the long game," she said. "I've really had to back myself and dig myself out of a few holes to really get myself to where I am now. I feel like that's a testament to how hard I've worked. Whether it was the short game or the long game, I really don't mind but I'm here right now and that's what I'm happy with."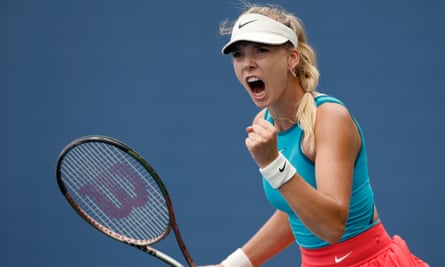 So soon after breaking back into the top 100 in June, Boulter is already close to a new milestone. As a result of her victory, she will likely rise to a career-high ranking inside the top 55.
"I just want to consolidate my ranking and really show that week in, week out I can play these girls and get a lot of wins against them," she said. "I think that's what's really going to build my confidence. I didn't get the chance to do it before when I was inside 100, and I feel like I finally got my feet settled and now is my time to really push on."
Boulter will next face China's Wang Yafan, a qualifier, who upset Caroline Garcia, the French No 7 seed, 6-4, 6-1. Wang, a former top‑50 player, is on the comeback trail after taking seven months off last year and she has been one of the most in-form players on the secondary ITF tour this year.
Norrie had not won a match since Wimbledon, struggling with his confidence and his forehand. Still, it is testament to his excellent attitude that he remained positive and upbeat off-court even as things were not going his way and he moved on in New York with a solid win.
"I always feel good coming to New York, and I think I was really hungry to get a win," he said. "I hadn't had too many in the last few weeks. I wanted to keep my head down and keep going point for point.
"I think I missed only a few balls in the first hour and 20 minutes. I was able to keep my concentration throughout the whole match. I gave him nothing. Played long points and I was able to spread the ball around with my forehand. It was a good win, but on to the next one."