Summers in Texas have always been brutal. But this summer was among the most extreme the state has ever experienced, and scientists say July was Earth's warmest month ever. Trying to exercise in these sweltering temperatures can feel impossible.
At high temperatures, muscles tire much more quickly and fatigue is common. Committed athletes have taken to leaving their homes in darkness – exceptionally early or late at night – just to train.
Twice a week, Jeff Cunningham's alarm has him up and at 'em before the sun rises. He swings out of bed and pours himself an "irresponsibly large" cup of black coffee before mixing up a batch of electrolyte replacement fluids and filling a cooler with ice from the industrial ice machine he considers one of his shrewdest investments. By 5.30, the caffeine hits and he's in a loquacious mood: "I tend to be like a chihuahua on crack in the mornings," he says, laying out the day's workout for his athletes, elite distance runners at Austin's Bat City Track Club.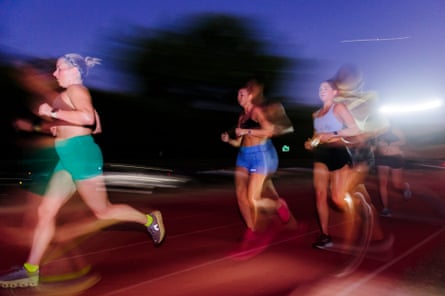 It's still pitch black when the 25 or so runners in attendance start their watches and hit the city's streets. Despite the occasional dead-inside feeling of waking before the roosters, Cunningham's runners benefit from training at the coolest time of day. Even then, the temperatures are in the high 70s, though the humidity is what you've got to keep an eye on: it can make the air feel hotter still, meaning that heart rates can still soar.
Ariane Middel, an assistant professor at Arizona State University whose research focuses on urban infrastructure in the face of extreme heat says that as temperatures rise, particularly in areas with high humidity, the body's ability to cool itself becomes compromised. "In humid conditions, sweat does not evaporate as efficiently," she says. "As a result, even early morning workouts in the high 70s in high humidity can expose athletes to health risks, including heat exhaustion and, in severe cases, heat stroke."
Or, as Cunningham puts it: "Running a long, hard workout as morning temps soar into the 80s is a bit like trying to breathe right after someone pours water over a tray of hot sauna stones."
Cunningham, a full-time attorney who coaches runners alongside his day job, takes the health of his athletes very seriously. He requires runners to slow their pace and during some longer workouts, he has them come to a complete stop to get their heart rates down, refuel, and then start up again.
"One thing I do is make sure people are not training with stubborn ignorance," says Cunningham. "There is a reason why there's no world records on the books at 90-degree heat. Mind over matter often does not work. Mother Nature is a very spiteful lady."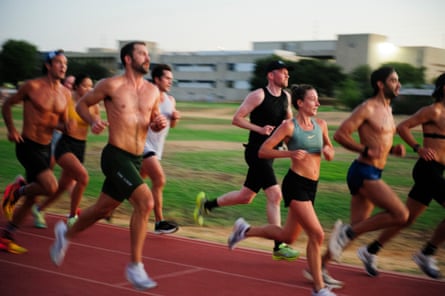 He's not wrong. In July, Joe Biden announced the first ever heat "hazard alert" as Texas temperatures exceeded 100F (38C) for several days in a row. That heat has sizzled all summer. The 108F heat on 20 August – the city's 22nd consecutive 100-degree day – broke a 114-year-old record.
2023 has also been the deadliest summer in at least five years in Texas, with 15 deaths reported in Harris county, home to Houston, alone, and plenty of heat-related illnesses.
During these searing August temperatures, most high school football teams in the Lone Star state officially began holding practices for the 2023 fall season. Many coacheshave had their players on the field by 7am to beat the heat, and some game kickoffs have been delayed. In east Texas, local soccer leagues are looking out for each other more informally and have started playing halves that last 25 minutes instead of the traditional 45 so that players can take more frequent breaks. However, despite the unprecedented conditions, official hot weather precautions from the Texas health department don't sound all that different from what you'd expect any other year: take action at the first sign of heat illness, don't leave anyone in a parked car, check on friends and family members, and hydrate.
Still , many sports organizations are moving from a daytime to a night-time schedule. In Dallas, longboarders are waiting to hit the skateparks and parking garages until around 8pm, when the sun is setting. Bonny Riddle, who hosts a weekly ladies' league golf night in Austin, says the muggy, high-risk weather has even changed the sport's drinking culture. The league waits to play until the sun has set, and instead of offering the usual canned wine and cocktails, Riddle partners with beverage brands that make electrolyte-filled hard seltzers and non-alcoholic sports drinks.
It's not just too hot for humans. Adam Miller, the owner of Miller Performance Horses, a horse training business in Valley Mills, south of Dallas, has restructured his sleep patterns to avoid working his colts and mares in the sweltering sun. Instead, he begins his workday around 10pm, slipping into his boots and saddling horses when others are watching TV and getting ready for bed.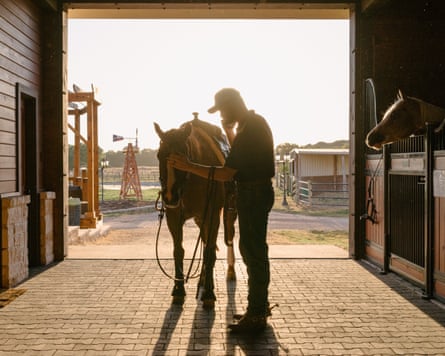 "They're professional athletes, you know, so we really try to take our time and take good care of them," he says. "Especially when it starts getting this hot. That's when we'll have a lot of injuries." He waits until the coolest part of the night to ride and train the 14 horses under his care.
They all compete in reining, a western riding competition in which riders guide horses through a precise pattern of circles, spins, and stops.
Miller monitors the horses to ensure they're not breathing hard or sweating too much. If they get too hot, he walks them around and lets them cool down near one of the two "big-ass fans" in the arena. He wakes up during the night to check on the horses in their sleeping hours too, bringing them out for a rinse and putting them in front of a fan to cool down. Thankfully, he and his wife have an easy commute, as they live in a converted apartment inside the barn.
Texans are proud of their toughness, and many people will simply power through outdoor workouts no matter what, but Cunningham and Miller both emphasized how dangerous that mindset can be. Pushing past the body's limits in extreme heat can be life-threatening for both horses and humans. "That's the mentality of a bygone era," Cunningham says.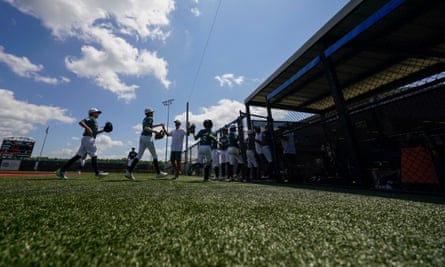 Sherri Carney would agree. Growing up in the west Texas city of San Angelo, on the Concho River, near the edge of the Chihuahuan desert, she says there've been 100+ degree days throughout the summer for as long as she can remember. She's the tournament director for the Original Midnight Madness softball tournament, held at the end of July every year, and she says the semi-arid climate is what led the organizers to start hosting it about 30 years ago.
Girls from all over Texas, and sometimes from as far afield as Oklahoma and Virginia, travel to San Angelo, playing softball all through the night – from Friday through Sunday – and sleeping throughout the day to beat the heat.
"I'm biased here," Carney says, "but I think anybody who really cares about kids and loves kids and wants to see them succeed should seriously consider not putting on any kind of activities like that during the day, not in the summer, or at least not here in the summer."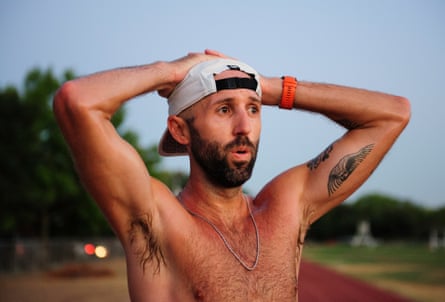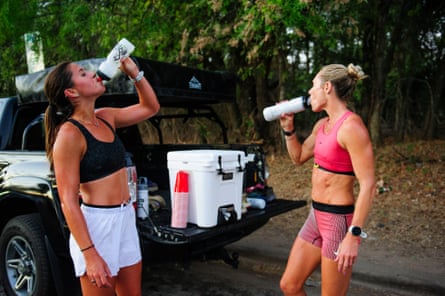 Many doctors were critical of a recent article about how to build heat tolerance, but some experienced athletes have found success with acclimatization when wisely and cautiously approached. Lucie Beatrix, a model turned sub-elite distance runner, moved to Austin late last year to train away from the cold New York City winter with Bat City Track Club, but she stayed long enough that she's gotten to experience the flipside of that coin. The heat and humidity was a wild adjustment but now, thanks to Cunningham's training techniques, she thinks of the heat as a competitive advantage. As Cunningham puts it, "heat and humidity are called the poor man's altitude," a reference to runners who train at high altitude in places like Boulder and Flagstaff for a performance boost when they return to sea level.
By adapting to the heat and respecting it, Cunningham has coached multiple athletes to times that qualify for the Olympic marathon trials, and he is turning his team into an elite powerhouse. While the decision to host next year's trials in muggy Orlando with a noon start time has been controversial, the Bat City Track Club runners aren't scared to compete in Florida. They know how to lean into the heat and work with, not against, the brutal conditions.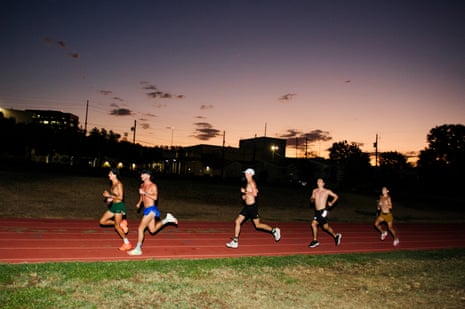 Beatrix, the marathoner, has slowly built a life that revolves around running. Two runs a day, one at 8pm and the other at midnight, may hamper her ability to eat dinner with her boyfriend, but "that's just how my life has become", she says.
And it certainly beats the extreme fatigue that sets in on days when she dares to log midday miles. "It's only going to get worse. That's something to be afraid of," she says. But on a personal level, she's just focused on putting one foot in front of the other for as long as she still can.