Well, that wasn't pleasant. The grim theatre of an injured 43-year-old Venus Williams taking just two games off Belgium's Greet Minnen before mostly stunned silence inside a half-empty Arthur Ashe Stadium and a primetime television audience probably wasn't what the USTA had in mind when they pencilled it in for Tuesday's night session at the US Open.
This was one of those lamentable spectacles that sports, for all their capacity to inspire joy and wonder, have a way of serving up from time to time. Like a shopworn Joe Louis getting pummelled through the ropes by Rocky Marciano across the river at Madison Square Garden, only if Marciano was a 99th-ranked qualifier with zero career WTA titles who had never made it past the third round at a major.
It wasn't rocket science. Williams, dogged by a knee injury she re-aggravated at Wimbledon and a silhouette of the player who lifted back-to-back US Open titles in 2000 and 2001, was broken in her opening service game after three minutes and it only went downhill from there. Minnen ran her quadragenarian foe ragged with heavy groundstrokes off both wings, mixing in drop shots with ruthless timing and accuracy while pounding 24 winners and saving all six break points she faced. Done no favors by the sweltering humidity and betrayed by a first serve in open revolt, Williams faded badly in the second set until it was finished after 74 minutes.
Yes, she's been unlucky with injury. The fall at the All England Club when she'd finally turned a corner with her fitness threw a wrench into her preparations by limiting her ability to practice. Her lack of matchplay told against Minnen, who has kept busy with 49 wins from 64 matches this year, most of them on the tour's minor-league circuit, but wins just the same, including three during last week's qualifying tournament to reach the main draw.
But Williams came off as delusional in a sparsely attended press conference after Tuesday's beatdown, explaining away the result with overheated praise on an opponent who did little more than execute an elementary gameplan.
"I really have to give credit to her," Williams said of Minnen. "It was just incredible, honestly. If she can play like that, you imagine that she can be in the top 10 or perhaps No 1 or maybe win a grand slam, something like that, if she can play at this level."
That felt like a stretch.
It must be said that an athlete cannot tarnish what they have already accomplished. Williams, who has a credible claim as the second-best women's tennis player in history, has won seven major singles titles and reached No 1 in both singles and doubles. She's earned nearly $43m in prize money, more than any woman ever outside her family. Her impact only begins on the tennis court and it would not be hyperbolic to call her one of the five most famous active sportspeople on the planet. Nothing left to prove came and went sometime before the Barack Obama years.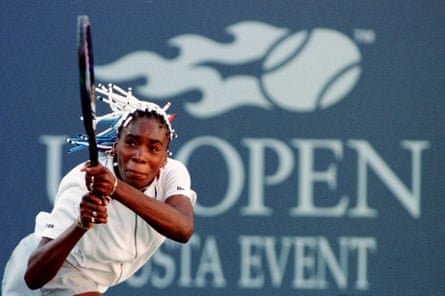 And it must be said there is a fine line between delusional and defiant, between self-deception and self-assurance. After all, they called her father the same thing more than 30 years ago – delusional – when he first declared that Venus would be No 1 in the world. The younger sister, he assured, would be even better. One day they would play each other for the Wimbledon title. He was dismissed by the sport's gatekeepers and the global sporting press as a clownish stage parent. But in time every last prediction, every impossibly bombastic proclamation, came true. If anything he undershot it.
But it also must be said that Tuesday's no-contest will throw a harsh glare on the USTA's decision to award Williams a wildcard invitation that might have gone to an up-and-coming player. And that glare might influence the decision to offer it next year.
Even by the standards of sport's greatest methuselahs – think Jaromir Jagr, Bernard Hopkins, Tom Brady – Williams is built different. Only a few dozen of the 406 players above her in the world rankings were even alive when she made her professional debut at the Bank of the West Classic back in 1994. One of them is Minnen, who came into the world less than a month before Williams' storied run to the US Open final as an unseeded teenager on her debut in 1997.
Williams' preposterous longevity in a sport notorious for burnout cases is remarkable enough, not even accounting for the incurable autoimmune disease that has compromised her tennis for more than a decade. What is keeping her going? Simple. She's doing it for the love of the game. No pressure, on her own terms, at her own pace. Going about her work same as ever with the workmanlike grind that's become her calling card. She lives for this.
"The most inspiring thing about her is the love that she has for tennis," said Coco Gauff, the teenager who has inherited the mantle Williams once held as the face of American tennis, earlier this summer. "I don't think that love has swayed over the course of her career. I think you can see players who are older now [and] you can have a feeling they probably don't love it as much as they did when they started it. I don't have that feeling with Venus. I hope I'm the same way.
"Just her grit for every match, every ball … just the will to want every point is something that's inspiring."
To still have that fire nearly three decades after her professional debut is extraordinary and admirable. But there comes a time when the body will no longer do what the mind tells it to. Since improbably reaching the Australian Open and Wimbledon finals in 2017, then re-establishing herself as a fixture in the WTA's top 10 during her age-38 season, the injuries have mounted and her ranking has dropped outside the top 500. She's failed to make itbeyond the second round at the last dozen majors she's entered.
Williams has been active sparingly over the past few years but not by choice. She played only four matches and was absent for three of the four majors in 2022, then missed five months this season with a hamstring injury she described as a "nightmare". Then the fall happened. There have been flickers of the stylish, pragmatic game and fluid ball-striking of year past – an impressive fightback against Veronika Kudermetova in Cincinnati earlier this month marked her first win in four years over an opponent in the top 20 – but they have come too few and far between to catch fire.
"I have to really thank my doctors for helping me to get here," Williams said on Tuesday. "That in itself was a blessing. I love playing here. I really gave it my all today."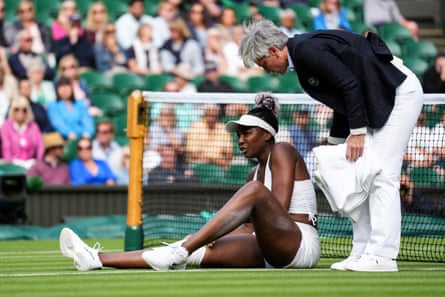 No one doubts it. Williams' competitive drive and taste for the fight remain the stuff of legend, and she has more than earned the right to go out on her own terms. Her legacy transcends wins and losses, most notably her leading role in the fight for equal prize money. She fought her way on to the stage amid derision and criticism from all corners, leveraging the twin burdens of racism and sexism embedded in the sport with uncommon grace. Like Tiger Woods, she brought people into the orbit of a sport who never would have bothered to watch a tennis match.
But if she is not competing at a high enough level to enter the biggest events on merit, then it may be time to cede the stage to the next generation until she can.
This time last year Serena's plans to retire after the US Open, revealed several weeks prior in the September issue of Vogue, was the talk of Flushing Meadows: a high-profile valedictory lap that came to overshadow the entire first week of the tournament. Yet the sense persists that when Venus calls time on her career, whether tomorrow or another five years from now, she'll take her cue from another New York icon and slip out the side door: Excuse me while I disappear.
She left no clues either way on Tuesday night, aside from telling reporters that she may play the fall swing unlike in recent years "because my year didn't go the way, in any way, shape or form, that I thought it would go". As for when she'll finally know it's over, Williams invoked what's become a familiar line.
"I wouldn't tell you [if I knew]," she said with a smile and the slightest hint of defiance. "I don't know. And I don't know why you're asking."