Among the rank outsiders to win MLS Cup as the season dawned, Inter Miami justified the doubts with six wins and a league-worst 14 losses in their first 23 games.
After Wednesday's goalless draw with Nashville, Miami are 10 points adrift of the Eastern Conference playoff places with 10 games to play. Yet some bookmakers now rate Gerardo Martino's side among the favorites to take the title in December.
The reason, of course, is that Inter Miami are now Lionel Messi's Inter Miami, and the 36-year-old has orchestrated a stunning surge in form since his debut on 21 July, leading the team to the Leagues Cup trophy and the US Open Cup final during a nine-match winning streak in which he contributed at least a goal or an assist every time.
He started against Nashville, meaning he's now played 10 times for Miami: only twice in the MLS regular season, but all his games bar the first have been against MLS opponents. Even after drawing a blank against Nashville, Messi has scored 11 goals and provided six assists. The Messi Effect is staggering, whether measured by his on-field contribution or counting new Instagram followers and the price of resale tickets.
Not that MLS could sate its critics in any circumstance. Underwhelm and Messi would have been decried as past his prime and unmotivated, only in Florida for the lifestyle and the money. As it is, he has proved so incandescent and so inevitable that he is providing ammunition to those who like to slam the league as second-rate. Which, of course, it is, compared to the European elites.
The Nashville back five that frustrated Messi at DRV PNK Stadium on Wednesday will collectively earn $1.6m in wages this season; Elliot Panicco, the Kentucky-born 26-year-old reserve goalkeeper who made a decent stop to deny Messi late on, is on a base salary of $90,000 this year. Messi will pick up $50m-$60m.
Given the league's financial inequalities and consequent uneven talent levels, it's not surprising that Messi has thrived, though few could have believed that even he would prosper to this extent. Brilliant attacking or feckless defending? It's both.
Opta heat maps showing the location of Messi's open-play touches from his first nine fixtures suggest his movement is fundamentally the same for Miami as it was in his final seasons for Paris Saint-Germain and Barcelona. Messi doesn't contribute defensively – almost never touching the ball in his team's own third of the pitch – and is busiest in possession in central locations between the halfway line and the edge of the penalty area.
He's rarely on the wings, but when he ventures wide he's more likely to be on the right side than the left. And he is highly efficient when close to goal. Before this week, only 5% of his touches for Miami were inside the box. Yet he has mustered 11 goals from 35 shots.
Messi has dribbled and passed successfully less often per game for Miami than in his PSG and Barcelona swansong seasons, and touched the ball far less – averaging 66 times per 90 minutes in his first nine matches versus 82 touches for PSG and 96 for Barcelona. But his shot conversion rate is far higher; it was 13% for PSG and 14% for Barcelona.
In short, advancing age, and perhaps the broiling heat of an American summer – it was 32C (90F) at kick-off in Fort Lauderdale on Wednesday – means he's less active than in Europe, but more lethal because inferior defending is offering him better looks at goal. And, even at 36, he remains supremely gifted and less impeded by slowing legs and the effects of injury than other high-profile veteran MLS imports down the years. The body and brain remain in excellent working order.
He's scored two fizzing free kicks: to beat Cruz Azul on his debut and against FC Dallas. And two terrific long-range strikes, versus Philadelphia and Nashville in the Leagues Cup final. A few sharp team moves have brought goals, such as when he ghosted into the area against Orlando and smashed Robert Taylor's delicate lofted pass into the net, and the late tap-in last week against the New York Red Bulls after his sublimely sneaky pass behind the back line left the defense flat-footed.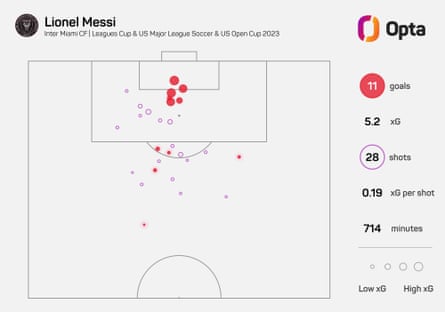 But his six goals inside the penalty area were all scored from virtually the same central position on the edge of the six-yard box. It doesn't get much more basic than marking a forward who's lurking so close to goal, yet MLS defenses have repeatedly been guilty of ball-watching and reacting too slowly; of failing to anticipate where the ball will be in a couple of seconds, of leaving Messi alone, even forgetting about him, until it's too late, even with plenty of players back to help.
A case in point was his second goal against Atlanta United. Three pink-shirted Miami attackers in the box versus five defenders, yet an unmarked Messi is allowed to convert a cross from eight yards. Atlanta's Santiago Sosa – a 24-year-old former Argentina Under-20 international – catches up with Messi then ball-watches and wanders off, allowing his countryman to slip away and position himself perfectly near the penalty spot.
Facing superstars down the years, MLS defenders have often seemed oddly deferential, as if the low-paid journeymen feared the repercussions of ruining the hype by scything down and injuring one of the faces of the league. Or they fear being embarrassed by a piece of individual skill if they commit to a tackle.
He may be the world's most famous footballer, but the Messi shuffle-scamper, that instant shift from uninterested to deadly, seems to have taken MLS by surprise. It might be telling that all Messi's goals have come in the first quarter of the game – when opponents are least familiar with his craftiness – or in the last quarter, when they're tiring. Or Messi's movement and speed of thought might simply be too much for the average MLS defender to handle.
In defense of MLS defenses, it should be noted that this rate of production is not unprecedented for Messi. According to Opta, he has scored or provided an assist in nine successive games for club and country 10 times during his career, though this is the first such streak since 2018-19.
And he hasn't shown signs of rapid decline. In his last season in Catalonia, 2020-21, he scored 30 goals in 35 La Liga games, seven more than the runners-up; in his second and final year at Parc des Princes he notched 16 goals and 16 assists in 32 league games. It's only eight months since he won the World Cup with Argentina, scoring seven times in Qatar.
Contrast with David Beckham, the previous highest-profile MLS import (and now a Miami co-owner). When he joined the Los Angeles Galaxy in 2007, Beckham was only 32. Yet his mobility was drastically limited by injuries and he was far from the all-action hero of his heyday, hence his adoption of a "quarterback" role where he dropped back to receive the ball in space then languidly sprayed long passes. Two other ageing English midfielders, Steven Gerrard and Frank Lampard, also found MLS life hard later on, both because their physical attributes were fading and they struggled to link up effectively with teammates.
Forwards, though, have often thrived in MLS in the twilight of their careers, from Chicharito to Didier Drogba (21 goals in 33 regular-season games for the Montreal Impact) and Zlatan Ibrahimović (52 goals and 17 assists in 56 league games for the Galaxy). The searing acceleration of Thierry Henry's youth was only a memory when he arrived at the Red Bulls in 2010, the year he turned 33. He was still a prolific source of goals and assists; though many opponents could outpace him, they couldn't outsmart him.
While the Galaxy were a dysfunctional club when Beckham arrived, Messi is living in a far more harmonious and purpose-built environment: in an area where he already owned a home, working under a coach he knows well and playing a possession-based attacking style that suits him alongside Sergio Busquets and Jordi Alba. The contribution of his former Barcelona teammates shouldn't be underestimated either: it's much easier to be this good when you have two world-class players alongside you, even when they too are well into their 30s.
With seven attempts on goal, more than any other player, Messi was lively again on Wednesday and only denied by some resilient defending on a night when Miami had 69% of the possession and passed with 92% accuracy. Fatigue may become a factor, but those title odds are not quite as crazy as they seem should Miami's refashioned team manage to recover from their dreadful pre-Messi results. MLS's distended playoff format – nine of the 15 Eastern Conference teams qualify – is absurdly forgiving. And right now, with a worst-to-first Messi narrative in play, it looks like a piece of marketing genius.