Memorial Stadium went dark, the hum and strum of Sirius by the Alan Parsons Project started and the capacity crowd turned to the stadium's north end. Every University of Nebraska football home game starts this way. Fans clap as the stadium's huge videoboard shows the team's approach from the locker room and their entrance on to the field. The Tunnel Walk is one of college football's signature traditions. And Nebraska junior Lexi Rodriguez wanted to soak in the moment.
Rodriguez, a libero on the Nebraska women's volleyball team, walked alongside head coach John Cook and teammate Merritt Beason. They were enveloped by the crowd's roar. Beason continued her steely gaze. A smirk emerged on Cook's face. Rodriguez grinned from ear to ear. She and the Cornhuskers knew they'd make history on Wednesday night. She just wanted to take a moment to enjoy it. The gates finally opened and she led the Huskers on to the court.
Rodriguez scored a match-high 15 digs and three service aces as Nebraska beat in-state rivals Omaha in straight sets (25-24, 25-14, 25-13). The larger, and most important number of Wednesday evening, however, was 92,003. That's how many people attended the match, shattering a world record for the highest attendance at a women's sports event. (A reported 110,000 attended the unofficial Women's World Cup final in Mexico City in 1971 but that number has never been confirmed.)
Not bad for a regular-season match of little consequence.
"It's so huge for little girls to get to see a woman's sport and volleyball being played on this big of a stage and having so many people invest in it, I think, is huge," Rodriguez said afterward. "Because when you're little you have big goals and big dreams. And having this to look kind of look up to is something that little girls will keep in the back of their mind when pursuing the sport of volleyball."
Nebraska players were between the second and third sets when the record crowd was announced over the stadium speakers. They all paused. As with every home football game, Memorial Stadium was the third-most populated place in the state on Wednesday night. The match was a cornerstone for women's athletics, and was decades in the making.
Pat Sullivan started the Nebraska volleyball program in 1974, two years after Title IX passed in the United States. Terry Pettit took control in 1977 and he wanted to win. At the time, many of the successful volleyball programs were at beachside universities, hundreds of miles away from landlocked Nebraska. But Pettit thought Nebraska could stand out because of its fan base. He traveled across Nebraska to speak with community clubs and high school volleyball coaches. John Baylor, who has called every Husker volleyball match for the last 30 years, described Pettit as more than a mere coach.
"He was on a mission to commit himself to this in every way," Baylor said. "He wanted to win games and do everything possible to improve his role as the leader of this program. Back then, in the nascent days of volleyball on the prairie, it involved being an evangelist spewing his wisdom."
Nebraskans embraced volleyball as a way of elevating women's athletics. Pettit, in turn, delivered a winner. Nebraska went 694-148-12 and won 21 conference championships in Pettit's 23 seasons. He led the 1995 team to a 32-1 record and the program's first national championship. As the game grew, Pettit's responsibilities pulled him in too many directions. He retired two years after that first national championship and handed the program to Cook, a former Nebraska assistant who briefly left to join Team USA as an assistant and to coach Wisconsin. Nebraska went 34-0 to win a second national title in Cook's first season as head coach.
Cook continued Pettit's drive for success. Nebraska are 656-98 in his 23 seasons, including four national championships, 10 national semi-finals and 13 conference championships. He also continued Pettit's community outreach. Cook earned his Instrument Rating with his pilot's license so he can fly across Nebraska, which is only a little smaller than Great Britain. He once challenged fans across the state to support the volleyball program as they do football. Both programs now boast sellout streaks surpassing 300 consecutive games.
"Nebraska volleyball is really a manifestation of the love affair between this state, the people in it, and this sport," Baylor said. "Because of the 'N' on the jersey, they're not just representing the team, they're representing all of us to some degree. The sense of pride that every Nebraskan feels for their success and a sense of sorrow and disappointment for their challenges. It's a unique relationship."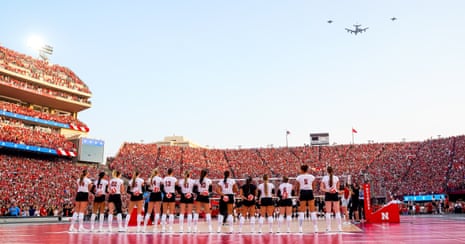 The Nebraska volleyball team played a spring scrimmage this year in front of 2,096 fans in rural Central City, Nebraska – about half the capacity of where the program started. The NU Coliseum sat just over 4,000 and created an intimidating environment for opponents. It also left swaths of Husker fans without tickets. Cook remembered one high-caliber volleyball recruit chose to play elsewhere because there wasn't room for a student section. Families with young, aspiring volleyball players couldn't get in. Cook and Pettit agreed they needed to move to the larger Bob Devaney Sports Center.
"We were worried we'd lose a whole generation of volleyball fans," they both said.
Cook thought they'd lose the sellout streak when the school altered the arena to accommodate 8,000 fans with skybox seats and standing room-only space. Every volleyball match since the move a decade ago has been sold out. The university even added another 400 seats this season and there are plans to add more suites in the future.
Eight of the nine most-attended college volleyball matches, 13 of 14 in the regular season, involve Nebraska. Cook started brainstorming innovative match locations in the summer of 2022. Then Wisconsin hosted Florida for a volleyball match at the Kohl Center, home to Wisconsin's basketball and men's hockey teams, in front of 16,833 fans. That broke Nebraska's regular-season attendance record. Nebraska couldn't counter: capacity in their basketball arena is just 15,500. So Nebraska's athletic director, former All-American Husker football player Trev Alberts, looked to the school's biggest stage. The 83,406-seat Memorial Stadium, now celebrating its 100th anniversary, could fit even more if they opened standing-room only space on the field. Despite Memorial Stadium's rich football history, Wednesday's volleyball match also broke the venue's attendance record.
"This could not happen without great interest in the sport throughout the state," Pettit said, "but it also wouldn't happen without great interest for women competing throughout the country."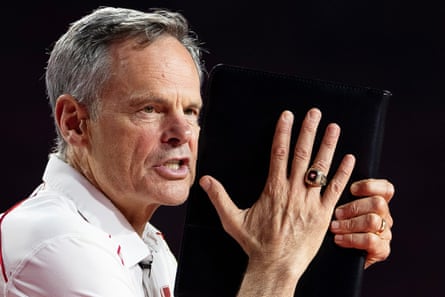 Wednesday's Volleyball Day In Nebraska, as it was officially dubbed by governor and former Nebraska football player Jim Pillen, began with an exhibition match. NCAA Division II in-state programs, Wayne State College and University of Nebraska-Kearney, played three sets in front of the afternoon's growing crowd. About 90 minutes later, Nebraska tipped off against Omaha (formerly University of Nebraska-Omaha) in a regular-season match. A concert closed the night, although the event sold out before the university announced former American Idol contestant Scotty McCreery as the musical act.
The event, as unconventional as it was, served as another chapter in the school's innovative record. A unique pre-match hype video played on the massive Husker Vision screen, which was the first instant replay scoreboard installed in 1994. Dedicated strength coaches, nutritionists, dietitians and sports psychologists all attended the match. Nebraska was one of the first universities to employ each position specifically for volleyball. The university honored roughly 100 Husker volleyball alumni on Wednesday, including Karen Dahlgren, who brought the slide attack from international competition to America. That wisdom put Nebraska on the cutting edge of volleyball tactics.
"Nebraska volleyball has been at the vanguard of the sport for five decades and it's just natural that this be the program that decides to inhabit a football stadium for a match," Baylor said.
When it was all over, Cook calmly sat at a press table. He said he cried five times throughout the day. The California native referenced the Rose Bowl and the 1999 World Cup final between America and China that previously held the North American women's sports attendance record of 90,185. He remembered Brandi Chastain's iconic celebration like it was yesterday. That match made a huge impact on women's sports in America. Wednesday was just the Huskers' fourth match of the season. But Cook saw all the young girls throughout the day at the pep rally and around campus. Wednesday was about more than those three sets.
"I think this is going to impact a lot of people," he said.