Graciella Boltiansky is the owner of a Los Angeles business making empanadas. As an Argentinean and fan of Lionel Messi, there was little doubt that she would find a way to pay tribute to her idol before the Inter Miami match against LAFC on Sunday from BMO Stadium.
"For us Argentineans what he is doing is incredible," said Boltiansky, owner of Nonna's Empanadas. "The effect of what Messi is doing is impressive, not only as a player but as a person, a friend, a father. He has been touched by God."
At 36 years old, Messi is living one of the best moments of his career. In the last calendar year he has won the World Cup with Argentina, and now on his arrival to the United States he has eclipsed the popularity caused by other international stars like David Beckham in 2007 and Zlatan Ibrahimovic in 2018.
As a tribute to Messi, Boltianskky is selling empanadas with his Argentina No. 10 jersey.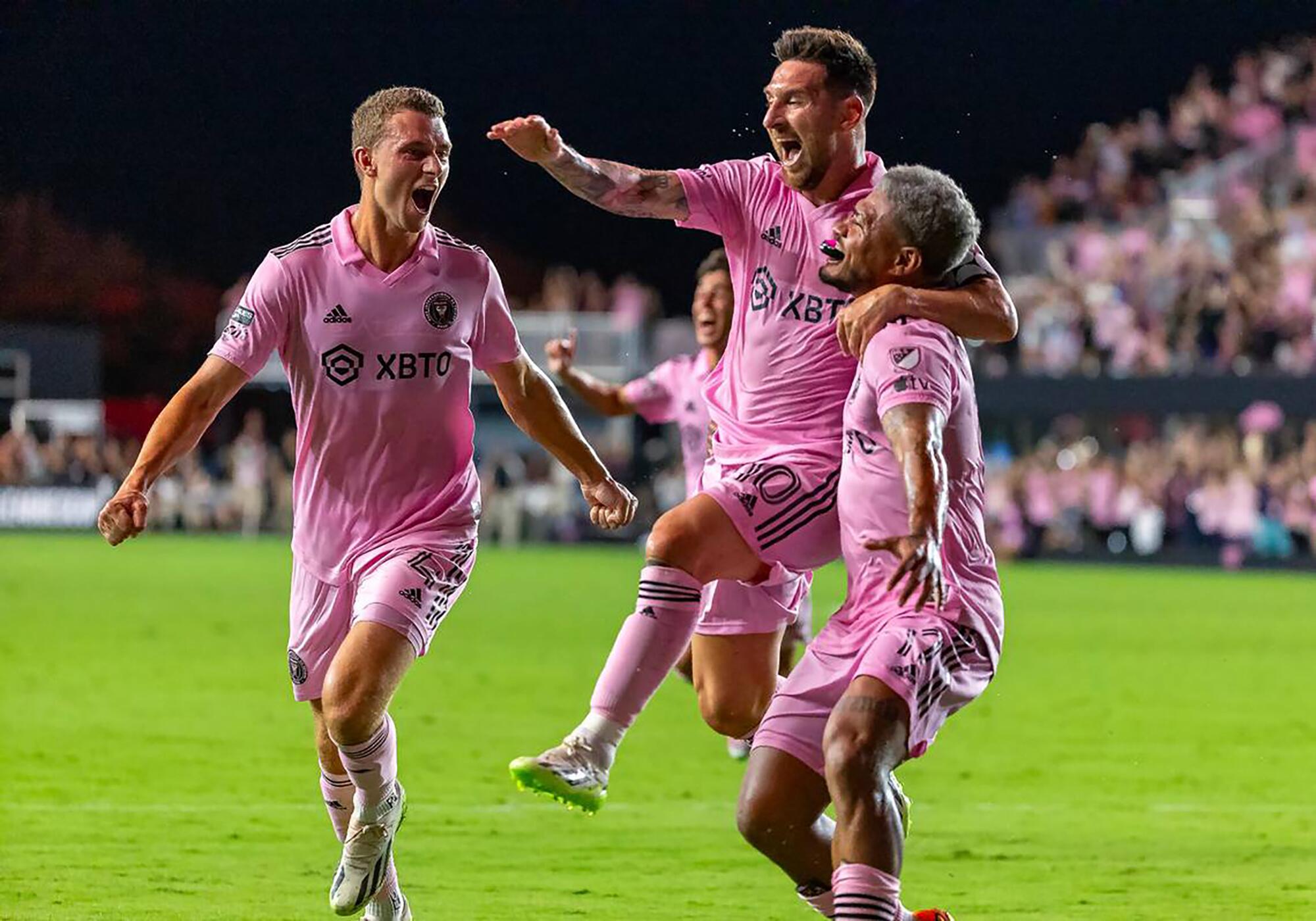 The empanadas come in two flavors, one with meat that is a customer favorite and the other is similar to a pizza filling with cheese and tomatoes since it's a taste Messi prefers.
"Messi says that after every game he likes to eat a pizza, but why have a pizza where all the cheese and tomatoes fall off when you can have it in an empanada," said Boltiansky, who came to this country in 1983 and opened her empanada business 13 years ago. The business has expanded to outposts in The Original Farmer's Market in Los Angeles and The Americana in Glendale.
The Messi empanadas are only available at the Original Farmer's Market.
Boltiansky also expressed admiration for the way Messi's wife Antonela has influenced his career.
"Messi has achieved these great highs in his career because of his great talent and also because of the support of Antonela," said Boltiansky, who doesn't have tickets for Sunday's game but is hoping to get some in the resale market.
Boltiansky is not alone in trying to find tickets. The high price of tickets is something that has followed Messi around the country as MLS fans have had to pay exorbitant prices. According to an article by the Los Angeles Times, the cheapest ticket for the game on Sunday is $650.
Sunday's game is also sure to become the most expensive ticket in the history of the MLS. According to secondary ticket seller TickPick, the average price for a ticket is $690, a 527% increase from ticket prices before the announcement of Messi signing with Inter Miami.
Inter Miami manager, Gerardo Martino has said that Messi will start on Sunday before he travels to Argentina to take part in World Cup qualifying with matches against Ecuador on September 7th in Buenos Aires and against Bolivia on September 12th in La Paz.
Martina has also maintained that he cannot promise that Messi will play in every away match, making Los Angeles one of the fortunate cities that will get to watch him on the pitch.
"I understand the desire that people have to watch him play. Every place we play will be the same. But we cannot deviate from the plan because it would be gambling with Leo's health. I don't need to ask forgiveness from anyone, but I do understand the fan's wishes," Martino said.
The Messi effect is even having an impact on the vaunted LAFC fan group 3252, who had to post on social media that only LAFC gear will be permitted in the fan zone and that national team jerseys will not be allowed. Still there is no guarantee that the fan section will be completely black and gold since there were resale tickets in the 3252 section for sale.