Sit close enough to a tennis court when Alex de Minaur is at full velocity and the sound of shrieking, audible and ever-present during a point, tells the story of the busiest feet in tennis.
The shoes of the Australian, who has played with rare verve at the US Open over the past week, squeak and squeal as he scampers to retrieve shots that would pass most others by. Like the roaring and purring of a Formula 1 car racing around a track, the noise made by the No 13 seed's dancing feet alters depending on how fast and furiously a rally is unfolding.
De Minaur burned the rubber off his shoe soles once again when demolishing 23rd seed Nicolas Jarry 6-1, 6-3, 6-2 in their third round encounter on Court 17 in New York on Saturday.
The volume contrasts to the quiet yet pointed manner with which the 24-year-old, who will seek to reach his second US Open quarterfinal on Monday, leads by example off the court.
De Minaur told The Guardian that the attention stemming from being ordained as a future leader of Australian tennis while still a teenager was something that took time to adjust to.
As his Davis Cup teammate Thanasi Kokkinakis observed this week, de Minaur prefers to be the guy engaging in small talk with friends in a corner rather than being the life of the party.
"He is a great guy. A ripper guy. All of us are pretty close. But he is all about actions," Kokkinakis said. "He is not the loudest guy in the room. In fact, he might be the complete opposite. He might be the quietest."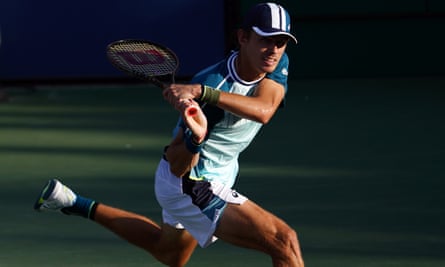 His development has been incremental but de Minaur, who will play either Daniil Medvedev or Sebastian Baez on Monday, has grown as a leader as his tennis has flourished.
"Being quite young and being put in the position of being at the forefront of Australian tennis… well I've never been much about being in the spotlight," de Minaur said. "I've tried to earn my respect. I am a strong believer that actions speak louder than words. For me, it has been very important to maintain a respectful image, to show what it takes."
There is plenty of noise coming from his compatriots about the excellence of his tennis and how the example he is setting is dragging other top Australians along for the ride.
The remarkable US Open run of countryman Rinky Hijikata, who play Frances Tiafoe on Sunday in New York, will make the wildcard Sydneysider the ninth Australian man ranked inside the top 100.
And Kokkinakis, who will feature in a third round doubles match on the same day at the Billie Jean King Tennis Centre, said the recent Toronto Masters finalist deserves a lot of credit.
"It is those quiet guys who let their actions do the talking who are probably the most powerful because you know when they do say something, that means more than someone who is just talking all the time," Kokkinakis said. "You could not ask for a better leader than Alex and also Lleyton (Hewitt). They are two guys who really set an example as to what it means to compete and give your all."
De Minaur revels in the successes of his compatriots, with the emergence of Hijikata over the past year and in New York in particular among the results that have delighted him.
"There's nothing I love more than … seeing all the Aussies playing well, because I know they have the level to succeed," he said. "It just makes me happy to see those guys pushing and doing what they do best. It is great to be a part of it."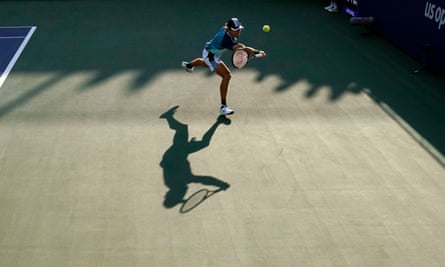 A strong season on the ATP Tour, which includes winning a seventh title in Acapulco and three other finals appearances, propelled de Minaur to a career-high ranking of No 12. De Minaur is now within range of becoming the first Australian since Hewitt to break into the top 10 and is also a contender to debut in the prestigious ATP Tour finals in Turin in November.
He has carried his form into New York where, aside from a second set lapse in the opening round against Timofey Skatov, he has been largely dominant. Against Jarry, who had troubled him in their two prior encounters, he faced only one break point and won 86 of the 140 points played in what was a surprisingly lop-sided match.
It was against Medvedev in the Paris Masters late last year that de Minaur enjoyed a significant breakthrough when defeating the Russian for the first time after four losses. Since this triumph, the Sydneysider has broken even in matches against top-10 ranked rivals, suggesting his belief that he can beat the best now has real legitimacy.
The challenge is to sustain his peak level over five sets in grand slams against the legitimate contenders, with the next opportunity likely to come against Medvedev on Monday.
Expect his compatriots to be among those cheering loudest for the quiet Australian to make another significant step forward should they meet.