Charged with the unenviable task of facing the best tennis player in the world in the sport's largest stadium, Dan Evans did all that he could. He irritated Carlos Alcaraz with his wicked, searing slice, he ceaselessly swept to the net and he showed ample resilience even as the battle seemed lost.
For all his variety and grit, though, he could only momentarily slow Alcaraz down. Forced to a fourth set, the top seed and defending champion responded to Evans's challenge at Arthur Ashe Stadium by elevating his own level and moving into the fourth round of the US Open with a strong 6-2, 6-3, 4-6, 6-3 win.
"I think I'm playing a good level," said Alcaraz. "I'm feeling really, really well on court, really comfortable. I always say that I can be better, but right now I'm really, really happy with the level that I'm playing."
After the highs of the first week, in which numerous British players scored important wins, on Saturday there were mixed results for the remaining contingent in New York. Jack Draper took another great step towards realising his immense potential after so many injuries as the 21-year-old reached the fourth round of a grand slam for the first time in his young career, holding his nerve in the final stages to defeat Michael Mmoh of the United States 6-4, 6-2, 3-6, 6-3.
"I'm very proud of myself, and that's a testament to the work I've put in as well," said Draper.
"It's not been easy for me the last year or two with the injury struggles I've had. I come into each tournament thinking: 'Oh, am I going to hold up this week?' Five sets is a bit different, and to do it at this level, I'm very pleased."
Cameron Norrie, though, was unable to find his best tennis as he was outplayed by the young, talented Italian Matteo Arnaldi, who also reached the fourth round of a grand slam for the first time with a 6-3, 6-4, 6-3 win.
"Not a good year," said Norrie, the 16th seed, of his performances at grand slam tournaments. "I obviously had high expectations to do well. I try to prioritise the slams and it was not where I wanted to be, obviously doing really well at Wimby and fourth round here last year. But [I'm] still learning and still trying to get better."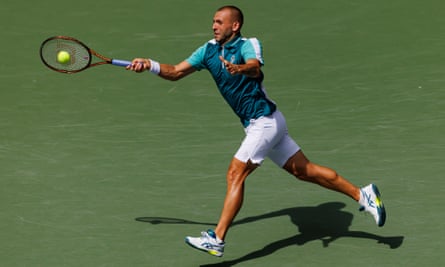 Before his match with the No 1, Evans had noted that he enjoys facing opponents like Alcaraz who play with variety considering his own skills. But he also had no illusions about his limitations: "Hopefully that's the way he plays and doesn't try to blast me off the court, which is what he could do."
In the early stages, that is exactly what he did do. Alcaraz attacked relentlessly, taking advantage of his much greater pace and weight of shot. The few times Evans tried to take the initiative and impose himself, he watched as Alcaraz tracked down every ball and passing shots flew past him. Within 15 minutes Alcaraz was leading 4-0 and he consolidated his early break to take the set.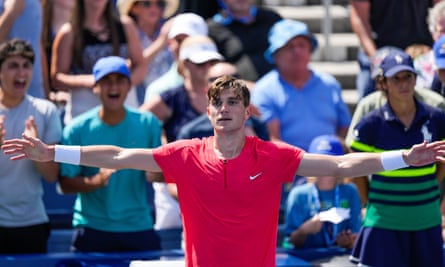 But Evans eventually managed to make Alcaraz uncomfortable. After failing to take advantage of a 2-0 lead in the second set, double faulting twice in his following service game as Alcaraz retrieved the break and swept through the second set, Evans produced his best tennis in the third. He struck his forehand sweetly, constantly following it into the net, and he served extremely well. He finished the set with 10 winners and only one unforced error.
Although Evans fought hard to remain in contact with Alcaraz, the decisive point of the fourth set indicated the futility of his task as the Spaniard stumbled and nearly fell yet chased down an excellent forehand from Evans, slotting a forehand passing shot by his opponent to break serve. Shortly after sealing the break, Alcaraz closed out a solid win to advance.
Draper, meanwhile, had arrived in New York after dispiriting news that he had suffered a new tear in his shoulder as he tried to come back from the serious shoulder injury that forced him out of action for nearly three months.
But he has once again shown that he needs very few matches for his destructive lefty game to fire up and for him to regain his form after time away. He will next face Andrey Rublev, the No 8 seed, as he competes for a spot in his first grand slam quarter-final.
"Even though I haven't been able to compete too much, I generally think I'm a much better player and better all-around athlete," said Draper.
"To come here a year on, despite maybe my ranking having dropped a fair bit because of the injuries and not being able to be on the same confidence level that I was last year, I'm incredibly proud of that. Hopefully I can keep going this week."