The wife of Rams quarterback Matthew Stafford made some waves on her podcast recently when she disclosed her husband was having a difficult time connecting with some of his younger teammates, a 35-year-old NFL star looking to find commonalities with phone-obsessed players fresh out of college.
It's both an age-old issue and — relatively speaking — an old-age issue.
"It's kind of crazy," she said on her podcast, "The Morning After with Kelly Stafford."
"So Matthew's been in the league a long time. He's like, `The difference in the locker room has changed so significantly.' They have a lot of rookies on their team, they're very young. But he's like, `I feel like I can't connect.' "
Rams coach Sean McVay, only two years older than his quarterback, laughed off that characterization and said Stafford has done "a phenomenal job of leading, connecting with his teammates."
"I took that more of a joke at the old man," McVay said. "And I'll be honest, there's a couple of throws that he made during training camp where I wanted to say, `Yes, sir,' to him as well."
The predicament is part of the game. Every season, there are older quarterbacks looking to quickly develop that connective tissue with a cluster of young and inexperienced teammates. It's happening with Russell Wilson in Denver and Aaron Rodgers with the New York Jets.
"When you go home at night to your wife and kids, and they go home to their apartment and Chipotle and movies and Game Boys and stuff, it's just so different," said Rich Gannon, named the NFL's Most Valuable Player at age 37 and played two more seasons.
"I just remember going out of my way when I got older to make sure every young guy that made the team, I would find in that first 10 or 12 days an opportunity to go to lunch with him and say, `Hey, this is not easy. Congratulations. But you're here today, you could be gone tomorrow. You're going to get evaluated every day you walk in the building. You'd better study and you'd better know what you're doing, and if you don't know you'd better ask questions.' "
Sometimes that would work, other times it wouldn't.
"With some guys it would go in one ear and out the other. I'd tell guys, `Make sure to take your playbook home and study.' Then I'd be walking through the locker room at 6:30 at night and seeing guys' playbooks in their locker, guys that were going to be playing on third down with me. … That's the kind of stuff you just don't have patience for."
Hall of Fame quarterback Steve Young, who was 37 when he retired in 1999, marvels that Tom Brady was able to play at 45. That's when the age gap becomes a chasm.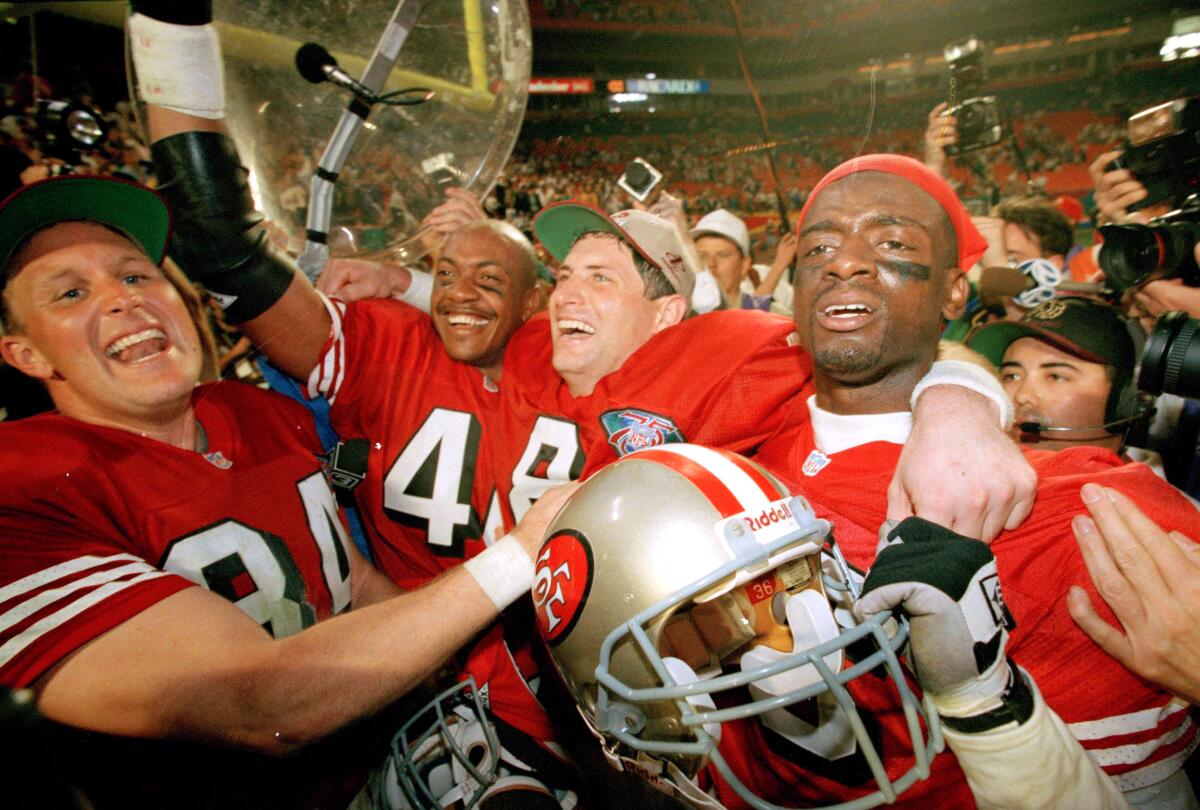 "You don't want to be disingenuous, like, `Oh, hey, I'm one of you guys,' " Young said. "You want to own the fact that you're older, make fun of it, have a lot of jokes and laughs about it, make people feel comfortable. But you've also got to bridge it. With a guy who's 23 years old trying to protect you, you've got to create a place where you connect."
Young said that for him, the key was to be completely approachable.
"They needed to know I'm with you, I'm one of you," he said. "I'm not using my years as a weapon against you. That's the worst thing you can do. Because there's going to be awkwardness. But if they feel like it's being used as a weapon against them? Now you've got a real problem.
"Get out of the tower. Get down and be with the people. You say, `What's the best quality of a great quarterback?' That's the No. 1 thing. How do I connect with the people so that everyone will play for me, and with me? As you get older, you just have to redouble your efforts."
Sometimes, that entails getting in tune with players 15 years younger; at other times it means finding ways for those less experienced players to better understand their elders.
When Hall of Famer Peyton Manning was near the end of his run with Indianapolis, for instance, he grew tired of having to explain his jokes to younger teammates. They needed to be able to speak his language, so he assigned them extra film study.
"He was like … 'We're about to sit by Jessica Alba.' I'm like, 'Yeah, I don't know who that is.' "
— Jets cornerback Sauce Gardner, on generation gap in a conversation with Aaron Rodgers at a New York Knicks game
"It was a new generation," Manning told the Los Angeles Times in 2019. "It was Austin Collie, Curtis Painter, the 2009 rookie class. I sent them on a homework assignment. I said, `I want you to go watch "Caddyshack," "Stripes," "Vacation," "Fletch" and "The Jerk." Watch them so you kind of know what I'm saying.'
"Some of them, they got through them and thought they weren't that funny. They liked `Old School,' they liked the current stuff. But at least they kind of learned, `Oh, that's why you said that. I get it now.' "
Clearly, it's a priority for the 39-year-old Rodgers, the oldest player in the NFL, to form near-instant bonds with his new Jets teammates. He and second-year cornerback Sauce Gardner are as tight as a pinpoint spiral but have had their share of "OK, Boomer"/ "Listen up, Zoomer" moments.
A notable example came in the spring when the two had courtside seats to the New York Knicks, and Rodgers ribbed his teammate for failing to recognize a popular actress.
"He was just picking on me a little bit for being young," Gardner, 22, told reporters. "You know, like, we was getting seated and he was like, 'Oh, we're about to sit by' — what's her name? — 'We're about to sit by Jessica Alba.' I'm like, 'Yeah, I don't know who that is,' and he looked at me like I'm crazy. You know what I mean?
"It was great vibes, but that whole night, he would just keep asking me out of nowhere, `Do you know who that person is?' and I'm like, `Bro, that's Amar'e Stoudemire, I know who that is. Now you just picking on me at this point.' "
Quarterback Warren Moon finished his Hall of Fame career at 44 — twice as old as Gardner — but the two-time Grey Cup MVP never felt overly gray.
"What helped me stay young was at that time my kids were teenagers," Moon said. "I kept up with what they were doing, the music they listened to and all that different stuff. When I went to those teams I was kind of the hip guy because I was up on everything."
He was the hip guy, as opposed to the hip-replacement guy.
"I never really looked at it that much as me being older than other guys because I just felt young all the time," he said. "I did have some injuries I had to deal with, but a lot of times I'd walk through the training room fully healthy, giving all the younger guys [a hard time] because they were in there hurt.
"The other quarterbacks, my backups, would have sore arms. They'd be in the training room with ice on them and all that stuff. But I was out there every day. I had my routine I went through to take care of my arm, and I never had sore arms throughout my career because of that."
The last stop of Matt Hasselbeck's playing career was Indianapolis, and at the end he was a 40-year-old backup to Andrew Luck.
To connect younger players, Hasselbeck learned to communicate via Snapchat, even creating a group chat where his teammates could work on stubborn math problems his daughter got in junior high.
"I'd come home from practice and sit down with my daughter, Annabelle, who was doing homework, and there were some questions where, `I'm not sure of the answer here,' " the quarterback said.
"So I'd put it out on the Snapchat group chat to see who would win. Anthony Castonzo, the left tackle, was always wanting to beat the Stanford guys. He was a Boston College guy, I think he was pre-med. And the Stanford guys, they wanted to get it right."
Luck, a No. 1 overall pick from Stanford, famously relied on a flip phone, so he wasn't on Snapchat. Hasselbeck would loop him in via text.
"Andrew would love the mental stimulation of working the problem," he said. "Coby Fleener [a tight end who played with Luck at Stanford] was amazing. He'd send me the answer and take a picture of his writings and show me how he got the answer.
"I really do think I bonded over my kid's middle-school math homework with my teammates."
Hasselbeck used a little hocus-pocus, too. He was an early riser, and often would fall asleep around 8 p.m. after reading his kids bedtime stories. He would wake up a few hours later and text teammates to see what they were doing.
"If my teammates were out, I'd go out and meet them," he said. "They're playing darts, or they're at some bar doing trivia night. One of them would respond, like, `Yo, we're at Devlin's Irish Pub.' I'd be like, `No way, I'm down the street, I'll come right over.' Sort of pretending that I had this super-cool life and I was out with other friends of mine that they didn't know.
"I'd get dressed, Uber down there and pop in with energy. Hadn't had a drink, and I'd be like, `Yo! What's up?' I'd hang out for 30 minutes, Uber home and I'm back in bed. My wife was in on it."
The next morning, he'd roll into team headquarters at 6 a.m., fresh and ready to go. His young teammates had no idea how he had so much energy.
Old guys rule.