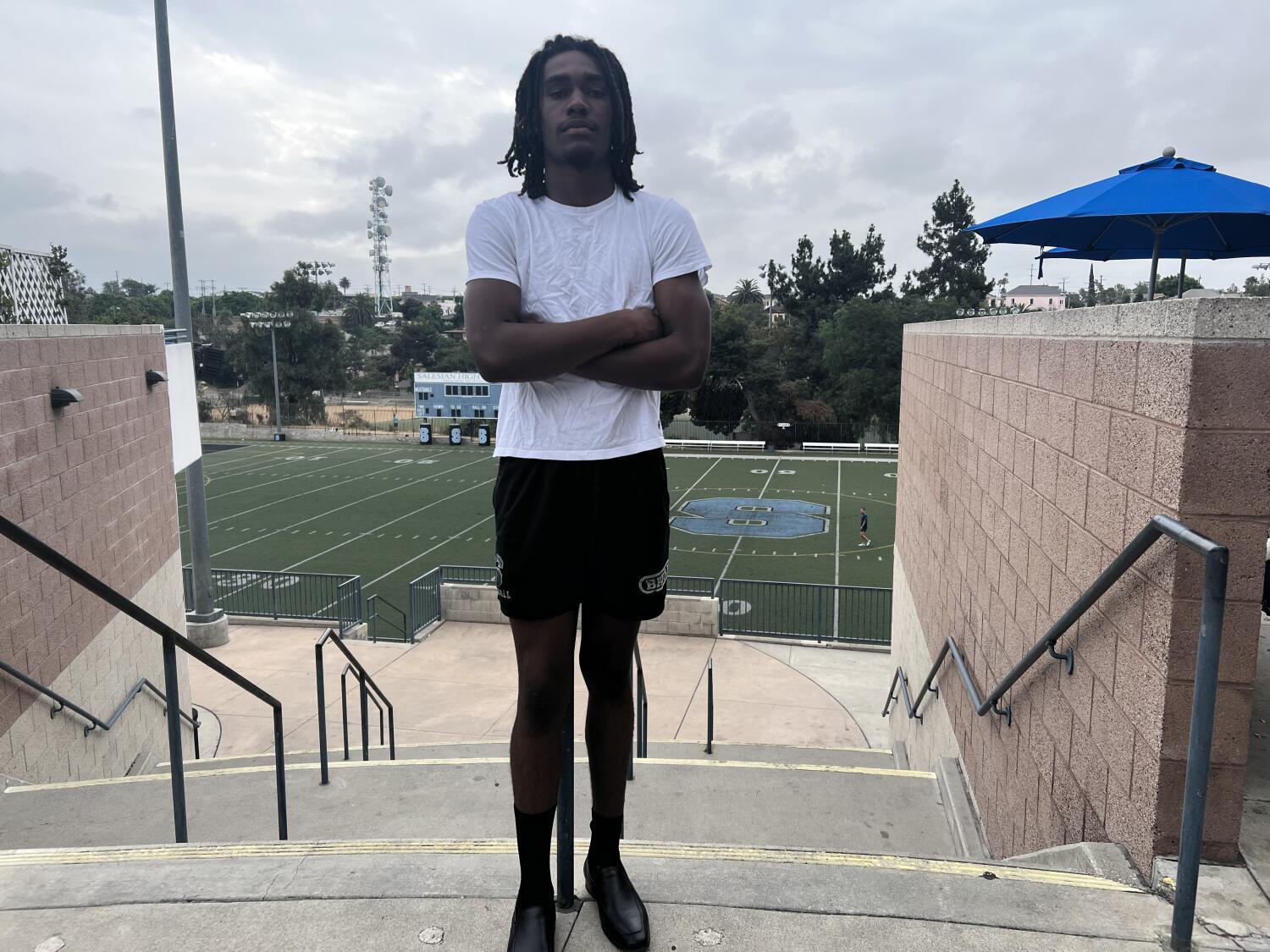 At this time next year, if all goes as expected, all-league receiver Jakiel Kendricks of Salesian High will be an Army plebe, his dreadlocks gone, his room spotless for morning inspection and his vocabulary focused on answering, "Yes sir, no sir."
Asked if he'll be ready for the loud greetings and early-morning wake-up calls, Kendricks says, "I'm already in the Army. My coaches have fully prepared me for the worst of the worst. Like waking up at 4 a.m. to come to practice."
Kendricks, 6 feet 3 and 182 pounds with a 4.1 grade-point average, moved to Los Angeles from Chicago while in middle school. He said he was a hothead back then. To become his level-headed self, he watched and listened to many adults seeking to offer insight for a path to success.
"You have to be able to learn from your mistakes and dissect and apply to this new self," he said.
To become an Army football recruit required Kendricks to engage in deep thinking.
"I'll be honest, when they first offered, I was real skeptical," he said. "But there's something in me that requires me to see something through. I couldn't ignore the fact that everyone was telling me it was such a big opportunity and I'll be set for life. That's something any teenage kid can't ignore."
The first priority was to visit the campus in New York and learn more about his options.
"It took a lot of time before I could commit," he said. "I had to go see it for myself. There's this rumor you're in the Army and it's ten-hut. And really strict. Once you finally see it, you see the brotherhood they have and the passion the coaches have for you to be the best you can be. That was strong in me committing. It took a lot of thought and a lot of different conversations with adults in my life that provide knowledge to me."
Salesian coach Anthony Atkins has worked with Kendricks for four seasons. "He's matured a lot," Atkins said. "We held him accountable from the first day he walked onto campus. He's grown into one of the leaders and captains of the football team."
Salesian is off to a 3-0 start, Kendricks made six catches for 59 yards and contributed 11 solo tackles playing safety in the first two games.
"He's always working to get better," Atkins said.
Kendricks is motivated to take advantage of his education because he wants to help his many relatives still in Chicago. He has some unpleasant memories from a city dealing with senseless shootings.
"It's not a stereotype. It's a reality," he said. "I've experienced trauma at a young age. I've seen death. I want better for my younger siblings and cousins. I want to be the one who makes it out."
That's why committing to Army has grown on him.
"I never in a million years imagined serving in the Army, but I'm actually pretty ecstatic," he said. "I'm always open to new experiences. I feel if I can play a part in making our country better, I'll do that."