OAKLAND — 
Pinch-hitter Tony Kemp had a two-run single that put Oakland ahead in a six-run seventh inning, and the Athletics rallied past the Angels 10-6 on Sunday to finish a three-game sweep.
Shea Langeliers added a two-run double for Oakland. Ryan Noda and pinch-hitter Seth Brown each launched a two-run homer in the sixth to begin the comeback after the last-place A's were held hitless through five innings.
"Getting something going there in the sixth was a good sign," A's manager Mark Kotsay said. "The momentum of the at-bats, they kind of feed off each other. The next thing you know we're back in the game and taking a lead."
Oakland blew a 4-3 lead in the top of the seventh on Luis Rengifo's 15th home run before storming back in the bottom half.
Zack Gelof singled with one out, and Angels reliever José Soriano (0-1) fielded Noda's sharp comebacker but turned and threw the ball wildly into center field for an error. Brent Rooker walked to load the bases before Kemp's single gave the A's a 6-4 lead. Rooker also scored on the play following a throwing error by center fielder Mickey Moniak.
Brown was intentionally walked before Langeliers drove in a pair with a first-pitch double to right.
"It takes one pitch to get going in the box," Noda said. "Hitting is contagious. We love when it's contagious on the positive side for us. We're going to keep building off today, keep growing, and hopefully it doesn't take us until the sixth inning to get going."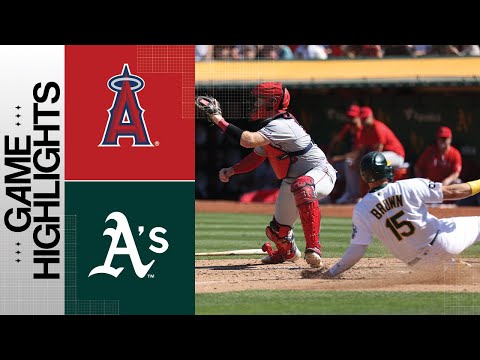 Oakland has won three straight for the second time this season. It was the third series sweep this year for the A's (42-95).
The Angels scored twice in the ninth and had two runners on before Trevor May got pinch-hitter Mike Moustakas to strike out swinging for his 17th save.
Francisco Pérez (1-1), the third of five relievers used by Kotsay, retired two batters for his first career win. The first out Pérez got was was a five-pitch swinging strikeout of two-way star Shohei Ohtani, who is tied for the major league lead with 44 home runs.
"It feels awesome," Pérez said. "Striking out Ohtani, that's a tough guy to get out, but nothing is impossible to do. We just made the right pitches and executed."
Rengifo, who had an RBI single in the ninth, extended his career-high hitting streak to 11 games.
The last-place A's couldn't muster much offense against Tyler Anderson early and got their first hit off the left-hander after a video replay overturned a call.
The change came one pitch before Noda crushed a first-pitch fastball from Anderson over the wall in center.
"There's still a lot of growth to go, but I'm going to keep going and keep grinding with the boys," Noda said.
After Carlos Pérez singled to chase Anderson with one out, Brown hit the second two-run homer of the inning for the A's, a pinch-hit drive off Andrew Wantz to make it 4-3.
Rengifo tied it with a solo home run off Adrián Martínez in the seventh.
Tyler Anderson starts strong
Anderson dominated the A's early. He retired nine of the first 10 batters and pitched out of a bases-loaded, no-out jam in the fourth. Anderson allowed three hits and three runs in 5 1/3 innings.
A's starter Kyle Muller had three strikeouts in four innings and allowed three runs on five hits.
Stassi to miss rest of season
Angels catcher Max Stassi has announced he will miss the entire 2023 season because of a serious family medical issue.
The Angels placed Stassi on the restricted list Sunday after he informed them of his decision. Stassi left the team during spring training to deal with the family medical issue and to recover from a hip injury.
Stassi told the team he is capable of returning to baseball activities now, but he is choosing not to do so. Putting Stassi on the restricted list means he won't be paid the remainder of his $7-million salary for this season, a move that likely allows the Angels to get their payroll below the luxury tax threshold.
"Out of respect for Max and his family, the Angels will not have any further comment," the team said in a statement. "The Angels wish Max and his family all the best."