A third consecutive loss dampened the Sparks' spirit in Crypto.com Arena on Thursday night as the reality set in of how the team must finish the season with four games in seven days.
The Sparks moved into playoff contention after mounting a six-game winning streak, the team's first since its last playoff appearance in 2020, and they are tied with the Chicago Sky for the final spot. Before the losing streak, the Sparks were tied for seventh, 2½ games ahead of the Sky.
The Sparks' momentum was halted during a brutal five games in nine days. Beating league-leading Las Vegas on Aug. 19 makes it hard to believe this is the same team that hit a franchise-worst eight-game losing streak in July.
Their final four games include visits to playoff-bound Las Vegas and Connecticut between the home finale on Sunday against playoff-contending Washington and the final contest on Sept. 10 in Seattle, which has been eliminated from the postseason.
Here are four things the Sparks did to get into the playoff race and might help them clinch a spot:
Consistency is key
Head coach Curt Miller had one alliterative answer for the team's six-game surge on Tuesday: continuity and chemistry.
Injuries and illnesses limited the Sparks' on-court practice time and forced them to shuffle through 12 lineups in the first half of the season. After the All-Star break, and the return of veteran guard Layshia Clarendon, they formed a solid starting lineup of players with four WNBA championships with various teams.
"More roles are defined when you have that chemistry of a consistent lineup," said Miller. "People knew they were coming off the bench, we could fall into more consistent subbing patterns. Played a huge part, just getting minutes together."
The Sparks have seen consistent greatness from All-Star and 2016 MVP Nneka Ogwumike. Five out of the seven times she's broken 25 points this season, they've won. Yet it took the team of veterans building chemistry on the court to fuel a win streak.
"In the beginning, I was trying to learn them better," said forward Azurá Stevens, who has started 25 of the 31 games in her first season with the Sparks. "Playing with [Jordin Canada], obviously, I played against her our whole career, but actually learning how to play with her and Nneka. I think we've just got a lot of reps in the games, and it's just all flowing right now."
Pouncing from three-point range
Karlie Samuelson described herself as "the great substitute teacher" after bouncing between hardship contracts and training camp offers since 2017. In her first yearlong WNBA contract, "she's no longer a substitute," said Miller in July. "She's really earned her spot in this league and, and proven that she is a really productive wing."
Samuelson's career-best season includes shooting 43.6% from three and averaging 7.7 points in 26 minutes a game. She reached double-digit scoring three times during the winning streak, including a season-high 15 points against Phoenix.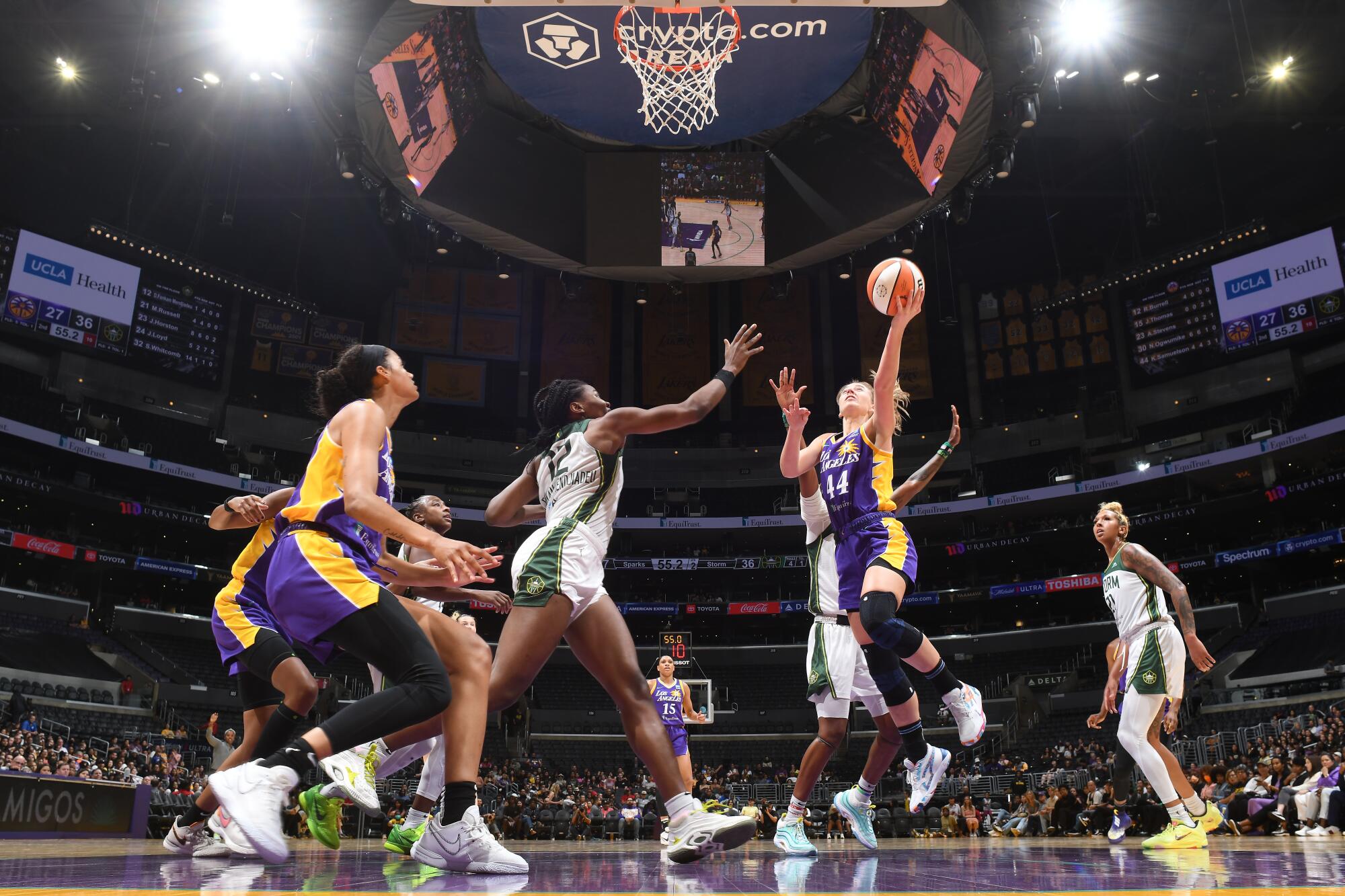 Even in the recent losses, which threaten the Sparks' playoff odds, Samuelson has shone. She logged a career-high nine rebounds Tuesday and her role has become more important in light of recent news that early-season starter and dominant three-point shooter Lexie Brown will be out the remainder of the season because of a non-COVID illness.
The combination of Samuelson and the Sparks' ability to hold Aces three-point sharpshooters Jackie Young and Chelsea Gray to one for five from deep helped the team blitz ahead.
Clarendon's return
Clarendon returned in August after suffering a foot injury in June. Their impact on the team was on display both in the winning streak and absence from Tuesday's and Thursday's games because of "health and safety protocols."
The Sparks had won 60% of the games they've played with Clarendon and only 20% without them, according to Miller after Tuesday's game. That number dropped again when Clarendon missed their 16th game of the season Thursday and the Sparks lost to Seattle.
"[Clarendon is] a physical defender that really understands the game. …" he said.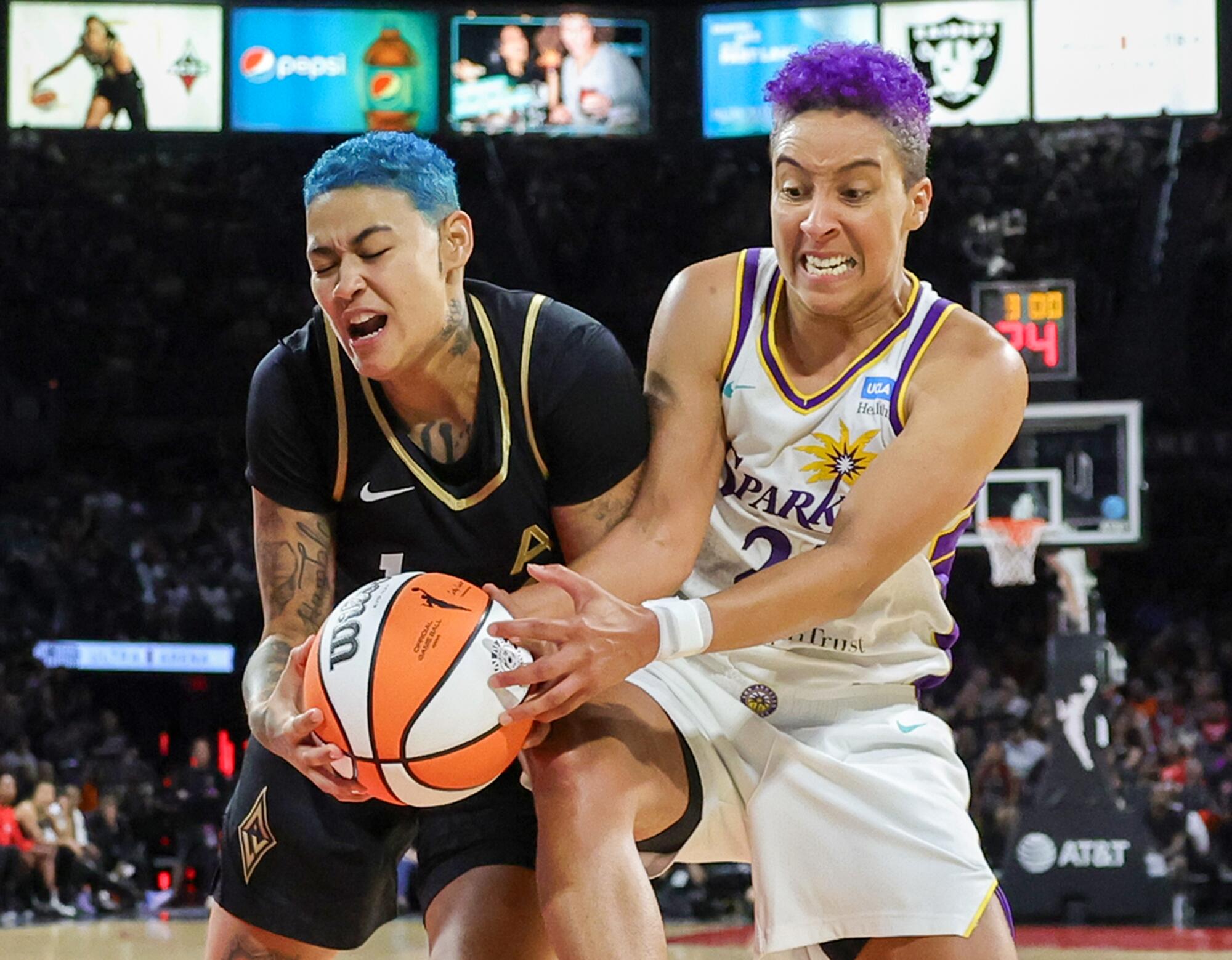 Clarendon's leadership helps ground the team's youngest players like second-year Rae Burrell and rookie Zia Cooke.
Burrell and Canada stepped up this week — Burrell scoring a career-high 10 points Thursday — but Clarendon's absence still affected how often Canada could get off the ball.
Miller declined to provide details on Clarendon's health, but implied there's a possibility Clarendon will play Sunday in the team's home finale against the Washington Mystics.
Stevens hitting stride
Stevens has gained confidence since returning to her natural position of power forward after early-season injuries. She reached a season-high 22 points and nearly matched it during the team's six-game surge three times.
Stevens, who missed the first five games of the season while recovering from a back injury, attributes part of her success to being healthier after the All-Star break.
"I was working through that the first part of the season. Not a lot of people really knew about it," she said. "But, after All-Star [break] it really just, everything started clicking. I feel really good."
As Stevens became more comfortable in this new role, built chemistry with teammates and asserted herself more on the court, the Sparks made their way back into the playoff race.
With nearly five WNBA seasons under her belt and a 2021 championship title with the Sky, Stevens doesn't see herself as a seasoned vet yet. But her experience gave her confidence in the team throughout its adversity.
"I always believed that like with the group we had, we were going to make playoffs," she said, "… because I've been on teams before where we have that same situation. And we ended up winning. So I'm just really excited that like we've all stuck together and we really believe in each other. And that's a special thing to have with this group. And really the sky's the limit for us."