Is something up with Caleb Williams?
This might seem like a crazy question to ask in the wake of another USC blowout Saturday night.
This might seem like a question that needlessly stirs up controversy after Williams threw five touchdown passes in the Trojans' 66-14 victory over Nevada at the Coliseum.
This does not seem like a question that makes sense considering, in two games, the defending Heisman Trophy winner has completed 36 of 49 passes for 597 yards and nine touchdowns with no interceptions while not playing deep into the fourth quarter during either game.
He's been great, right?
Um, er, wrong?
Last week he acknowledged he was frustrated in the team's opening win against San José State, and even roamed the sidelines in the fourth quarter giving impromptu pep talks.
"The message was, we got a special team," Williams said after that game. "The second part of the message was … we've got a long way to go and a lot to get better at."
They seemed to take a step forward Saturday night at the Coliseum in gaining 668 yards against the overmatched Wolf Pack and mostly behaving presentably on defense. But afterward, once again, something seemed amiss with the quarterback.
First, he did not show up to take questions from the media. This was strange, as superstars in this town generally endure the 10-minute exercises in accountability after games.
LeBron James talks after every game. Matthew Stafford talks after every game. Justin Herbert talks after every game.
Williams may already be a million-dollar pitchman and future No. 1 overall draft pick, but that doesn't seem to justify him bypassing a ritual undertaken by athletes far more decorated and popular.
Was he dealing with a personal matter? Was he frustrated again? Did coach Lincoln Riley shut him down because he was worried Williams, who recently has been seen on commercials for Wendy's, Dr. Pepper and Nissan, was getting too much attention?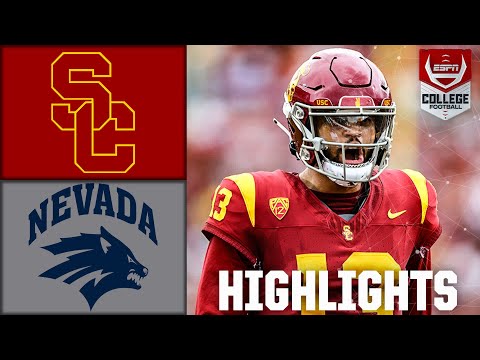 The absence of Williams from the news conference was compounded by Riley's lukewarm comments about his play.
When I asked Riley how he would judge Williams' progress after two games, the coach seemed flummoxed.
"A hard question to answer, honestly," Riley said. "He's improving. I can't say I'm disappointed with how he's played but he's got to get better, right?"
That was a hard answer to hear after Williams lit up the Coliseum again Saturday with a couple of deep balls and pinpoint slant passes and apparent general excellence.
But Riley continued.
"There's some things he's done really well, especially the situational ball, some understandings defensively I think have improved," he said. "But we've had a handful of plays in both games that we both want back and that we've got to go get and not leave on the table moving forward."
Maybe this is all a good thing. Maybe Riley and Williams are in lockstep here, both making it clear that this year is not about simply a Heisman, it's about a championship, and Williams needs to button up and take his already brilliant game to an even higher level.
Maybe by keeping Williams quiet while sparing him effusive praise, Riley is trying to dull the hype that soon will be deafening.
After all, on Saturday the Coliseum student section chanted, "We … love … Caleb!" after he already left the game early in the third quarter.
The guess here is that in publicly treating his quarterback like an uncertain rookie, Riley is playing the long game.
But he has to know that in doing so, he's hurting Williams' Heisman chances. On a day when several other high-profile quarterbacks began their seasons with astronomical numbers, Williams' performance should have caused more buzz.
In less than three quarters, Williams missed on just six of 24 passes while throwing for 319 yards and five touchdowns with no interceptions. He also broke out a 46-yard run up the middle that led to one of those touchdowns.
All this on a day when his Heisman competition began revealing itself.
Check out Shedeur Sanders, the son of new Colorado coach Deion Sanders, as he led the Buffaloes with 510 passing yards and four touchdowns in a giant upset of Texas Christian. Then there was Washington's Michael Penix Jr., who threw for 450 yards and five touchdowns against Boise State. Also joining the list was Bo Nix, who led Oregon to 81 points against Portland State by missing on just four of 27 passes for 287 yards and three touchdowns.
Williams faces a historic battle in retaining his trophy, and it is a quest obviously secondary to the Trojans' championship hopes, but his greatness is what gives USC its city-capturing glitz.
It's a shame that Saturday evening, that greatness wasn't celebrated.
"He's been pretty steady the first two games, obviously his mobility shows up at times," Riley said.
Pretty steady?
Williams was soaring from the first moments of the game, as he was being chased out of bounds when he lofted an incredible running throw downfield, where Dorian Singer made a one-handed catch for a 30-yard gain.
"I was yelling at him to throw it away," Riley said. "Sometimes I'm mad when he doesn't listen to me. Today I was glad he didn't listen to me."
Williams finished that first drive with a perfectly lofted pass to Zachariah Branch, who had three steps on everybody and made the 22-yard touchdown catch to give the Trojans the early lead.
Two possessions later, Williams completed 25 yards' worth of dump passes to set up MarShawn Lloyd's 24-yard touchdown sprint.
On the Trojans' next possession, Williams found Tahj Washington over the middle for 27 yards and a touchdown.
"Just being assignment sound, being where he needs me to be and making plays after that," Washington said.
Williams began the second quarter with an electrifying 46-yard run up the middle followed by a perfect play-action pass to a wide-open Michael Jackson III in the end zone for a 15-yard touchdown.
Williams ended the half with what can best be described as Classic Caleb. First, he found Lloyd open over the middle for a 54-yard strike. Then, after calmly running around the backfield for what seemed like forever, Williams whipped a 13-yard touchdown pass to Brenden Rice standing just inside the goal line.
Yes, Williams lost a fumble after a bad center exchange and also overthrew Rice downfield to waste a potential touchdown.
But Williams finished brilliantly, early in the third quarter, with a perfect 45-yard strike to Washington for a touchdown that essentially ended his day.
When fans began chanting, "Miller Time" in hopes of seeing backup quarterback Miller Moss, Williams actually was leading the cheers.
"13's the man," Moss said.
He is.
Isn't he?