Zach Johnson's experience of team environments did not originate in golf. Until the age of 18, he was an avid footballer. A striker, he says. "I had a good left foot for a rightie. I was the set‑play guy; corner-kicks and free‑kicks." Individual sport soon took over, Johnson's career elevated by two major wins, but one assumes memories from the dressing room lingered.
The coming weeks will see typical, contrived nonsense spouted about the importance of Ryder Cup captains and, as is even more the case, their deputies. It is possible to be a disastrous leader of men in this context but organising 24 of the finest golfers in the world into something even remotely resembling competent order should never be overly complicated. Nonetheless, the recent rising of wildcard numbers on both the European and US sides does give captains a significant role. Half of each team is delivered on the nods of Johnson and, for Europe, Luke Donald.
On Monday, it will be Donald's turn. The key intrigue there is whether Europe turn to the exceptional 23‑year‑old Swede Ludvig Aberg, who played in his first professional event in June. Donald has more than enough experience and form elsewhere to give Aberg a shot. If he does, this will prove one of the themes of the Ryder Cup. Donald has nothing to lose by selecting Aberg; Europe were trounced last time out anyway.
Johnson has already named Brooks Koepka, Collin Morikawa, Jordan Spieth, Sam Burns, Rickie Fowler and Justin Thomas as his wildcards. Four of the six played at Whistling Straits, where the US swaggered to a 19-9 win. Since then, Dustin Johnson and Bryson DeChambeau have fallen off the Ryder Cup map after converting to LIV. Wyndham Clark, Brian Harman and Max Homa earned automatic berths for 2023 as debutants. The captain clearly had eyes fixed on the past when seeking to protect the future. This comes with danger.
Thomas is the discussion point. The 30‑year‑old's miserable season included a high point of tied 65th in majors after missed cuts at the Masters, US PGA and Open championships. Thomas shot 78 at Augusta, 81 at Oak Hill and bowed out at Royal Liverpool largely thanks to a first round of 82. The margins in elite golf are paper thin but Thomas's performances were alarmingly poor. "You just don't leave JT at home," Johnson insisted. "He has without question been the heart and soul of Team USA at Ryder Cups, our emotional leader I would say. He just leads by example."
Pádraig Harrington offered similar sentiment when picking Shane Lowry, Ian Poulter and Sergio García for Whistling Straits. García returned an admirable three points but the inclusion of Lowry and Poulter, who took just a point each, failed to pay off. Sometimes you need more than reputation.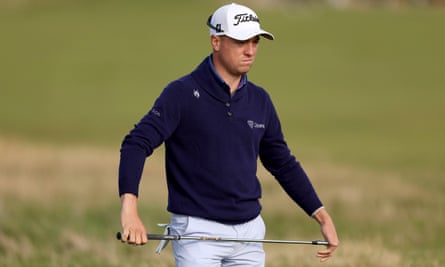 The notion that Johnson has edged perilously close to an old pals' act was only enhanced by the comments of Keegan Bradley. Unlike Thomas, Bradley qualified for the PGA Tour's end-of-season playoffs. Indeed, he progressed all the way to the final event at East Lake, where he tied ninth (Harman, Spieth and Fowler were among those to finish behind him). Bradley, understandably upset at missing out on a Ryder Cup return after rejuvenating his career, said: "I've always been an outsider in the sport but I have tried to get closer to the guys I thought would be in the team." Fred Couples, one of Johnson's vice-captains, proved Bradley was not guilty of paranoia by admitting the world No 18 "not being tight" with other team members was a factor in him being overlooked.
In May, Johnson offered a hint of what was to come. "The guys who make that team have direct ownership, collectively," he said. "It's not my team." This was intriguing at the time and even more so now. Selection on account of player power?
Everyone can remember what happens when the US locker room goes rogue. Phil Mickelson's verbal assault on Tom Watson's captaincy in the immediate aftermath of defeat at Gleneagles in 2014 proved a press conference to remember. In order to prevent any of this unseemly business from happening again – more's the pity – a taskforce was set up, Tiger Woods became heavily involved and the US won each of their next two home Ryder Cups. Woods is particularly close with Thomas.
An endearing aspect of the Ryder Cup is supposedly that players who do not get along during tour pursuits come together for the good of their team. Nick Faldo was a lone wolf but excelled when donning European colours. Colin Montgomerie had similar status and impact. Patrick Reed undeniably splits opinion in US golf circles but was involved – and, indeed prevailed – in one of the Ryder Cup matches for the ages against Rory McIlroy at Hazeltine. Johnson has put himself under pressure by turning to Thomas on the apparent basis he will make everybody smile. Thomas's game will have to undergo a quite radical change of fortunes for him to make an impact in Rome.
There is heat, too, for Johnson simply because of the outcome at Whistling Straits. The nature of the US victory led to predictions about years or even decades of dominance. It is winning away from home – the US have not done that since 1993 – that would properly set a team apart. Europe's big hitters – McIlroy, Jon Rahm, Viktor Hovland, Tyrrell Hatton – are in fine fettle.
The US are banking on Thomas justifying Johnson's faith. There sits a club with which to whack the captain should it all go horribly wrong.