In the wake of a 3-1 defeat to Inter Miami on Sunday night, LAFC coach Steve Cherundolo and his players were asked about how the air was taken out of BMO Stadium after they conceded a momentum-shifting opening goal just three minutes after Denis Bouanga blew a one-on-one chance against the visiting goalkeeper.
That wasn't the most deflating moment of the night, however. The distinction belonged to Inter Miami's final goal in the 83rd minute.
The disappointment had nothing to do with which team scored. The packed house roared when Lionel Messi sprinted toward the LAFC goal on a breakaway.
The anticlimax had everything to do with what Messi did after LAFC midfielder Timothy Tillman ran him down from behind. Messi created space by cutting the ball to his right, and Tillman was frozen. But instead of attacking him, Messi played a simple pass to his right to a wide-open Leonardo Campana, who increased the visitor's lead to three.
Considering how loud the crowd was when the ball was at Messi's feet, its response to the goal felt muted.
Many of the 22,000-plus fans at BMO Stadium paid more than $700 per ticket on the secondary market to watch Messi, and they wanted to see him score.
They settled for a couple of assists.
Nonetheless, everyone who spent outrageous amounts of money on tickets and StubHub service charges will have a chance to share stories with their children, or even grandchildren, of seeing the greatest soccer player of his generation play the world's most popular game in a way only he could. They could say they saw him when he was still the best player in the world, literally.
Less than two months from now, the Ballon d'Or will be presented at the Theatre du Chatelet in Paris. The prize, which is awarded by France Football magazine to the best player in the world, is expected to be won by Messi for a record eighth time. When that happens, the best player in the world will officially be from MLS.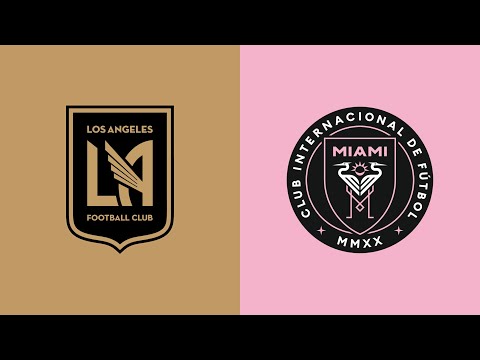 Messi played 90 minutes against LAFC, which was notable because he had played 10 games for Inter Miami during the previous six weeks and exerted the necessary effort to score 11 times. He started all of those games except two, and he scored during each of the two times he was a substitute.
Evidently, he doesn't care for load management.
With his 36-year-old legs presumably feeling the effects of his heavy workload, Messi still found a way to be a pivotal figure in Inter Miami's triumph over LAFC, which was a testament to his genius. Messi might not have scored for the third time in his last four games, but he was still, well, Messi.
He made the game look easy. He often walked while the players around him furiously sprinted up and down the field. He made effortless passes and off-the-ball movements that opened up the field for his teammates. His oversized influence on these games will invite criticism of MLS, but to be fair, Messi has made the game look easy whenever he's played.
LAFC's 39-year-old defender Giorgio Chiellini was a European champion with Italy and record nine-time Serie A champion with Juventus. Chiellini isn't as athletic or physically dominant as he used to be in his prime, but he's compensated for that with his know-how in his 14 months in this league, generally appearing two or three steps ahead of other players. Against Messi, he was befuddled.
As Inter Miami moved the ball across its back line in the 14th minute, Messi dropped back into the midfield, prompting Chiellini to step up to make sure he wouldn't receive the ball without anyone near him. But Inter Miami defender Tomas Arias played a ball into the space vacated by Chiellini, leading to a goal by Facundo Farias.
"It's not man-to-man because he's very smart," Chiellini said. "[His movement] depends on the ball, depends on our position, depends on the space you give him. He seems [as if he's] walking for most of the game, but when he feels [there are] really good chances, he completely turns on his velocity, his speed, his movement, his passing."
In the 51st minute, it was Mateusz Bogusz's turn to be caught in no-man's land. Messi leisurely carried the ball into the attacking third of the field, but Bogusz had to be aware he could still embarrass a defender who overcommitted and wasn't about to make that mistake. In giving Messi space, however, Bogusz afforded him time to pick out a pass through the LAFC back line to an overlapping Jordi Alba. A longtime teammate of Messi at Barcelona, Alba practically walked the ball into the penalty box, from where he tucked a shot behind LAFC goalkeeper John McCarthy.
McCarthy initially came across at his postgame news conference as if he didn't want to sound in complete awe of a player against whom he was competing. He was halfway dismissive of a question about the atmosphere at BMO Stadium, saying LAFC's fervent supporters created a special environment every game. But McCarthy later revealed he initiated a jersey exchange with Messi.
"I saw Messi still had it on," McCarthy said. "I don't know when I'll be able to meet that guy again, so I just said, 'Camiseta, por favor.' "
"I have a couple jerseys. Obviously, there's none like Messi's. Messi's Messi, I think we can all agree upon that."
Even if Messi failed to score on McCarthy.