Even in these early stages of her career, the evolution of Coco Gauff has been far from linear. She has had to reckon with the suffocating expectations placed on her by other individuals, she has had to work out how to continue progressing after her rapid initial rise stagnated and she has had to defend her forehand both in the press room and on the court as her opponents collectively tried to break it down.
Still, despite her many obstacles, she is exactly where she needs to be. On Tuesday, Gauff continued her incredible summer breakthrough by demolishing Jelena Ostapenko 6-0, 6-2 in just 68 minutes to reach her first career semi-final at the US Open.
Since falling in the first round at Wimbledon, Gauff has now won 16 of her last 17 matches, with the biggest titles of her career in Washington and Cincinnati preceding her US Open run. Gauff is the first American teenager to reach this round of her home grand slam tournament since Serena Williams in 2001.
"I think this is one of the harder runs I've had to the quarter-final stage," said Gauff. "Obviously never got to semis, but I don't know, I just feel so fresh, to be honest. I don't know if it's because I've been tricking myself or maybe when this is over I'm going to hit a wall. But I'm really proud of how I'm able to get through these matches."
Tuesday's order of play reflected some curious decisions by the US Open scheduling committee. Despite this being the most highly anticipated match-up of the day, it was scheduled for 12pm in the New York heat and humidity rather than in the feature evening slot. Gauff, who honed her game under the searing Floridian sun, was always going to be fine. The Latvian's ability to adapt to the conditions and recover after Sunday's spectacular late night win over Iga Swiatek was less certain.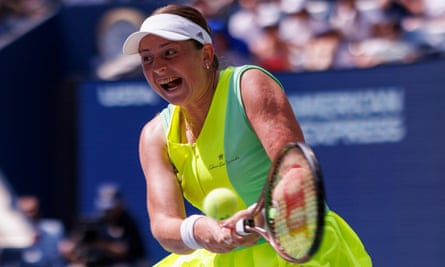 Ostapenko set the tone from the beginning as she opened up the match with a stream of pitiful unforced errors, spraying mistakes off both wings early in the points and unloading her frustrations at her box. As the match endured, and as she continued to attack every ball, Ostapenko's unforced errors piled up.
She was not helped by the presence of one of the fastest players on the tour across the net. The American scrapped from side to side, not only retrieving balls that would have been winners against any other player but defending with great depth as her forehand held out. While Gauff remained consistent, Ostapenko hit herself off the court in 68 minutes, ending with more unforced errors (36) than total points won (35).
Afterwards, Ostapenko argued that she had struggled to recover from her match against Swiatek and that she had initially been told that she and Gauff would be playing at night. "I think it was better for her the schedule, because obviously she played much earlier the day I played night session," she said.
Gauff will next face either Karolina Muchova or Sorana Cirstea as she looks to continue the success she primarily puts down to the enjoyment she has found in her craft, which has been further emphasised by her new coaches, Brad Gilbert and Pere Riba.
"I thought to play and win you have to be ultra serious and ultra focused, which that is true, but also you still have to enjoy it," she said. "I think that's what's been the change is that I'm having more fun."