After a week filled with upsets in the bottom half of the men's draw, Taylor Fritz, the ninth seed, was left as the highest-ranked player there besides Novak Djokovic for some time. His enduring presence in this tournament, which has yielded his first US Open quarter-final, is the culmination of another strong, consistent season as the 25-year-old has established himself among the elite.
Yet at a time when the top two players, Djokovic and Carlos Alcaraz, are performing at such a high level, the gulf between the second- and ninth-ranked players is immense. At no point on Tuesday afternoon did Djokovic ever look threatened in his straightforward 6-1, 6-4, 6-4 win over Fritz.
As usual, another deep run at a major tournament brings more records for next week's world No 1. The 36-year-old has now reached a men's record 47th career grand slam semi-final, breaking his tie with his old rival Roger Federer.
Asked about what these records mean to him, Djokovic thought back to the early days of his life as he built his career in war-torn Serbia. "I had to face a lot of adversity that I endured even to get a shot to travel and play international sport," he said. "I was lucky to encounter some very knowledgable, very passionate people that supported me and my talent. Without them, without their support, I wouldn't be here.
"There's a lot of things that I'm very grateful for. Obviously it's a huge opportunity every single time I step out on the court at this age, in this stage of my life. I don't know how many more opportunities I will get so I'm trying to enjoy it as much as I possibly can."
Despite the US Open being arguably his least successful grand slam tournament, Djokovic's 13 semi-finals here rank him second on the men's all-time list behind only Jimmy Connors, who reached 14. He is guaranteed to face another American on Friday: Frances Tiafoe or Ben Shelton.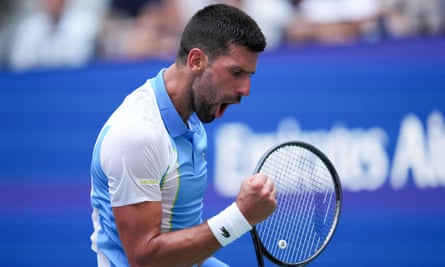 After his late-night comeback from two sets down against his countryman Laslo Djere in the third round, Djokovic noted that he hoped the victory would send a message to the locker room. He has played his role to perfection since then, his form gradually rising as he has won nine consecutive sets and dominated convincingly.
Having been offered a helpful draw after the exodus of top seeds in their half, Fritz could not have arrived in the quarter-finals in better form. He had not dropped a set as he eased past most opponents. In his 50 service games played, he had dropped serve just once.
Even so, Djokovic completely outclassed Fritz in all parts of the court. It took just one return game for Djokovic to break his opponent's serve and the American's first set conceded in the tournament could have hardly been much more one-sided.
Throughout the match, Djokovic protected his serve effectively, offering up just one break of serve across the three sets. In Fritz's service games, Djokovic eviscerated the younger player's second serve, allowing him to win just 28% of points behind the shot.
The contrast in movement and athleticism between the pair was particularly stark, with Djokovic easily outmanoeuvring his opponent in the extended rallies as he efficiently dealt with the challenge and kept on moving.
After sealing another victory, Djokovic took the mic during his on-court interview and sang a few Beastie Boys lines, which had been playing in the arena, before departing Arthur Ashe Stadium with a smile. He enters the final rounds in a good mood, playing quality tennis and seemingly well prepared for whatever is to come. Greater challenges await.