Key events
First set: Alcaraz 6-3, 1-1 Zverev* (*denotes next server)
Another stress-free hold for Alcaraz, who's won 12 of the last 13 points on his serve.
First set: *Alcaraz 6-3, 0-1 Zverev (*denotes next server)
More pressure on a Zverev service game as he misfires a backhand then double-faults for 30-all, but he responds with a 132mph service winner down the middle and an overhand forehand winner to hold.
Alcaraz wins first set, 6-3!
First set: Alcaraz 6-3 Zverev
Alcaraz wastes no time closing out the set, ratting off four quick points in succession including a 110mph ace out wide. Alcaraz only got 20 of 37 first serves in (54%) and hit more unforced errors (12) than winners (seven), but he played his best on the most important points and that was all the difference.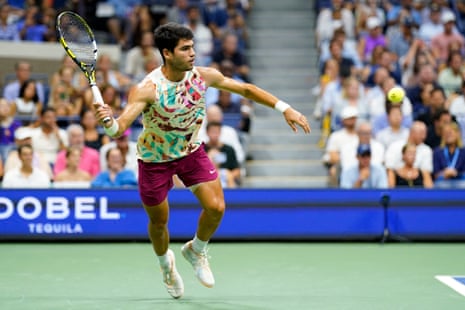 Alcaraz breaks in eighth game of first set!
First set: *Alcaraz 5-3 Zverev (*denotes next server)
Zverev opens with a sizzling 122mph ace then wins the next point for 30-love, but follows with his 11th, 12th and 13th unforced errors to go break point down for the first time tonight. And Alcaraz converts it! He pushes Zverev off the court with a huge forehand then slams home an overhand for the break of serve!
First set: Alcaraz 4-3 Zverev* (*denotes next server)
Alcaraz makes his 11th and 12th unforced errors (against four winners) to go down love-30, but wins three quick points behind well-placed first serves for 40-30. Zverev rips a forehand that Alcaraz can't handle for deuce. Alcaraz steals a point on a serve-and-volley for game point, but Zverev noses it back to deuce with a forehand volley winner, his first point at net of the evening. Zverev then smacks a terrific return winner off a 106mph second serve for the first break point of the match on either side, but he squanders it with a netted backhand. Zverev earns a second break-point chance moments later and Zverev wastes that one, too, with another backhand error from the baseline. Alcaraz holds from there in the longest game of the match so far: 14 points over nearly 10 minutes.
First set: *Alcaraz 3-3 Zverev (*denotes next server)
More pressure on Zverev's serve after Alcaraz hits a backhand passing winner for love-15. Zverev crunches a 130mph ace out wide for 15-all but misfires on a forehand for 15-30. The crowd swells. But Alcaraz misses a long-distance dropshot on the next point for 30-all and Zverev is able to hold from there.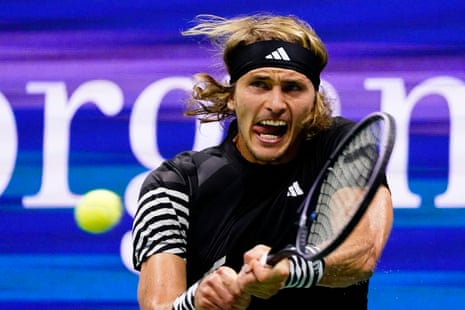 First set: Alcaraz 3-2 Zverev* (*denotes next server)
Alcaraz races out to 40-love, then misses a drop shot from the baseline wide by an inch, before hitting a pretty backhand volley winner on the approach that Zverev can barely get a racket on. The defending champion is making his opponent run. It's a sound strategy given the elephant in the room: Zverev has spent nearly twice as much time on court (14h15m) as has Alcaraz (8h36m).
First set: *Alcaraz 2-2 Zverev (*denotes next server)
Zverev rattles off four rapid-fire points to hold from love-15 down. He's gotten 8 of 11 first serves in (73%) and won 6 of 8 first-serve points.
First set: Alcaraz 2-1 Zverev* (*denotes next server)
Another 30-all service game thanks to a pair of Alcaraz unforced errors off the forehand side. The Spaniard wins a cheap point behind a 126mph serve to the body, Alcaraz misfires again with a backhand for deuce. A tense moment early but he's able to hold comfortably from there.
First set: *Alcaraz 1-1 Zverev (*denotes next server)
Alcaraz returns the favor and puts a squeeze on Zverev's serve, winning the first point with a backhand winner at the end of another lengthy rally before pushing it to 30-all. But Zverev follows with an unreturnable second serve followed by a 129mph ace down the middle to hold. The 12th-seeded German got five of six first serves in during his opening service game. That's a good sign.
First set: Alcaraz 1-0 Zverev* (*denotes next server)
Alcaraz double-faults to open the match and Zverev gets it to 30-all. But the top-seeded Spaniard wins the next point with a forehand at the net, then uncorks a classy baseline passing shot winner to settle a 15-shot rally – punctuating it with a fist pump to the crowd – and close out the hold. It should be noted that Alcaraz has his left upper thigh taped up, as he did for his practice session on Ashe a few hours ago, but he's said that it's a precautionary measure and not for an injury.
Alcaraz and Zverev are finishing their warm-ups. We should be under way shortly and we'll pick it up with game-by-game commentary from here.
Good on Madison Keys. The 28-year-old from Illinois, seeded 17th in the women's draw, saved all nine break points she faced and converted each of the three she earned to keep alive the prospect of an all-American final on Saturday against Coco Gauff, who demolished Jelena Ostapenko yesterday afternoon.
Keys, whose run to the 2017 US Open final remains her career-best performance at a major, has largely flown under the radar in Flushing Meadows thanks to the outsized media attention on Gauff. No longer.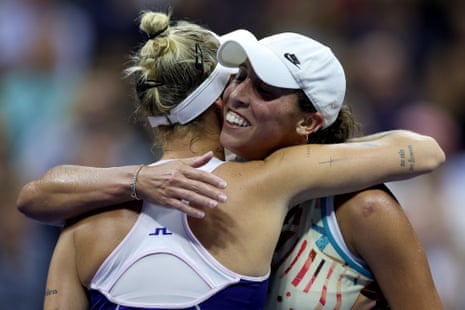 Hello and welcome to Arthur Ashe Stadium for tonight's quarter-final clash between Carlos Alcaraz and Alexander Zverev. We've got a jewel of a nightcap ahead as the top seed and defending US Open champion meets the runner-up from three years ago for a place in the last four against Daniil Medvedev, who saw off Andrey Rublev in straight sets earlier today.
The 20-year-old Alcaraz, who captured his first career grand slam title here last year, has won 48 of 52 of his service games (92%), saved 16 of 20 break points (80%) while converting 19 of 50 break chances (38%) on his run to the last eight. He's advanced to this stage or better in all three of his appearances at Flushing Meadows, making him the second man in the Open era to reach three US Open quarter-finals before turning 21. (Andre Agassi was the first.)
Zverev, the 26-year-old from Germany seeded 12th, is still gaining confidence in his ankle following an injury at last year's French Open that sidelined him for eight months, but turned in a vintage performance in Monday's five-set win over sixth-seeded Jannik Sinner that ended at 1.40am on Tuesday morning. He reached his first and only major final in New York three years ago, when he twice came within two points of the title against Dominic Thiem only to succumb in a final-set tiebreaker. He's two wins away from a chance to reverse that greatest heartbreak, an opportunity that means all the more after last year's choppy waters.
Madison Keys has just finished off a 6-1, 6-4 win over Wimbledon champion Marketa Vondrousova in the first match of tonight's night session, which means Alcaraz and Zverev should be on the court for their warm-ups in about 15 minutes.
Bryan will be here shortly. In the meantime here's Andrew Lawrence's look at the oppressive heat that has become a key storyline at this year's US Open.