Twenty years after Andy Roddick kicked down the door and battered his way to the US Open title, another howitzer-armed American tenderfoot who doesn't know what he doesn't know is two wins from matching the feat.
Ben Shelton, an unseeded 20-year-old from Atlanta who has burst from obscurity to become the surprise package of the tennis season, overcame Frances Tiafoe 6-2, 3-6, 7-6 (7), 6-2 in a tense US Open quarter-final on a muggy Tuesday night at Arthur Ashe Stadium to reach the last four at Flushing Meadows in only his fifth career appearance at a grand slam.
"I'm thinking to myself as I'm walking to get my towel in the fourth set, and it's like: 'This is the greatest moment on the tennis court of my life, and I'm in a lot of pain physically,'" a beaming Shelton said in the aftermath of his career-best win. "But I'm loving it. I think that was just kind of the story of today."
It was the first time in history that two Black American men had reached the last eight at a grand slam and one of them was assured passage to a Friday date with 23-time major champion Novak Djokovic, who saw off Taylor Fritz in straight sets earlier on Tuesday. In the end it was the fresh-faced Shelton, who had all but disappeared after a shock run to the Australian Open quarters in January but has rediscovered his explosive game in time to imperil the two-decade grand slam hoodoo that has dogged American men's tennis since Roddick's breakthrough triumph.
Shelton, the 2022 NCAA singles champion from University of Florida in his first full year on the pro tour, took advantage of a flat start by Tiafoe, who enjoyed the healthy crowd support he's become accustomed to in New York but appeared to struggle in the unfamiliar role of favorite.
"It's a different seat to be in. Obviously Ben really wanted to win. Ben came out and played with a lot of energy," Tiafoe said. "Obviously a lot of times [when] I play late in tournaments, I've been the underdog, so I just go out and play. Kind of like how Ben did – play and swing and do whatever you want."
Amid conditions of 84F (28C) with humidity topping at 70%, the 25-year-old Maryland native saved a break point in his first service game before getting broken in his third and fourth, finishing the set with twice as many unforced errors (12) as winners (six).
The 10th-seeded Tiafoe, whose headline-grabbing run to the semis of last year's US Open remains his career-best performance at a major, held off Shelton's steady pressure in the second before finally breaking at 2-3 and serving out the set from there. But even as he levelled the match at 1-1, Shelton's consistent success in the neutral rallies offered an ominous sign.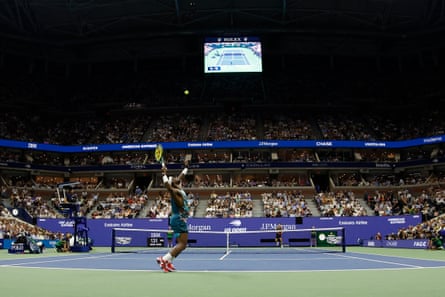 When Tiafoe broke to open the third, it had the appearance of a permanent momentum shift. But that only kicked off a wild sequence that saw both players broken three times apiece over eight games. Naturally, the chaotic session was settled by an even more volatile tiebreaker where Tiafoe held set point, only for a free-swinging Shelton to save it with an outrageous return winner before rattling off two more points to snatch the set.
"Sometimes you've got to shut off the brain and close your eyes and just swing," he said. "Maybe it was a little bit of that down set point, but it ended up working out. Some may say clutch, but I don't know about all that."
The emboldened Shelton wasted no time taking the front foot in the fourth, breaking in the opening game as midnight struck and Tuesday turned to Wednesday. The fearless youngster gave Tiafoe no quarter on the return, winning 12 of the first 13 points on his racket until breaking again for 5-2. When he closed the show minutes later with his 50th winner after just over three hours, Shelton performed his signature on-the-phone celebration along the baseline.
Now Shelton, who has become the youngest man from the United States to reach the US Open semi-finals since Michael Chang in 1992, advances to a showdown with Djokovic. And wouldn't you know it: he fancies his chances.
"Whenever you play somebody for the first time and someone who has been in this situation so many times and come out victorious so many times, that's in the back of your head," Shelton said. "You just know how rock solid the guy is and how mentally tough, how physically tough. So that's definitely something that I have to game-plan for."
"I think that I can bring some things to the table that maybe you don't see in your normal match that you play on the ATP Tour. So I'm definitely going to try to bring some things to the table that are different and hopefully disruptive on Friday."
Earlier in Tuesday's night session, Karolina Muchova overwhelmed Sorana Cirstea 6-0, 6-3 to book a place in the women's semi-finals opposite the American star Coco Gauff, who demolished Jelena Ostapenko in the afternoon's first match.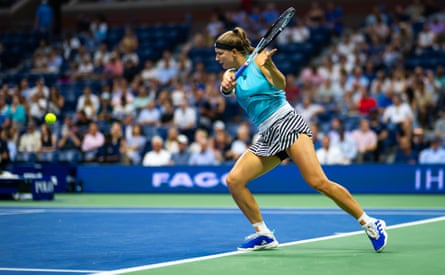 The 10th-seeded Czech, who reached the French Open final this year, hit 32 winners against only 15 unforced errors to reach the last four of the US Open for the first time.
"I felt very good actually from the start till the end," said Muchova, who made her debut in the world's top 10 this year after dropping to 235th last year amid injury woes. "I had a good feeling with the ball from the baseline, I felt good on the net, slicing, and with my whole game."
Muchova saved nine break points during a marathon third game that spanned 18 minutes and nine deuce points before winning the first set at love. Her clean, efficient tennis then carried her through the finish line after falling behind an early break in the second.
She had nothing but high praise for Gauff, who has emerged as the betting favorite to win her first major title in the days since the departure of Iga Swiatek, the top seed and defending champion who was sent packing by Ostapenko on Sunday.
"She's very athletic. She never gives up. Runs for every ball," she said. "Doesn't do many mistakes. So she has kind of all the strokes. So very, very good player from all the aspects."