Key events
Here's another view of the protesters. Two of them were removed while one still remains, causing the ongoing suspension of play. "They said they're on the phone negotiating," Gauff could be overheard saying before retreating into the tunnel. "Like this is a hostage situation."
Both players have left the court during the ongoing delay. A very unfortunate turn for Gauff, who had momentum to burn after winning the first set and holding to open the second. A user on X, formerly known as Twitter, has shared footage of the three protesters in the upper deck.
Play stopped during second set due to protesters
Chants of "Kick them out! Kick them out!" are ringing across Arthur Ashe Stadium. Gauff is standing behind the baseline, hitting serves to stay loose. Muchova is still in her chair having been given tablets by medical staff, who have retreated to the tunnel. The stoppage has lasted more than 10 minutes at this point. Some of protesters appear to have been physically removed from the stadium, but there is one who has refused to budge from his seat and is being surrounded by security.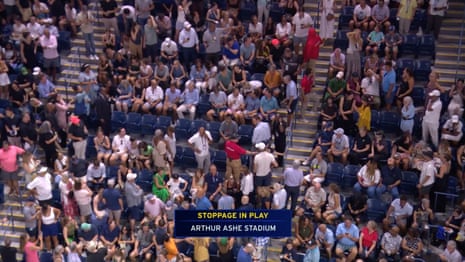 The match has been paused due to a disruption in the upper mezzanine. Protesters, apparently. The tournament referee and other officials are on the court speaking with the chair umpire as security officials have been dispatched upstairs. Both players are at their chairs in the meantime and Muchova has summoned a physio.
Second set: Gauff 6-4, 1-0 Muchova* (*denotes next server)
Gauff holds comfortably to open the second set. Gauff made three times as many unforced errors in the opening set (12, all but one off the forehand) as winners (four), but Muchova's total capitulation at the finish line made the difference.
Gauff wins first set, 6-4!
Gauff breaks in 10th game of first set!
First set: Gauff 6-4 Muchova
And just when Muchova is poised to really put the pressure on Gauff, the 10th seed unravels spectacularly. She goes down love-40 and triple set in the blink of an eye after an unforced error from the baseline, another at the net, then a biffed forehand. Gauff has three points to capture the set but needs only the first when the generous Muchova botches a backhand for her 17th unforced error (against only three winners). First set to the American after 42 minutes!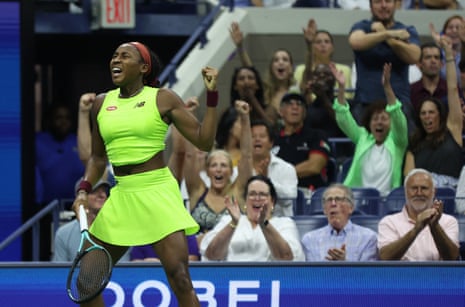 Muchova breaks in ninth game of first set!
First set: Gauff 5-4 Muchova* (*denotes next server)
Well, well, well. Gauff gets a second opportunity to serve for the set and wins the opening point after Muchova donates her 14th unforced error. But the Czech improbably rattles off four quick points from there for her second break of serve, helped along by a flurry of Guaff misfires. We're back on the serve in the first and Muchova will serve to stay in the set after the change of ends.
First set: *Gauff 5-3 Muchova (*denotes next server)
Muchova fights her way to another hard-fought hold. She's made only two winners against 13 unforced errors, but she's clearly raised her level as the set has unfolded.
Muchova breaks in seventh game of first set!
First set: Gauff 5-2 Muchova* (*denotes next server)
Gauff strikes a clean backhand winner, but quickly goes down 15-40 after a couple of errors. Two break-point chances for Muchova but she needs only one of them: Gauff makes another unforced error off her backhand early in a rally and she's been broken for the first time in the match.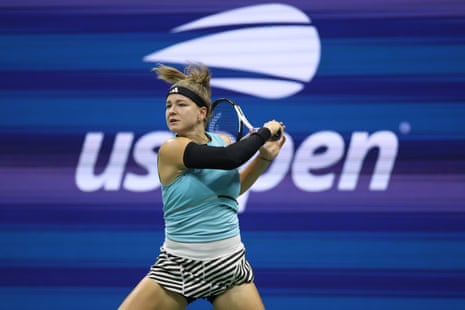 Gauff breaks in sixth game of first set!
First set: *Gauff 5-1 Muchova (*denotes next server)
An error-strewn service game for the nervous Muchova, who goes down love-30 then 15-40. A second break point for Gauff and she rips a wicked forehand early in the rally that Muchova can't return. The American is up a double break, having won 22 points to Muchova's nine, and will serve for the first set.
First set: Gauff 4-1 Muchova* (*denotes next server)
Gauff breezes through another stress-free service game, holding at love to maintain her lead. She's won eight straight points on her serve (and 12 of 14 on the night overall).
First set: *Gauff 3-1 Muchova (*denotes next server)
Another tight service game for Muchova, who has barely got half of her first serves in. But she holds from love-15 down, capping it with a 104mph ace down the middle to get on the board.
First set: Gauff 3-0 Muchova* (*denotes next server)
Muchova puts a bit of pressure on Gauff's serve, hitting a forehand winner then forcing Gauff into an error with another crisp forehand. But Gauff wins four straight points capped by a 101mph unreturnable serve to hold from love-30 down and stay ahead in the first set.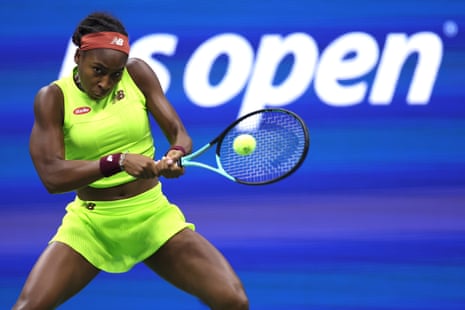 Gauff breaks in second game of first set!
First set: *Gauff 2-0 Muchova (*denotes next server)
Muchova is under immediate pressure on her serve at 15-30. Gauff makes her first unforced error for 30-all, but follows it with another lob winner for 30-40 and her first break-point chance. And she converts! Muchova flubs a backhand on the sixth shot of a baseline rally to hand Gauff the early advantage in the opener!
First set: Gauff 1-0 Muchova* (*denotes next server)
A great start for Gauff. She wins the opening point with a clean backhand winner to settle a 15-shot baseline rally, then wins the next two on a pair of Muchova unforced errors off the backhand side, then hits a perfect lob winner over her onrushing opponent to close out the love hold and send this partisan crowd into a roar. It's loud!
The players have emerged from the tunnel after their pre-match interviews. Gauff was asked what she's learned about herself over her wildly successful North American hard-court season: "That I'm able to find a way and I'm out there having fun on the court. That's all that matters."
Chair umpire Alison Hughes oversees the coin toss. Gauff calls heads. It's tails and Muchova elects to receive first.
The players are going through their warm-ups and we'll pick it up with game-by-game coverage from here.
Hello and welcome to Arthur Ashe Stadium for tonight's US Open women's semi-final doubleheader. We've got a jewel of a twinbill ahead with Coco Gauff and Karolina Muchova meeting in the opening match followed by Madison Keys and Aryna Sabalenka in the nightcap. The Arthur Ashe Stadium crowd will no doubt be pulling for the prospect of an all-American final on Saturday, but the sixth-seeded Gauff and 17th-seeded Keys will each have their hands full tonight with opponents more than capable of playing spoiler.
First up it's Gauff against Muchova, the 10th-seeded Czech who reached her first career grand slam final earlier this year at Roland Garros. Their lone career meeting came only three weeks ago in the Cincinnati final, which the American teenager won in straight sets to capture the biggest title of her career to date.
Gauff, the youngest player to reach the US Open semi-finals since Serena Williams in 1999, became the betting favorite to win the tournament after top-seeded Iga Swiatek's fourth-round ouster, but there will be heaps of pressure on those 19-year-old shoulders at tonight's penultimate hurdle and it will be fascinating to see how she handles it.
Plenty more to come from another sweltering night at Flushing Meadows, where the players due on court for their warm-ups in about 10 minutes.
Bryan will be here shortly. Here's Tumaini Carayol's lookahead to Friday's twinight doubleheader of US Open men's semi-finals.