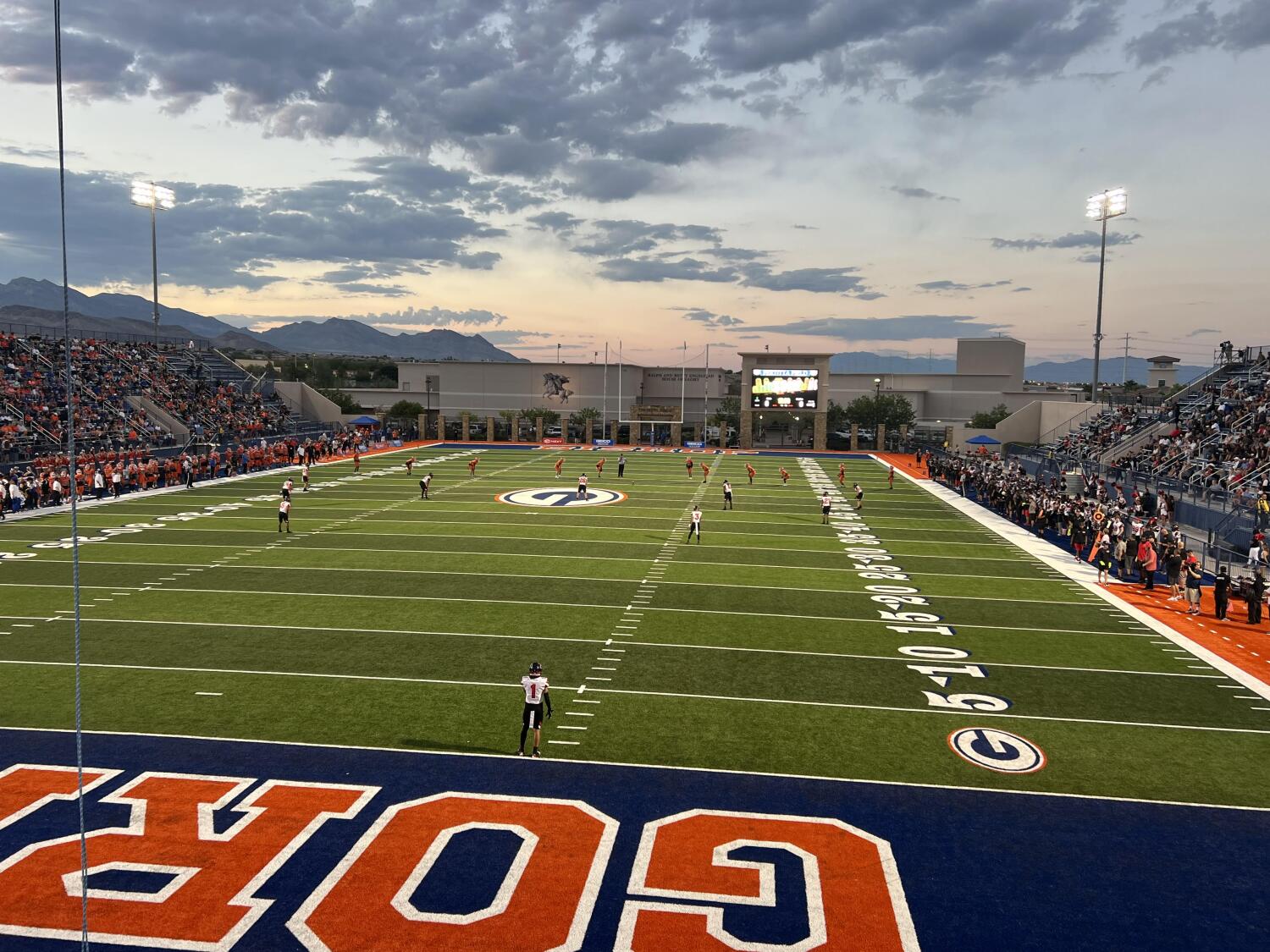 LAS VEGAS — 
Everyone knows the saying, "What happens in Vegas, stays in Vegas," so that's about the only good news to report on Friday night for a Corona Centennial football team that will try to quickly forget one of the most forgettable efforts in Matt Logan's 27 seasons as coach.
Holding down the No. 2 spot in the country behind Santa Ana Mater Dei in one national football ranking, Las Vegas Bishop Gorman took advantage of four Centennial turnovers to cruise to a 56-28 victory on a warm, comfortable evening at Fertitta Field in a game that was nationally televised on ESPNU.
First there were two bad pitches on option plays from quarterback Husan Longstreet to running back Cornell Hatcher, resulting in lost fumbles. Then there was a Longstreet fumble on the Bishop Gorman seven-yard line. And then Longstreet had a pass intercepted that might not have been an interception if there were a video review. Also there were two fourth-down attempts by Centennial that failed badly. It all resulted in a 35-7 halftime deficit.
Devon Rice, a Hawaii commit, scored three touchdowns for Bishop Gorman (4-0), which put 60 points on Long Beach Poly last month.
Hatcher was one of the few bright spots for the Huskies (2-2). He scored four touchdowns and finished with 213 yards rushing
The big question is why play two of your first three games against perhaps the top two teams in the nation — Mater Dei and Bishop Gorman? Logan wanted tougher competition early in the season to learn his team's weaknesses. Boy, did he find out. No. 1 is that the Huskies have 12 turnovers in four games. Injuries to the offensive line also have hurt. Things should get easier, so the idea is that playing tough competition will produce improvement.
Logan said he took responsibility for the poor execution. He's got seven weeks to get things fixed in time for the Southern Section Division 1 playoffs.
Give Bishop Gorman credit. The Gaels' offensive line is big and experienced and easily could be mistaken for a Trinity League line. But the Huskies also left receivers open much of the night as tight end Elija Lofton caught two touchdown passes.
Bishop Gorman always has presented a strong challenge to the best teams in Southern California. In 2014, Centennial lost to the Gaels 43-42. In the same season, St. John Bosco came to town as the No. 1 team in the nation with Bishop Gorman No. 2. There was a downpour, thunder and lightening. The Bosco band stayed in the stands and kept playing while getting soaked. Bishop Gorman came away with a 34-31 victory with Tate Martell at quarterback against Josh Rosen.
Next season, Bishop Gorman is scheduled to travel to Santa Ana to play Mater Dei. The teams were supposed to play this season until Bishop Gorman had to add another league game to its schedule. In fact, some people think Bishop Gorman easily could join the Trinity League with its powerhouse football, basketball and baseball programs.
When you rout Long Beach Poly and Centennial in the same season, you're pretty good.