Daniil Medvedev stepped inside Arthur Ashe Stadium on Friday night fully conscious of both the singular, stratospheric level required of him to merely have a shot of toppling Carlos Alcaraz and the minimal chances that so many people gave him on doing so.
But one consistent theme in Medvedev's increasingly great career is that he lives for these challenges, a crucial quality that has completely distinguished him from his contemporaries and marked him as a champion.
Faced with the challenge of the prodigious No 1 and a completely unfavourable match-up, Medvedev, the third seed, rose to the occasion in a match of the highest quality, ending the reign of Carlos Alcaraz in New York with an incredible 7-6, 6-1, 3-6, 6-3 victory as he returned to the final of the US Open.
Instead of a meeting between the top two, Medvedev will rekindle his own fascinating rivalry with Novak Djokovic in the final. Two years ago, Medvedev not only conquered the US Open by blitzing Djokovic in straight sets, but he scuppered what would have been one of the most significant tennis achievements of the Open Era by ending Djokovic's grand slam attempt at the final hurdle.
This performance served as a reminder of what Medvedev is truly capable of. In his two previous meetings with Alcaraz, on the hard courts of Indian Wells and the semi-finals of Wimbledon in July, the 27-year-old had left with nothing to show for himself. Despite how well he had been playing and the wins he had accumulated leading up to those matches, both times Alcaraz picked the Russian's game apart.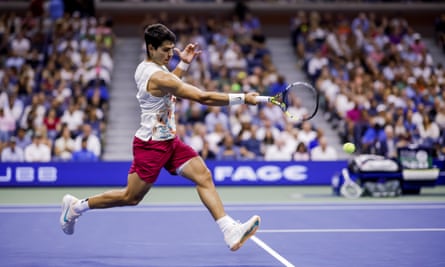 Before the match, Medvedev had stressed the importance of serving incredibly well, yet he opened with a flurry of double faults while Alcaraz looked like he had already settled, and the task before him seemed even more difficult. Still, Medvedev's first serve was already flowing as it helped him to hold on through the early danger. As the set wore on, the cat-and-mouse rallies developed at a frantic pace with Medvedev building momentum and continually prodding Alcaraz into awkward positions.
In reality, Alcaraz played well enough to win the first set. He won 20 of 23 net points, flitting to the net at every opportunity, and struck 16 winners to just nine unforced errors while serving at 83%. But Medvedev played his brand of tennis to perfection when it mattered in the tiebreak, his first serve unimpeachable and he offered Alcaraz nothing at all.
With the first set secured for Medvedev, the momentum pulled entirely in his favour. He immediately broke Alcaraz's serve in his first return game, returning spectacularly from the back fence even as the Spaniard continued his attempts to exploit his return position with frequent serve-volleys. As Alcaraz struggled to find a way through his defences, his frustration showed and his shot selection became increasingly erratic, as Medvedev rolled to a two set lead.
Down two sets and staring down the prospect of a quick, bitter night, Alcaraz left the court to take a toilet break and returned desperate to draw upon the crowd's energy and lift his own. He quickly found his range and his feel on drop shots and forehands, continually drawing Medvedev forward and unloading on brilliant passing shots. Alcaraz fought his way to a 4-1 lead and held on to force a fourth set.
As the match hung in the balance at the beginning of the fourth set, both players felt the pressure. First Medvedev bravely saved three break points in his opening service game, including one 126 miles-per-hour second serve. Then, in an exhausting marathon game at 2-3, Alcaraz also faced two break points. Medvedev took the decisive break of serve with a sweet, dipping return passing shot to thwart another Alcaraz serve and volley attempt.
The tension peaked as Medvedev desperately tried to serve it out. After reaching match point, he double faulted twice in a row to fall down a break point. But Medvedev dug himself out of one final hole and despite Alcaraz's steadfast resilience, he served out one of the biggest wins of his distinguished career.